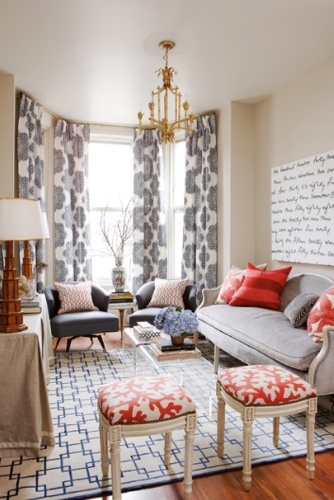 As humans, we don't need to live in large spaces; we just need to live in thoughtful ones that reflect our lifestyles.
I'm so lucky to count Meredith Heron as one of my friends, and I loved her insightful commentary on a recent Facebook post … so much so that I wanted to share it here.  Of course, I also adore Meredith's clean, sophisticated design style.  I especially love her use of color and how layered her designs are.  She often posts sneak peeks on Instagram, so you'll definitely want to follow her there for lots of eye candy.
Over to you.  If you could choose any home, what size would you chose?
Interior design by, and photos courtesy of, Meredith Heron Design.  Top photo (Meredith's living room) by Stacey Brandford Photography.  Bottom photo (her adorable son's nursery) by Stephani Buchman Photography.  Much more gorgeousness on her portfolio page!