Back to the topic of key elements for a great guest room!  We've already covered comfortable seating, so now let's talk about the lighting.  There's not much worse than a dimly lit hotel room.  First of all, eewwwwwww.   It makes you wonder what they don't want you to see.  Second, how on earth is a girl supposed to put on makeup, much less read in bed?  Let's make sure your guest room doesn't fall into that same category!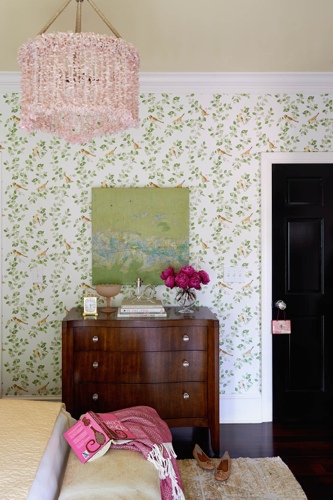 Given any possible opportunity, I looooove a statement overhead fixture.  As one of my Instagram friends said, the Ro Sham Beaux "Lily" chandelier is the cherry on this sundae top!  The pink quartz stones give the fixture such an awesome organic glam feel.  I am Beyond. Obsessed. with Ro Sham Beaux right now, because I love to include natural elements.  My polished design style doesn't often lend itself to "organic" or "earthy," but these fixtures strike exactly the right note I need.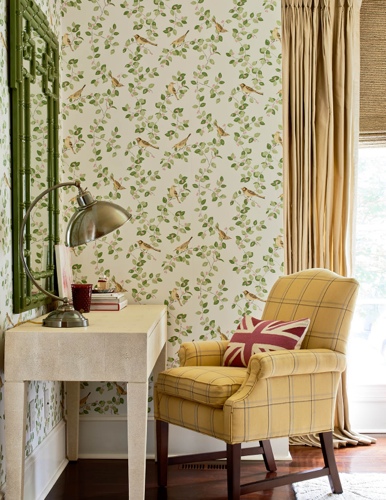 But don't forget task lighting!  I used Laura Ashley's Hackett Lamp to make sure there was sufficient light for my guests to read or work at the desk.  The caramelized bronze finish was a perfect choice for my mix-and-match metals.
It's also no coincidence that the desk, which doubles as a vanity, fits in this corner.  With the draperies and woven wood shade open, the natural light is great for makeup.  Of course, the room also includes bedside lamps on dimmers for nighttime reading.
Have you been counting?  That makes three lamps and an overhead light for this average-sized guest room … which sounds just about right to me.
Interior design by Traci Zeller.  Photography by Dustin Peck Photography.