Y'all, thank you so much for all of your kind words about my Laura Ashley collaboration for Domino magazine.  I couldn't believe that my guest room makeover even made the Huffington Post!  As promised, I'm sharing the full scoop on all of the amazing products that made this guest room gorgeous and functional.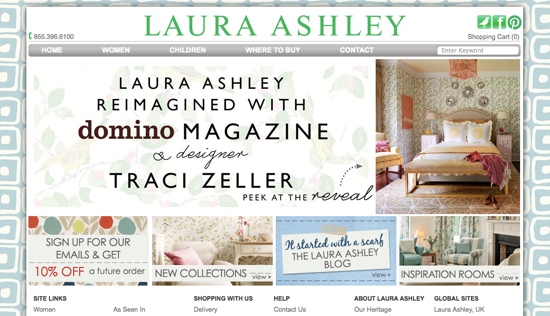 Yes, the main purpose of a guest room is for your friends and family to sleep.  But sometimes a guest just wants to sit down and relax!  That's why comfortable seating is one key element for a great guest room — and I knew just the solution.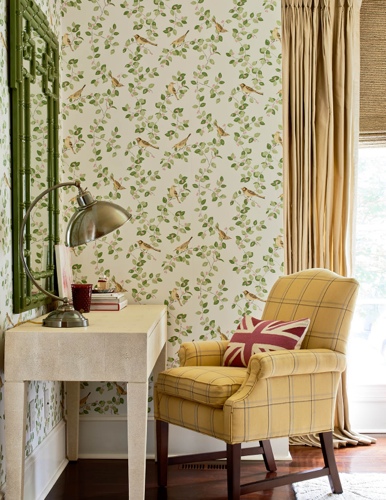 CR Laine's Bowman chair — shown here in Laura Ashley's Corby Woven Check in Chamomile — is one of my super-favorite multi-tasking chairs!  The Bowman chair's moderate scale makes it perfect for a variety of applications.  Comfy occasional chair?  Check.  Desk chair?  Yup.  Dining chair?  Um-huh.  Game table chair?  Totally.
Whether my guests are working at the desk or relaxing with a magazine — that's why I used a pair! — the Bowman chair is up to the task.  I love the Bowman chair so much that I've recently used it in two client projects, both of which have an entirely different personality than my guest room chair.   Think ikat polka dot and faux ostrich.  Plus nailhead.  Yum.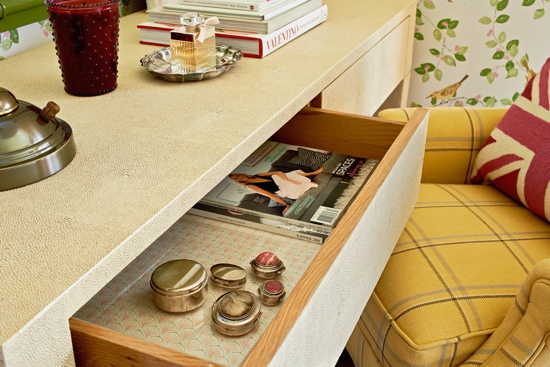 I wouldn't exactly say a magnificent pillbox collection is a guest room "essential" … but it is an awfully nice surprise when you open a drawer.  The large sterling silver box is Cartier — To. Die. For. — and currently available on One Kings Lane if you are so inclined!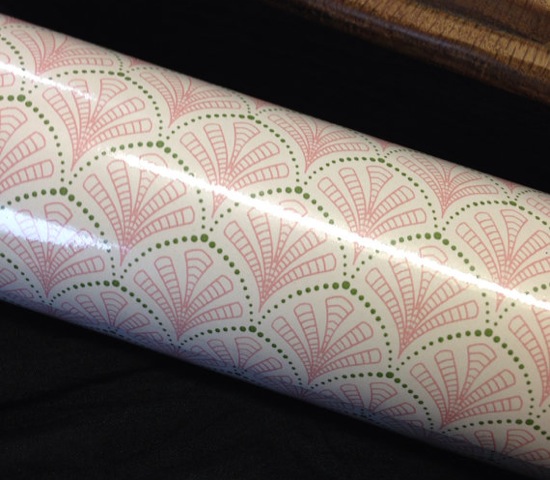 Many guests prefer to unpack … so remember to leave some room!   I stocked this drawer with new magazines, but otherwise the desk is empty.  I lined the drawers with vintage 1970s Laura Ashley wallpaper to add a welcoming touch and guard against any makeup spills at the vanity.  I'm c-c-c-crazy for that pattern … so, Laura Ashley, consider this blog post my official plea to bring it back!
Do you need comfortable seating for a small space?
Interior design by Traci Zeller for Laura Ashley and Domino.  Photography by Dustin Peck Photography.  Vintage Laura Ashley wallpaper via Patternlike on Etsy.   And how fun is this vintage Laura Ashley pattern?!