I crave levity and cheer and in almost every design I work on I am much more concerned about things that will feel delightful rather than impressive. The feeling that when you enter a room you've had your thirst quenched as opposed to just making a statement.
The opportunity to spend time with some of my favorite designers (and friends!) is always one of my High Point Market highlights. Of course, shopping for furniture, accessories and much more is everyone's top priority … but I can assure you that socializing is not far behind. I was looking forward to the opportunity to interview Celerie Kemble for the blog, but unfortunately, my schedule got mixed up and we weren't in the same place at the same time after all. Boo hoo! Hopefully, I will be able to bring you an exclusive talk with Celerie next market.

It was impossible to be disappointed, however, because I was too enthralled with her stunning pieces for Henredon. Hello, dining table gorgeousness! I am seriously in love and trying to figure out how I can redecorate my living room in Celerie Kemble for Henredon without my husband noticing. Let's be clear — he'd be more likely to notice the change in the bank account than the change in the furniture. Ha!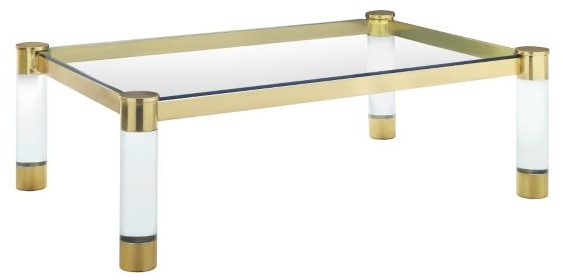 The Karl Cocktail Table wouldn't be a practical choice for moms with very young children — but now that my twin boys are eight … please, please come to mama!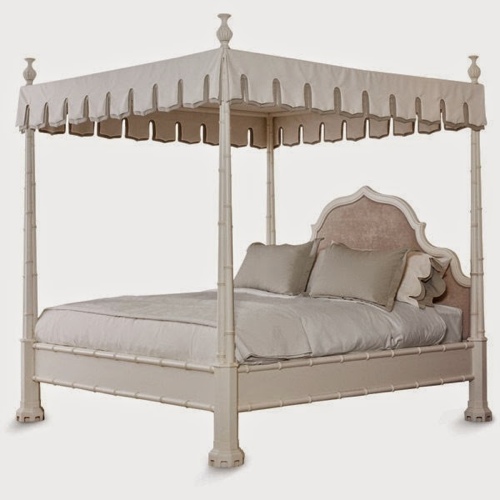 Forget the canopy bed of your childhood — who else had the Sears set circa 1980? — because the Maddock Bed with Custom Upholstered Headboard is the canopy bed of my grown-up dreams.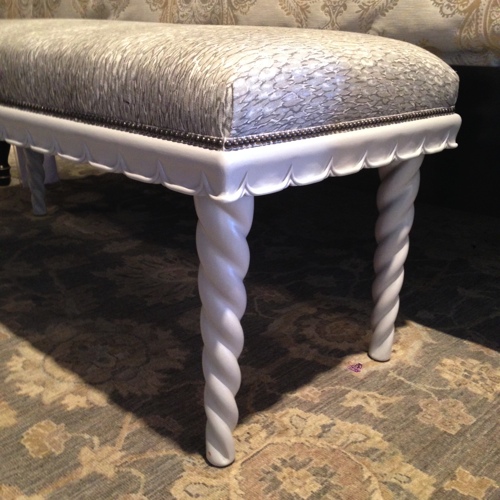 Celerie attended to every detail, both on her furniture and in the showroom. Isn't the Mimi Bench exquisite? It takes on a different personality in various finishes, but the painted finishes really show off the intricacies of the woodwork.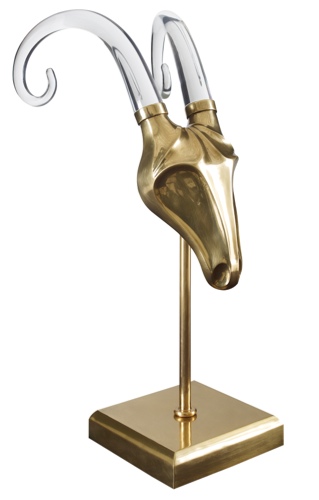 Because Celerie also has a collection for Maitland-Smith, she was able to accessorize the Henredon vignettes using many of those items. I could go crazy with those pieces alone! The Cast Brass Rams Head with Acrylic Horns feels vintage, doesn't it? I may have a minor obsession with brass animals.  

The Cast Brass Place Card Holders would be a luxe hostess gift … if you don't keep them for your own holiday entertaining, that is!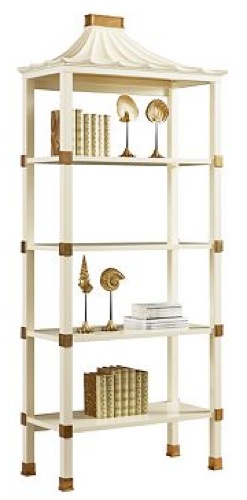 Of course, having personal items makes a space feel just that much warmer, and Celerie filled the shelves of the Heidi Etagere with her own books and family photos. One of the things I've always admired about Celerie is how she has been able to balance a young family with an extremely successful career, and it was really neat to see how she "brought" her children into the space.
A huge thanks to Henredon for the hospitality … and the inspiration!
Read the rest of Celerie's interview with Bob Vila here. Detail of the Mimi Bench photographed by moi. All other product photos via Henredon. Thank you to High Point Market for pairing me with four companies, including Henredon, as a sponsored blogger.