Thank you, Mother Nature!  Hasn't the weather in Charlotte been absolutely glorious?  When the air is fresh and cool first thing in the morning but the days are still warm … that, my friends, is nirvana.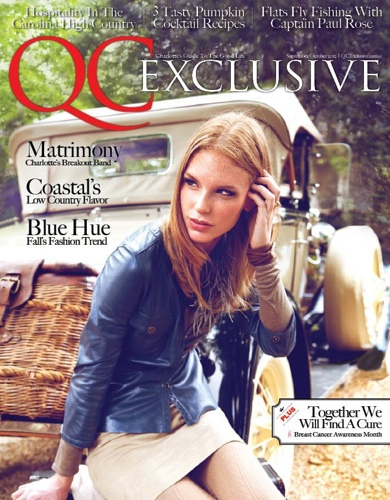 And just like you can change up your summer outfits by layering a sweater or light jacket … you can change up your decor in the same way!  In the September/October issue of QC Exclusive, I gave crisp white bedding an autumn-appropriate look by adding pillows and accessories in deeply saturated colors.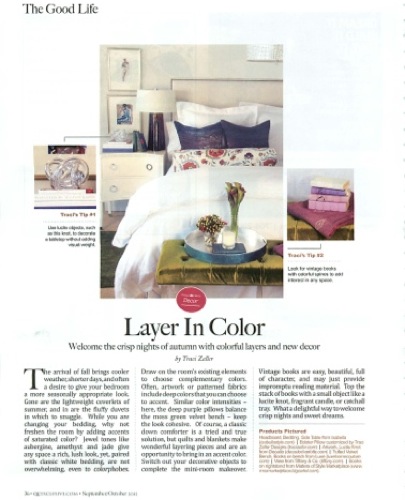 I am absolutely crazy for the amethyst faux bois pillows from Isabella and the moss green tufted bench from Luxe.  Yummy!  Of course, the original artwork by Jean Paul Parent — available at Decade — has no season … but isn't it nice how the pillows bring out the color in the art?  The floral bolster, which was custom-made by Decorating with Style for traci zeller designs, brings all of the colors together … but also be used with lighter accents come spring. Vintage books — from Matters of Style Marketplace on the nightstand and from Luxe on the bench — also strengthen the color story.
Oh, if you are wondering why a practical twin mom would ever use white bedding?  Bleach it, baby!  Yes, I tend to prefer white linens anyway … but it is sooooo much easier to get stains out of white.  And you don't even have to use chlorine; there are some fantastic natural bleach alternatives.  Now that's a win-win!
Do you update your bedding with the season?