Y'all, I might have a smidge more free time if I didn't check the "Just In" alerts from my favorite fashion websites. I barely watch television, though, so let's just consider this my version of binge-watching Netflix.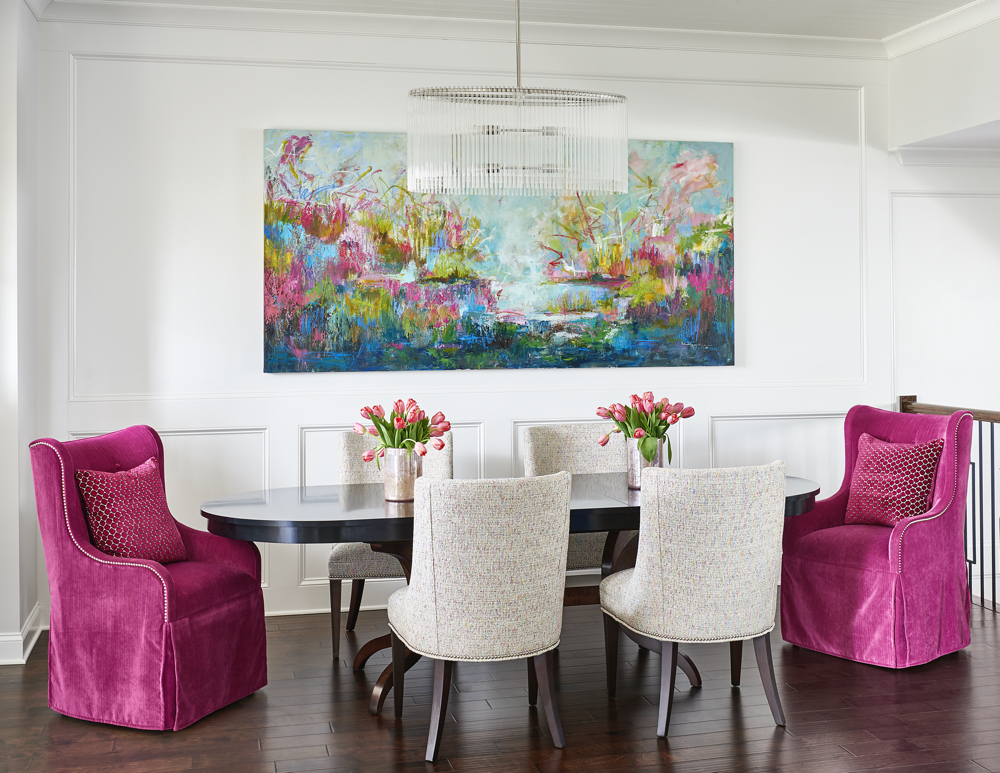 I'd rather refer to those Internet clicks as research, however, because the trends start on the runways. Does every fashion trend make it to interior design? Of course not. There are always fringe trends that come and go. Ummm, can anyone say "neon"?!?! Cough, cough, cough. Fashion, however, is what gets our eye accustomed to an unusual color scheme or an innovative silhouette … and when that happens? That's when you start to see the trend in interior design. Remember my comparison of design trends to the weather? Haute couture is what initially sets the mood, and it's always intriguing to watch the "rainstorm" develop from there.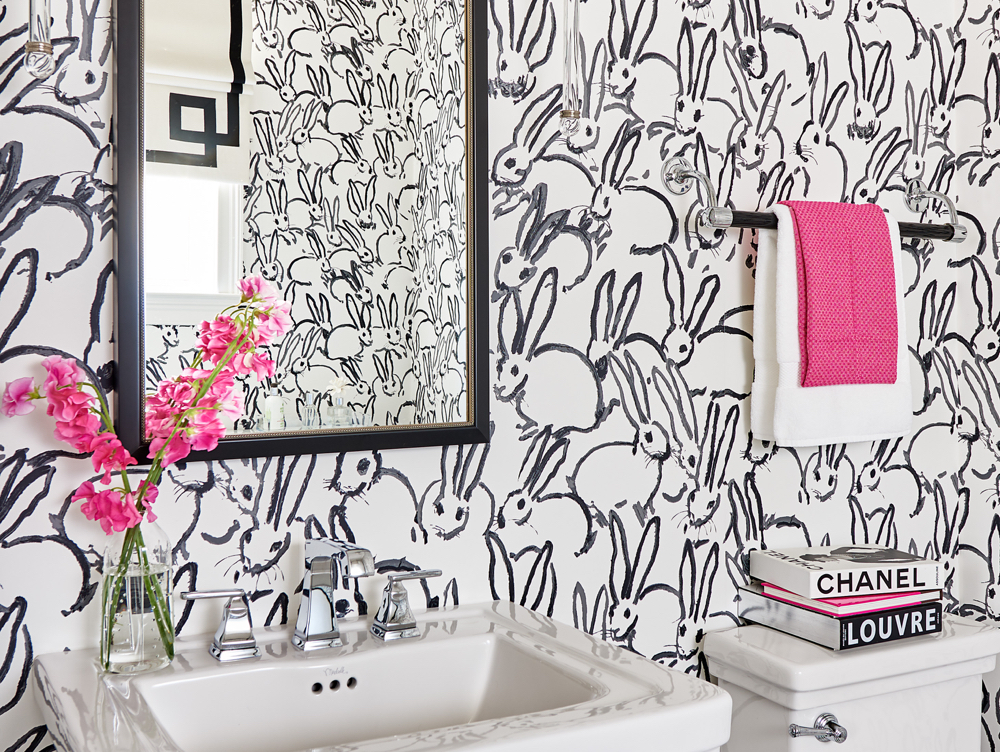 But you know what? Occasionally this fashion-to-interior-design progression happens in reverse, and that, my sweet friends, is really fun to watch. I find this trend "reversal" happens most often when clients embrace what they truly love, and not necessarily the "latest and greatest" thing.
Case in point? Pink! Have mercy, if I hear the phrase "millennial pink" one more time, I might be ill. Guess what, honey bunny, not everyone is a millennial, and it's perfectly fabulous at every age to love pink in all of its tints and shades. From blush to fuschia, j'adore them all! Blush absolutely functions as a neutral, and fuschia demands your attention … in the nicest possible way, of course. Listen, I far prefer the rosy glow that pink lends to my face than a color more appropriately described as jaundiced. Pass the bilirubin lights! (But hey, I like those colors, too. Just not in my bathroom.)
The TZI client project recently featured in SouthPark Magazine is a perfect example of how embracing a color you love is truly the most timeless choice of all. And this is why I was delighted to see bright pinks being showcased in the fall fashion hitting the stores now. Because what you love is always, always in style … but it's even better when you find it on Net-A-Porter.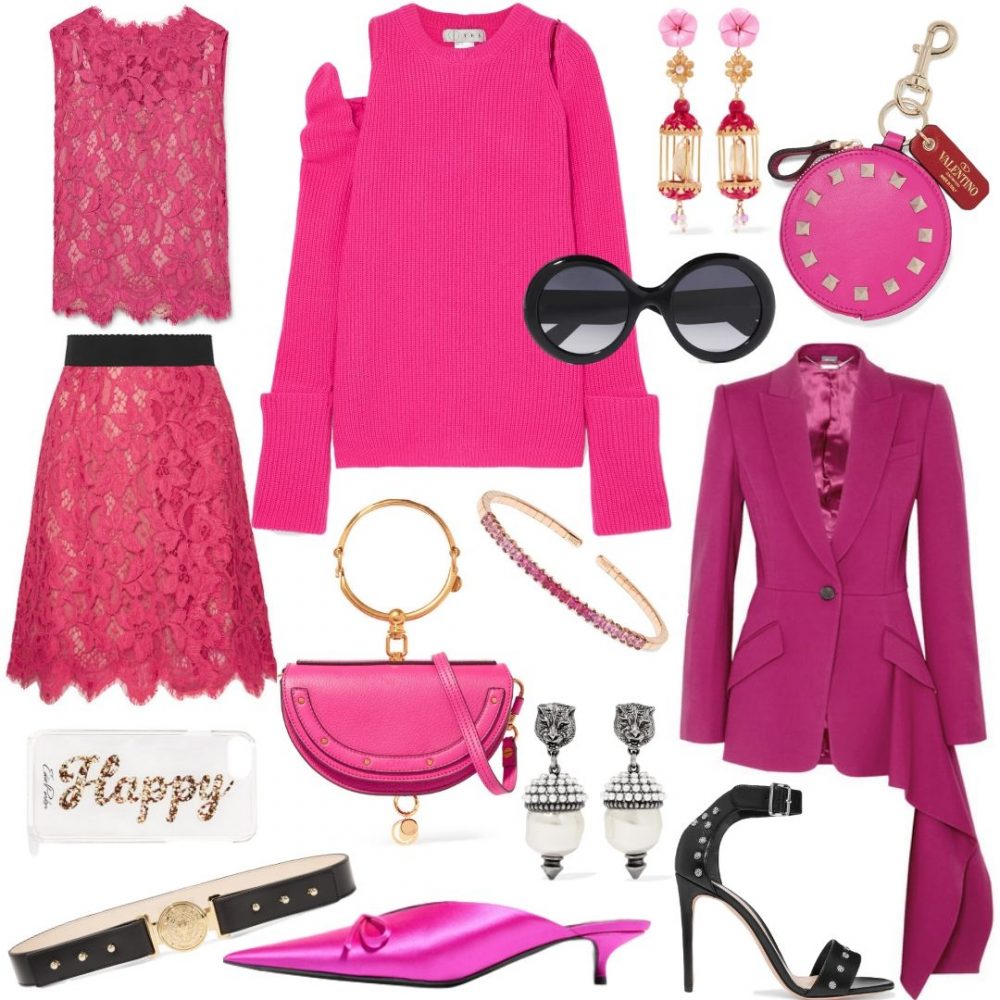 Take a peek at a few of my fuschia favorites to add punch to any wardrobe! Just as in interior design, remember that a healthy dose of neutrals — especially black and/or white — keeps the overall look grounded. Yes, these Gucci culottes are bright, but — anchored by a gorgeous white blouse, black sandals, a great pouch and the model's dark hair — the outfit is simple and elegant.
Will you "think pink" this fall, either in your wardrobe or your home?
All product photos via Net-A-Porter. Clockwise from top left, Dolce & Gabbana guipure lace top and guipure lace skirt, TRE cutout cashmere sweater, Gucci round-frame glittered sunglasses, Of Rare Origin "Aviary" multi-stone earrings, Valentino "The Rockstud" leather bag charm, Alexander McQueen asymmetric ruffled blazer, Alexander McQueen studded leather sandals, Balenciaga knife satin mules, Balmain patent leather belt, Edie Parker + goo.ey iPhone case, Chloe "Nile Bracelet" mini shoulder bag, Suzanne Kalan 18-karat rose gold sapphire cuff, and Gucci silver-tone faux pearl earrings.