Holy schmoly. High Point Market is winding down, and this girl is tired with a capital T. It's been five nonstop days of walking and talking, meeting and greeting, shopping and dropping! Before I curl up into a ball with my pillow and my puppy, I must share the No. 1 brand everyone was buzzing about — Ambella Home. Take a peek at the sleek Profiles Sectional (and ask yourself how often you can use the word "sleek" in the same sentence as "sectional"). I can practically hear those bench seat cushions whispering, "it's ok, Traci; you can take a nap."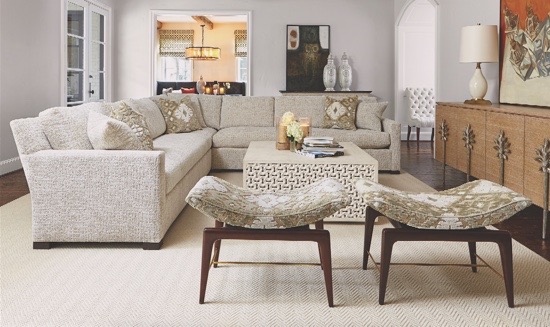 Had you heard of Ambella Home? If you say no, I won't be surprised. I was familiar with their name simply because I'm "in the industry," but I really didn't know much else.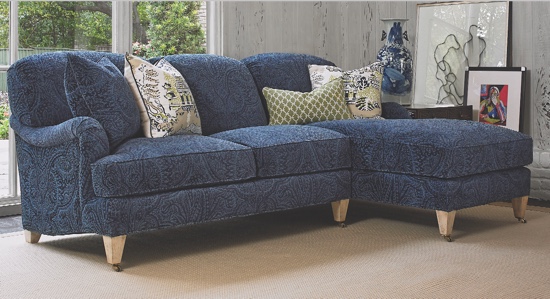 When you hear "lifestyle brand," however, what companies spring to mind? For most, it's probably Ralph Lauren and Martha Stewart — those companies with an identifiable aesthetic that transcends categories. Those names mean something, and you think of products ranging from furniture to gift items to bath products to lighting and more. Well, watch out Ralph and Martha … because Ambella Home is in the game! Right now Ambella Home offers upholstery, case goods and bath vanities, but I have it on good authority that you'll be seeing much, much more in the future. And when you see what their product line looks like now, you'll be waiting as eagerly as I am.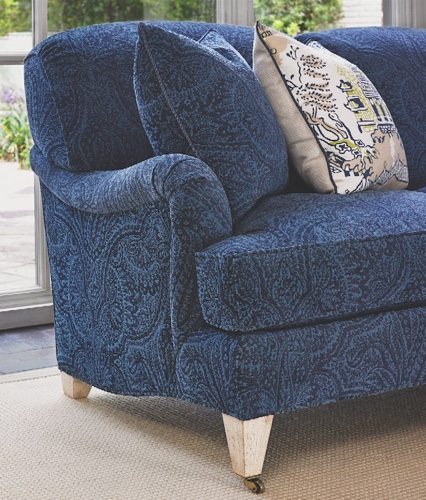 Jennifer McConnell, a/k/a Upholstery Genius and formerly of Pearson (n.b. prior rave reviews here and here), has turned Ambella Home's sofas, chairs, and benches into the Stuff of My Dreams. Seriously. With her impeccable eye for fabrics — take a minute to appreciate the gorgeousness of that plush navy — and her incredible knowledge of construction (hello, comfy), that woman can do no wrong in my book. It doesn't hurt that she's also super nice and so much fun to be around!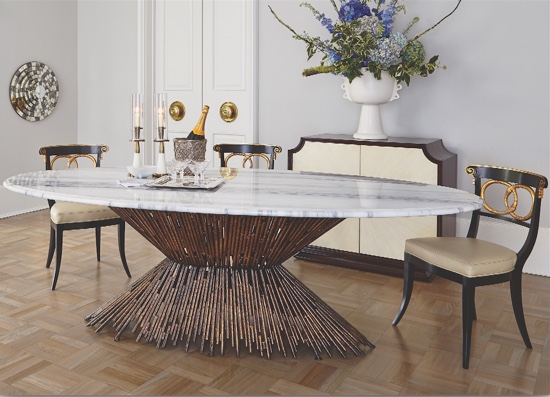 Rick Janacek, a/k/a Case Goods Genius and formerly of Global Views, has similarly reinvigorated Ambella Home's tables, chests, cabinets, and sideboards so that they are now more appropriately described as Pieces of Art. Seriously. The Pick Up Sticks Oval Dining Table makes such a statement and is even prettier in person. In my world, you can never go wrong with marble — Never!! — but the table is also available with a glass or stone top in sizes up to 48 inches by 96 inches. Because, with a table like this, the party is totally at your house!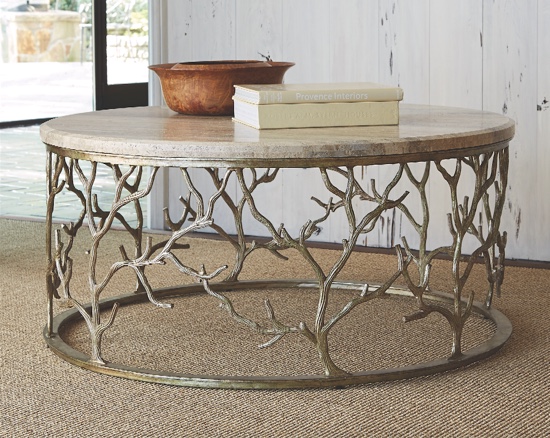 I'm intrigued by Rick's use of metal to create sculptural furniture — yet paired with wood, marble or stone, there's a warmth sometimes lacking in metal. The base of the Branch Cocktail Table is made of cast aluminum in a silver finish with golden and green highlights, and the top is Italian silver travertine. Heck, it felt good just to type "Italian silver travertine."
See what I mean? After I've caught a few zzzzz's, I will share so much more about Ambella Home — including what was tagged as "the latest and greatest" by this year's High Point Market Style Spotters. Until then, I'm going to be catching up with more posts on my Instagram feed!
Photos courtesy of Ambella Home. Thank you to High Point Market for pairing me with two companies, including Ambella Home, as a sponsored blogger.