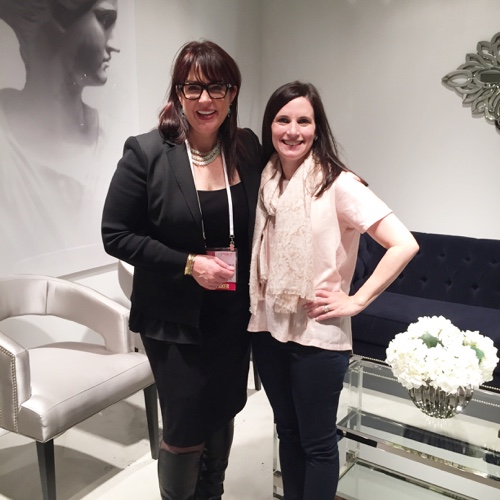 Remember the branding seminar with Kimberley Seldon and Brentwood Classics that I was fortunate enough to attend at High Point Market? For my designer friends (and any other business owners), I promised a recap on the blog, so here are my top three takeaways. (1) Be professional in every aspect of your business, including your business name and email address. This is not the time or place for cutesy! (2) Would you rather have a Mercedes-branded toaster or a Home Depot-branded toaster?  Tailor your presentations accordingly. (3) As a designer, it's impossible to deliver Mercedes service without top quality, reliable vendors — so choose your partners carefully.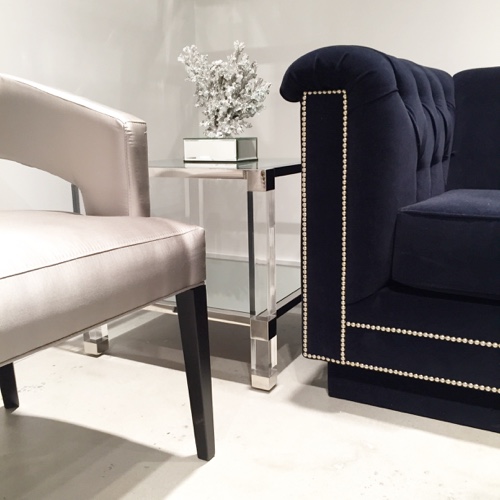 See? I told you Kimberley was fabulous! Just as interesting as Kimberley's advice, however, was the gorgeous furniture at Brentwood Classics — including Kimberley's own collection, of course. I particularly loved the clean, classic lines of these pieces, and I tried soooo very hard to capture the beauty of the fabrics.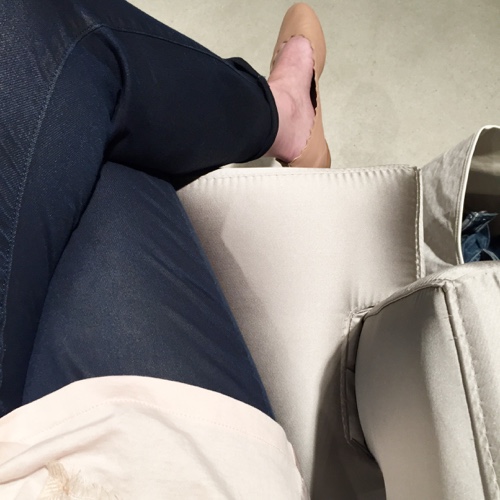 Can you get a sense of the subtle sheen and precise stitching on this pretty chair? If the limitations of my iPhone camera and the harsh showroom lights were just a bit too much, please take my word for it! I definitely couldn't do the mohair justice, but just know that it was so divine that I may have been drooling in my champagne. Kimberley did not mention overuse of alliteration and exclamation points in blog posts, so thank you very much.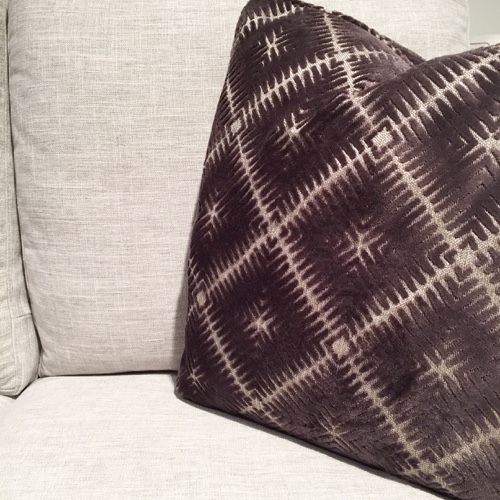 I mean, hello? Look at this incredible cut velvet. As Twin B would say, that comes with "extra yummy sauce!" And where does one find all of that fabric fabulousness? Shortly after High Point Market, Diana Sisto, Brentwood Classics' creative director, was headed to Lake Como, Italy to source new fabrics. Insert happy sigh here.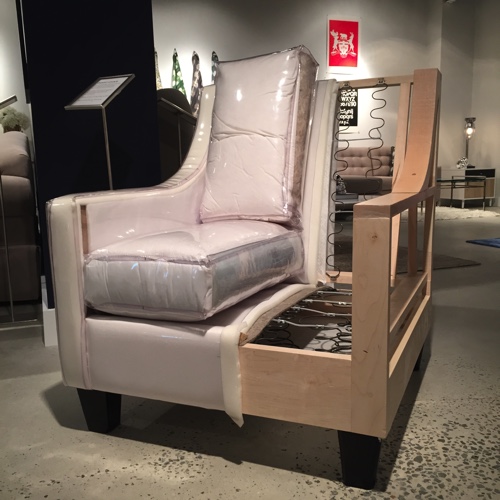 When I evaluate upholstery vendors, my top criteria are quality construction, exquisite fabrics, excellent customer service, and compelling value. Kimberley shared how valuable it is to her business that Brentwood Classics is family-owned and operated. Because the owners are involved in the day-to-day operations, she is always able to get a quick answer and prompt follow-through with any questions or concerns.
Here in North Carolina, we tend to get a little myopic about our furniture being made "just down the road" … but Brentwood Classics is benchmade in Canada with the same quality and attention to detail that we expect here. Thanks to the benefit of video, you can see where the magic happens from the comfort of your own laptop. It's impressive!
Plus, one of my core values is stewardship, so I'm especially pleased to report that Brentwood Classics is a member of the Sustainable Furniture Council. All of Brentwood Classics' upholstery products are made with soy-based poly foam, which assures you the utmost in sustainable comfort. Oh, and guess what? That pesky little thing called an "exchange rate" is totally working in our favor right now.  
A quick review of my top criteria? That's a Check, Check, Check and Check. In other words? I may see mohair in my future!
Thank you to High Point Market for pairing me with two companies, including Brentwood Classics, as a sponsored blogger.