Yep, the rumors are true — or so you already know if we keep in touch on Instagram. I'm designing a room for another Traditional Home showhouse … and the big reveal is Friday, April 17!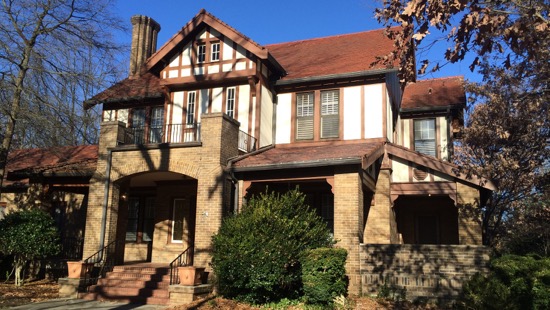 This year, the setting is a stunning Tutor Revival property circa 1912. Built by Nancy and Randall Terry, the home was one of the earliest houses in High Point's Roland Park, now part of the larger Emerywood neighborhood.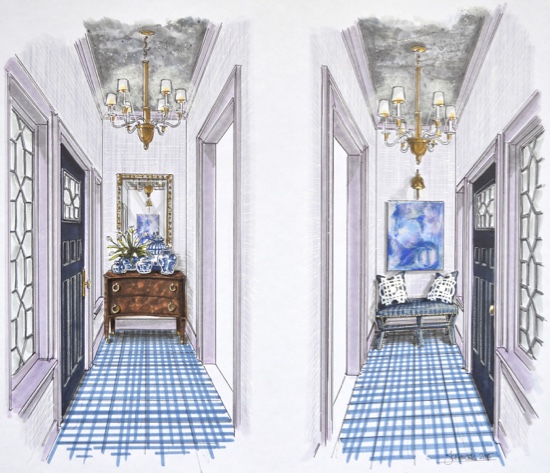 And here's my design of the foyer! Does the teensy size give you a sense of déjà vu? I must have some sort of affinity for small, tricky spaces … because this foyer is approximately 4 feet by 12 feet. It's tough to fit much into a narrow yet longish (at least by comparison) room — but I did my best to pack a punch!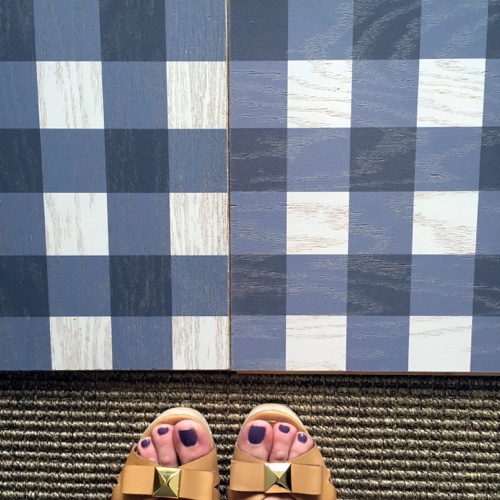 I'm especially crazy for the navy gingham hardwood tile floor by Mirth Studio. Mirth Studio's floor tiles are truly innovative.  Using the latest advances in printing and screening, combined with a proprietary sealing process, the engineered hardwood tiles are completely customizable. Whether you choose one of Mirth Studio's fantastic patterns — here's the classic collection, but there's so much more — or design your own, any Mirth Studio floor is bound to be a showstopper. Red gingham was already part of Mirth Studio's collection, but navy gingham is a new colorway for spring and making its official debut in the Traditional Home showhouse foyer!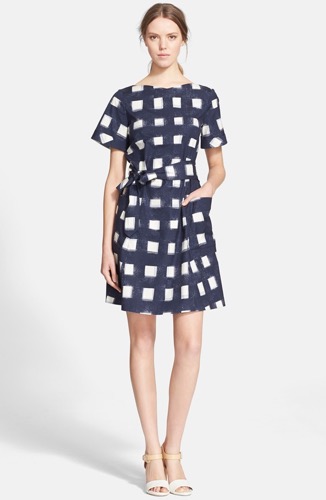 The fashion magazines are calling gingham "the print of spring 2015," and we at TZD love to translate fashion into interior design.  Color me disappointed, because the gingham dress I ordered for the kickoff party is back-ordered.  Sniff, sniff.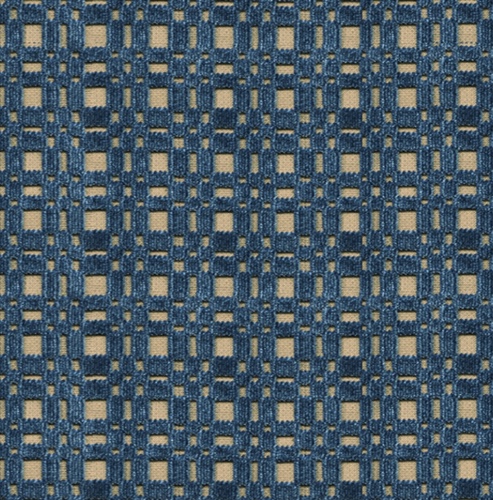 Because this girlfriend loves a theme, I upholstered Ballard Designs' Double X-Bench with Nailheads in Lee Jofa's gorgeous cut velvet pattern, Shoridge in Lapis. It is Beyond. A huge thank you to Ballard Designs for turning this bench around for me so quickly. Really, you cannot beat the combination of style and value that Ballard Designs offers in this bench. It's one of my go-to favorites for clients! I haven't used the version with a comfy back, but I'm determined to get that in one of my designs soon.
Stay tuned for more details from the showhouse — but if you happen to be nearby, please visit in person! I'll be at the house on Friday, April 18 for the designer meet-and-greet (from 6-7 pm) and the grand opening party (until 11 pm).
Tickets are for sale on the Junior League of High Point's showhouse website, and all proceeds benefit their mission of promoting volunteerism, developing the potential women and improving the community. The showhouse itself will be open from April 18-26 and again from May 1-3. Tickets and more details — hours, location, etc. — are also available on the showhouse website. I promise you don't want to miss the incredible designs in this house, including my dear friends Lisa Mende, Kara Cox, Holly Phillips, Cathy Austin, Lance Jackson and David Ecton of Parker Kennedy, Jason Oliver Nixon and John Loecke of Madcap Cottage, Libby Langdon, Leslie Moore, Christi Barbour, Eric Ross and so many more!