I'm hardly the first person to talk about this, but I'm sure you've noticed that everyone's obsession with chocolate brown is waning.  Let me assuage your fears – I don't think that brown will ever be "out."  After all, it is a great neutral, and many of us, especially Southerners, inherited antique furniture that is often finished in a deep brown.  In other words … if Mama has anything to do with it, Grandmother's furniture won't be going anywhere.  Nonetheless, design aficionados everywhere have "discovered" gray, and – voilà – gray is the new brown!
I also don't think that we here in Charlotte have jumped aboard the "brown train" quite as much as some others have.  When I was in Vancouver with Maria at Colour Me Happy, she was talking about how many brown houses there are.  I was surprised by that and wondered if the geographic difference was also reflected in the choice of exterior home colors.  Since my return to Charlotte, I've been paying special attention as I drive around to see if we have an overwhelming number of brown houses.  I concluded that we don't – mainly because there's no one building material that seems to dominate.  Brick homes (painted or not) are next to stucco homes, which are next to homes with siding (of all colors), which are next to homes with cedar shake, which are next to homes with natural stone.
Regardless, there's no denying that many of us have a lot of brown in our homes.  So if brown is "out" and gray is "in," what is a savvy retailer – or, more importantly, homeowner – supposed to do?
Well, pardon the terrible iPhone picture, but check out this Restoration Hardware display for the answer!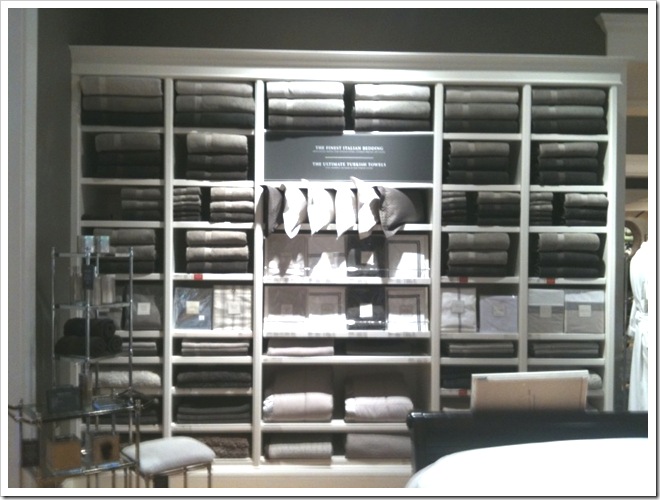 Yep, they've grayed down the brown … and I love the result!   Here's a better shot of the colors they are calling dune, prairie and sable.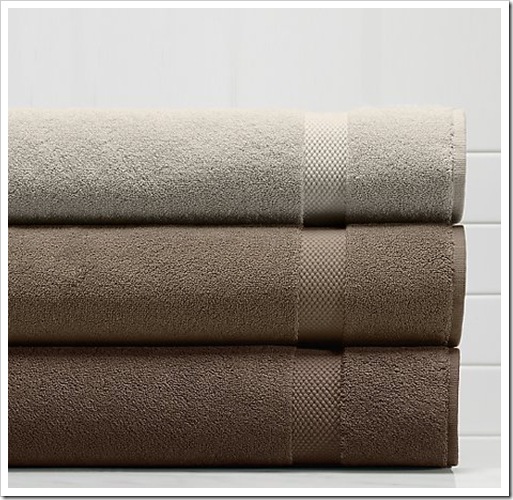 Do you see the gray in those towels, especially when compared to the flax, chocolate and espresso ones below?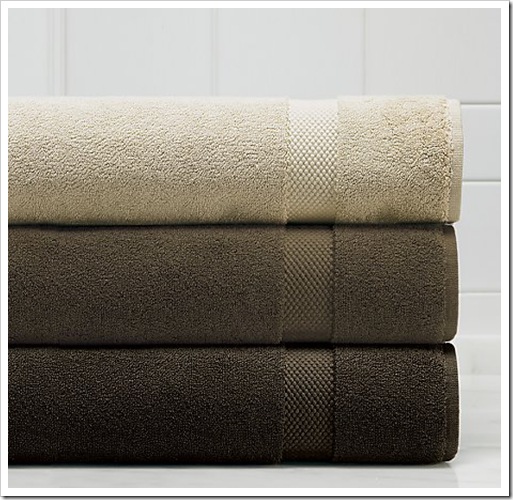 I used a gray-brown paint – Urbane Bronze by Sherwin-Williams – when I renovated my laundry room, and I was thrilled with the result.  I mix brown and black all the time anyway, and the gray-brown shades coordinate perfectly with both … and are right "on trend."
Are you wanting to update your brown home without redoing everything?  Give the gray-browns a try; I think you'll like them!