Sniff, sniff … it's about time to say goodbye to the mini-series on Hickory Chair University.  I promised that I would wrap it all up with a look at some of Hickory Chair's finished pieces, so welcome to Mezzanine!
Mezzanine – a 5,000 square foot showroom located at the Hickory Chair factory, but designed to mimic a specialty furniture store located somewhere in the Midwest United States – was created using Hickory Chair market samples, accessories purchased on a limited budget, and the styling genius of Ron Fiore, Hickory Chair's creative director.  It also serves as a full showroom, including a complete fabric library, for the Hickory Chair line and a fabulous place to host company events, including Hickory Chair University.  Seriously, who wouldn't rather be entertained at a Collier Dining Table rather a banquet table at some generic restaurant??  Plus, it's very inspiring to be surrounded by gorgeous furniture pieces that have been customized with different trims and finishes!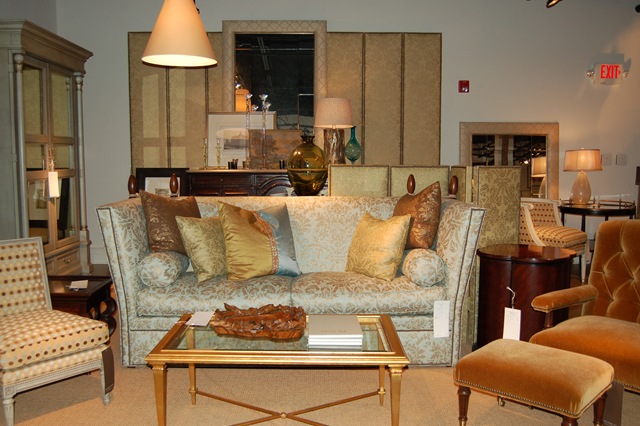 When you walk in, you are greeted by a "living room" centered around this Knole sofa.  I love the modern combination of the traditional-but-glam fabric and the sleek sofa.  Here, the sofa has been customized by leaving off the egg finials and closing the open back construction.  Isn't the Bristol coffee table the jewelry in the space?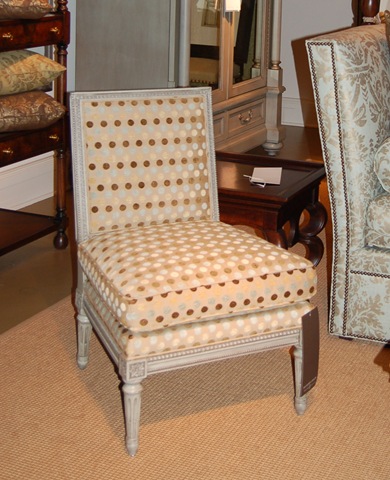 I'm totally crazy for the petite Ansley chair in a sophisticated polka dot fabric exclusive to Hickory Chair.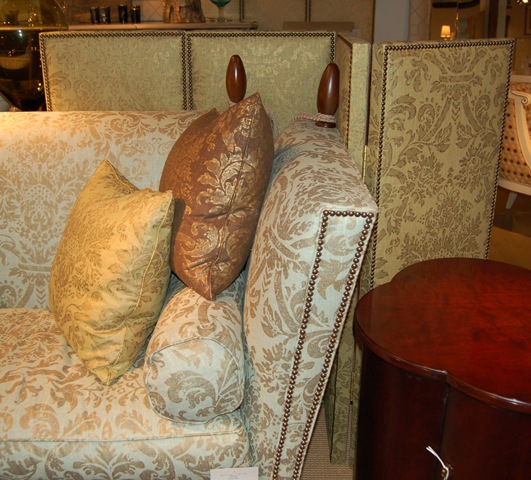 Make sure to notice the custom height Four Panel Screen behind the Knole sofa.  How genius is that?  It perfectly serves to define the space without interrupting your line of sight.  In fact, I have just the right spot for this in my living room!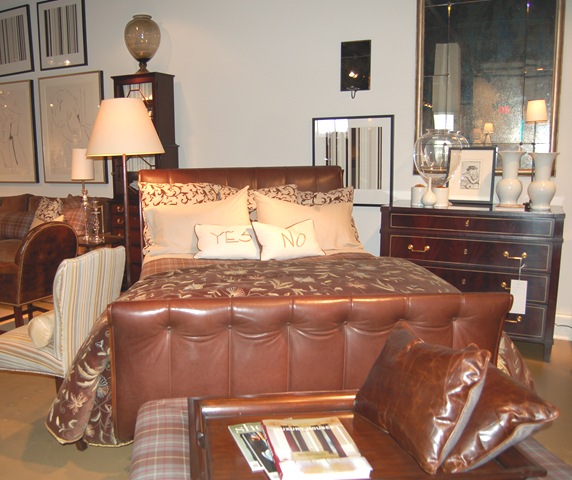 I think this is Mariette Himes Gomez' Calla bed … but look how it takes on a completely different persona in the chocolate brown leather!  This setting is a great example of how a bedroom can appeal to both men and women.  The leather bed and dark wood lean more masculine, but the curved lines of the bed – which are echoed in the side chair and the bedding – soften the room and give it feminine appeal.   Oh, and the "Yes" and "No" pillows also perfectly echo the male and female perspective!  Hee hee hee!!!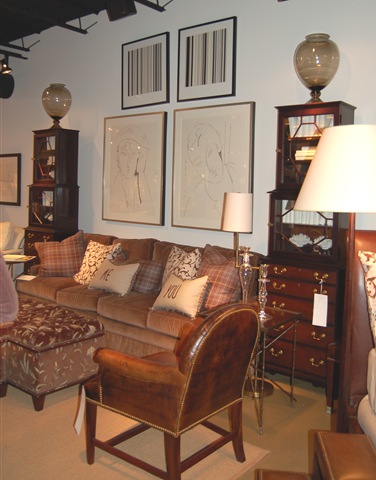 This living room setting uses many of the same fabrics as the bedroom, but in an entirely different way.  The oversized sofa was made using the left arm and right arm pieces of a Hickory Chair sectional, but Hickory Chair has since introduced their M2M (Made to Measure) program which enables you to order many of their existing styles up to 120 inches in length.  If you don't find what you are looking for in the M2M program, however, you are sure to find it in Hickory Chair's Silhouettes program!  With Silhouettes, you can customize your upholstery with arm, back, seat, cushion, base, length, height and depth options.  I hope my hubby reads this blog post because I'm dreaming up an 86-inch tight back, T-seat cushion sofa with narrow square arms.  I'm still undecided between exposed legs and a dressmaker skirt … but I'll keep you posted!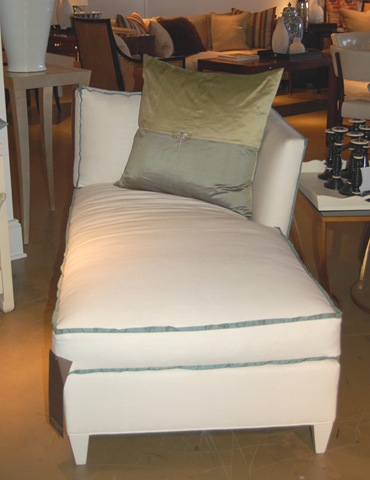 When I sank into this Leigh chaise by Suzanne Kasler – which accompanied the Candler twin beds in a "bedroom" setting – I immediately started scheming how I could take it home!  When Suzanne (yes, I do have a girl crush on her) designed her Hickory Chair pieces, she originally asked for all-down construction to give that relaxed look.  In response, Hickory Chair created their Luxury Spring-Down cushion, which gives the relaxed look along with an über-comfortable but still supportive feel.  The Luxury Spring-Down cushion features individually pocketed springs in a polyurethane casing surrounded by a mixture of down, small duck feathers and polyester which has been blown into channels on the top and bottom of the cushion along with the borders.  In other words, it's heavenly!!!  I also died over the combination of white linen with a tiny blue silk flange.  I don't think it comes any prettier than that!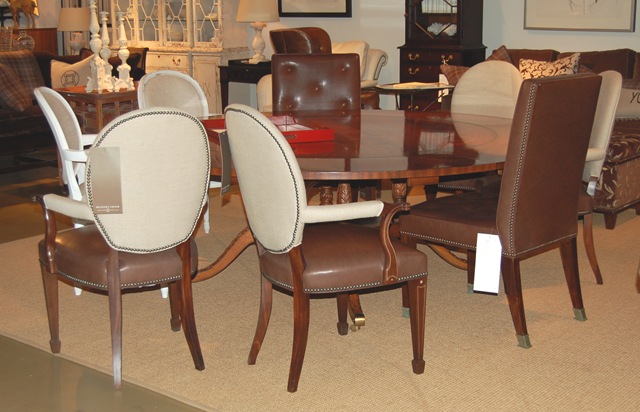 I chose to sit at this Sheraton dining table during our first evening at Hickory Chair University.  The table is definitely traditional, but – combined with the various styles of chairs – it still works in an updated setting.  What I really find fabulous about this table is the fact that – using arched perimeter leaves – it expands from a 60-inch round table to an 84-inch round table.  Ron also used this table to share some of his styling tips.  When you tuck chairs completely under the table, they just disappear.  Instead, if you are merchandising a boutique or styling a photo shoot, try placing two chairs at an angle – as in the above photo.  Now, you actually notice the chairs!
Ron also shared how he changes Mezzanine's look every six months or so – by changing the accessories!  As you can see in the above photos, most of the upholstery is neutral, but you get pops of color with pillows and other accessories.  One room scene that I didn't capture, unfortunately, had a stack of orange potpourri boxes that really livened up the space!  That day, I happened to be wearing black pants, a charcoal gray sweater and a red plaid coat – which Ron noted perfectly illustrated what he was talking about.  The base of my outfit was neutral and could have been worn with just about anything – but the coat changed the outfit into a "red" look.   See how easy it is to do the same thing with your home?
And with that, I said goodbye to Hickory Chair University … with a new appreciation for the construction of Hickory Chair's fine furniture and a fascination with the endless options created by their ability to customize just about everything!  I can't say enough how thankful I am to Jay Reardon, the president of Hickory Chair, and Laura Holland, Hickory Chair's director of marketing services, for allowing me to participate in their program.  In the words of one of my fellow participants – Mindy Wolf (who is super cute and undoubtedly a very talented designer!) from Green Front Interiors in Raleigh – Hickory Chair truly is generational furniture.  Of course, it's not inexpensive – and I know that buying a whole house of Hickory Chair isn't realistic for everyone – but you can be confident that the Hickory Chair pieces you do invest in will be pieces that you can pass down through the generations.  I occasionally do a "cost per wear" analysis on my clothing – nothing fancy, just thinking about how much I've worn certain things compared with how much they cost – and it's fascinating how some of the more expensive pieces have really been the least expensive in the long run.  I know that the same is true for Hickory Chair.  And, on that note, let's get back to the Silhouettes sofa I'm dreaming about ….