If you've known me for, I don't know, maybe five minutes, you've probably figured out that I am a sucker for stationery.  There is not much that I love more than pretty paper!  Yes, I know, I know – in today's technology-driven, fast-paced society, the handwritten note is more endangered than the leatherback sea turtle.  (If you have any questions about the sea turtle, you clearly don't have toddlers obsessed with Diego the Animal Rescuer.)  But let's just think about a dream day at the mailbox.  For me, it would be filled with magazines, both fashion and interior design, and notes from dear friends – maybe a thank you note, but also perhaps a "thinking about you" card or an invitation to a fun occasion.  Oh, and the American Express bill would definitely have to wait for another day!
So imagine my delight when I found these gorgeous cards from Dempsey & Carroll, a purveyor of fine social stationery since 1878.  They've partnered with Schumacher, the family-owned supplier of decorative textiles since 1889, to create a limited edition of notecards that are – wait, get this – embellished with bold fabric motifs.  You might think that Kelly Wearstler's ubiquitous Imperial Trellis is a touch over-used in interiors … but how can you resist it as a card????  Really, that is just fabulous.  It's a good thing that the boxed set comes with two of each colorway, or I'd never be able to decide.  Green?  Baby blue?  Red?   Never mind, I'll take them all!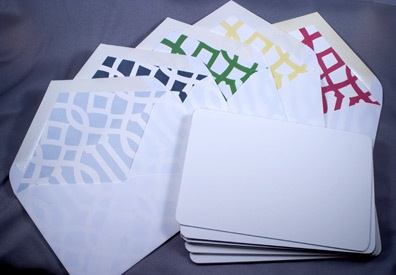 Now, before anyone gets all upset about the price of these, let me warn you that they are un petit peu cher (a little bit expensive).  If you get one of these cards in the mail from me, I probably like you a lot!  Hee hee hee.  With as infrequently as I write notes these days, however, it would be worth it for me to use this card to express my appreciation to a special someone … or for a special something! The other Schumacher patterns used by Dempsey & Carroll are the Chiang Mai Dragon and Chenonceau, both of which are extraordinarily popular fabrics.
Of course, if you aren't married to the fabric-turned-notecard idea, there are lots of fabulous stationery options out there!   I particularly love Alexa Pulitzer (because who can resist crowns or chandeliers??), Kate Spade (preppy fabulousness), Multiple Blessings (locally designed by another twin mommy), and Design-her Gals (cards that look like you!).  If you live in Charlotte, I highly recommend you check out Swoozie's, Paper Source, Paper Twist or Salutations … because you are sure to come away with something you love.
Happy letter writing … and hopefully receiving!