Continuing our review of the top trends out of High Point Market …
Everything old is new again!  In other words, vintage – or vintage lookalikes – are hot.  Did you read Lauren's post about her peanut?  That's a perfect example of what I'm talking about!  Some of the most buzzed-about vendors were the ones who sported a vintage or vintage-inspired aesthetic.  Think patina – whether it's "actual" patina (perhaps from reclaimed wood) or just a new version of what you might find in an antiques shop.  Take, for example …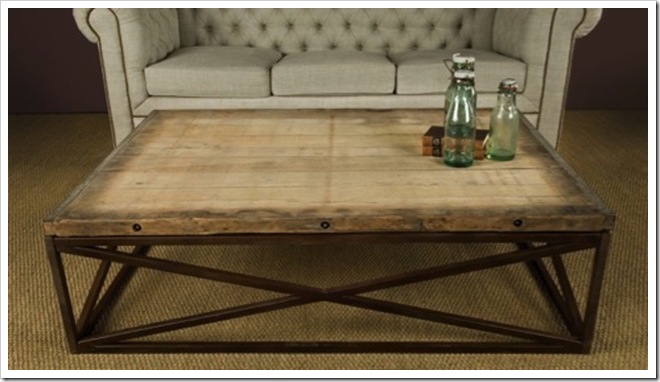 … this coffee table from Bobo.  It's the reclaimed wood top that makes it interesting, right?  Wait, have I seen that coffee table somewhere before?  Remember that Bobo makes quite a few of the objects sold by the new Restoration Hardware … so you can find this same table (but without the X-base) sold online.
Or how about this cabinet from GO Home?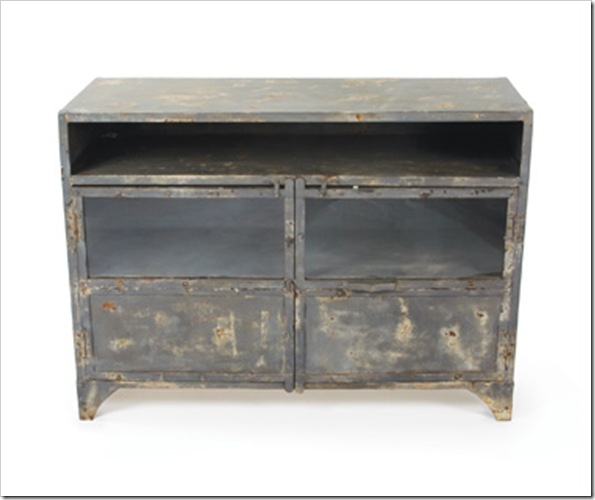 The cabinet is a new piece, but – with the hand-rubbed finish (or let's just call it rusty) – it looks like you found it in an architectural salvage yard.
This industrial-looking chair from Halo Styles was a huge hit with a certain someone I know!  Doesn't it remind you of a baseball glove?
Accessories are also a large part of the vintage trend.  There's Lauren's peanut, of course … and I just about died over this revolving candy jar at GO Home.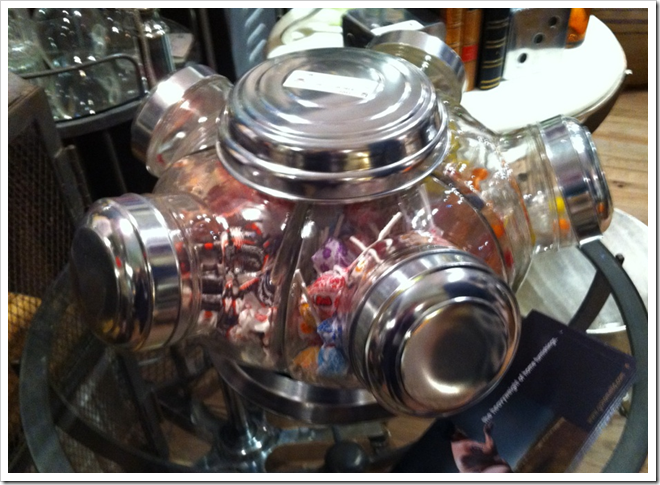 Yum!!  A client of mine (and personal friend) works as a candy distributor.  Don't you think she needs one for her kitchen?   I'm totally taking my boys to trick-or-treat over at her house!
GO Home also created interesting tablescapes by combining old books and what-appears-to-be-inherited crystal with candles and collected wine corks.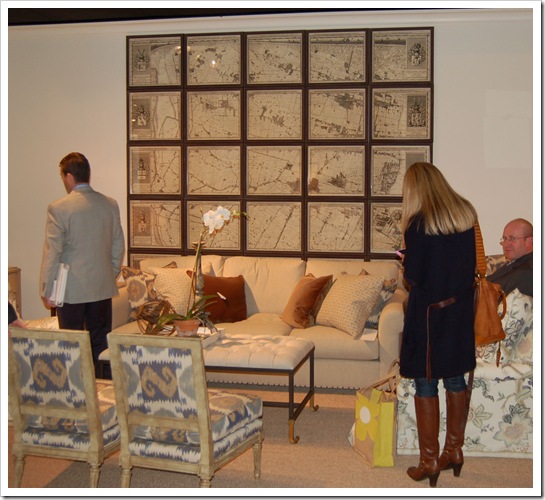 Of course, art often appears to be vintage, whether it is a series of framed maps (here, from Soicher-Marin as displayed in the Hickory Chair showroom) or the black and white prints in the background of my photo at Barclay Butera.
As for me, I agree with the Matters of Style girls – rooms without something "old" often fall flat.  What do you think about vintage-inspired style?  Do you incorporate vintage pieces in your own home?
Photos from Bobo Intriguing Objects, GO Home, Halo Styles (the blog), and moi.