Still on the High Point trend review … Make a statement with saturated colors!  In other words, bring on the real color.  What I call the citrus colors – yellow, orange and lime green – were especially popular … but more wishy-washy colors (like pastels) were nowhere to be seen.
What does that mean for you?   Unless you are 100% on board the gray train (and not interested in creating a little contrast) … this year, when it comes to color … go big or go home!   (Hmmm, I know another designer who is board with that motto!)
How about these electric green ottomans at Lee Industries?  I don't think you could miss those in a crowded room!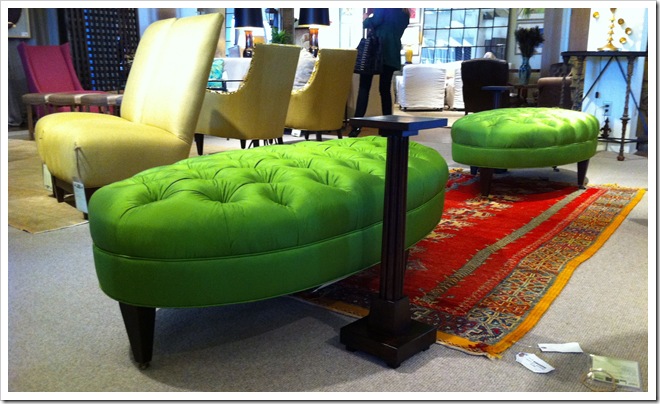 Look closely and you'll even see a bright pink chair hiding behind the lemon yellow ones.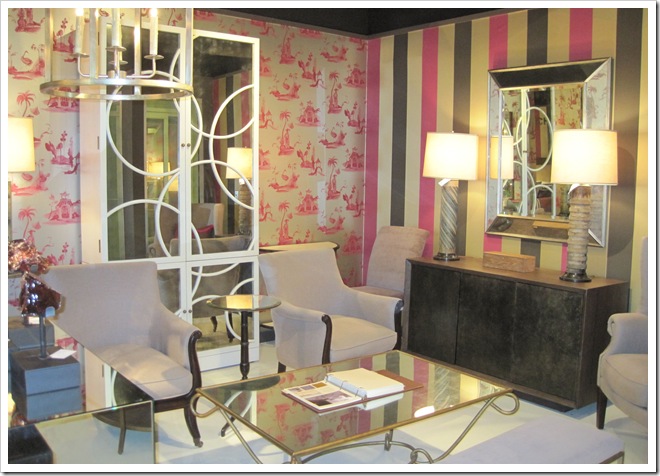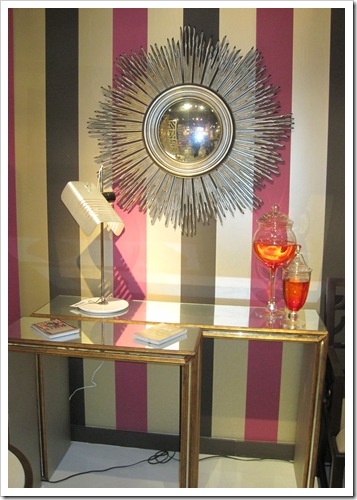 Julian Chichester used raspberry accents to pop against their brown and gray neutrals.  Seriously, how fantastic is that?!?!?!?  I love the Osborne & Little wallpapers they used – the super fun Dulwich Stripe pattern (which I like to call Neapolitan ice cream!) paired with the Palais Chinois pattern (which is more traditional, but shown here in an unexpected color).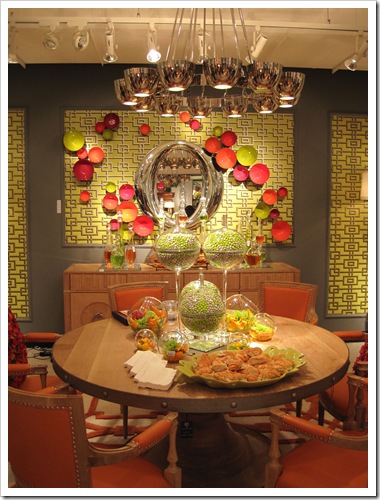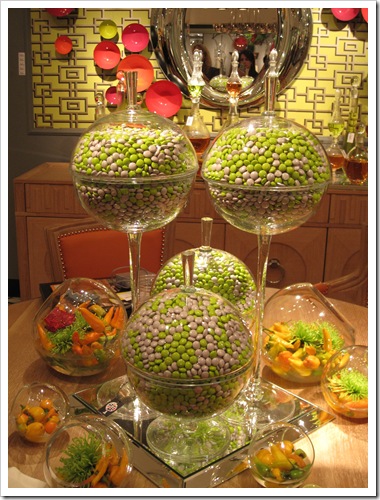 I don't think anyone would call Global Views color-shy, and – as usual – their showroom did not disappoint!   Who doesn't love enormous globes filled with custom-colored M&Ms?  You know a company is serious about color when they color-coordinate their food to the display!  But let's not overlook their fantastic products.  How cool is that plate display wall and those orange chairs?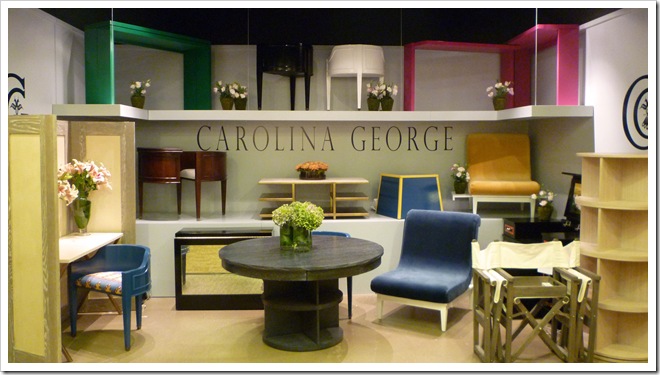 Carolina George made its High Point debut – to great acclaim.  As you walked through Interhall, you couldn't miss the classic, simple pieces in such great colors!  Carolina George furniture is high quality and designed to be extremely functional, meant to use every inch of space to its fullest.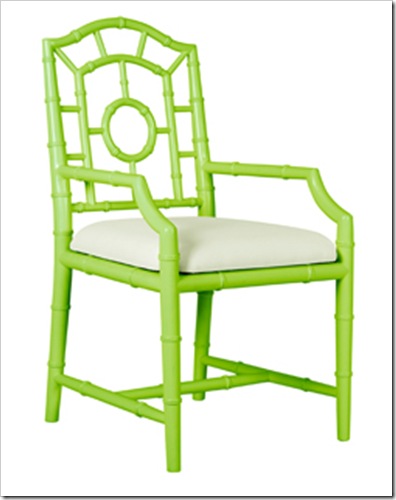 Unfortunately, I don't have any photos of the colorfully lacquered furniture over at Bungalow 5 – like the Chloe chair shown above in spring green – but you just might spy a few Bungalow 5 pieces in my on-the-scene videos posted over at the Hickory Furniture Mart blog.
So why is color so intense this year?  As Maria discussed in her monthly newsletter (you do subscribe, right??), this year's very popular gray may come off a little bit cold if you don't warm it up with some color.
What colors – if any – will you be adding to your home this year?
Photos from Carolina George, Bungalow 5 and moi.