Y'all, thank you so much for all of your kind comments, texts and emails after my last post. I once read that, when life throws you a curve ball, it's the opportunity of a lifetime to knock it out of the park. Batter up, baby, because this girl is ready!
Do you think it's a coincidence that the ball motif is trending? Polka dots have moved into 3D, and I'm loving the sphere more than ever. Why? Because it perfectly combines classic and chic — and that means I'm all in! The only question is … where do I start? Because I love every single one of these gorgeous pieces. I'm not sure when or how, but those lamps are totally happening in my life.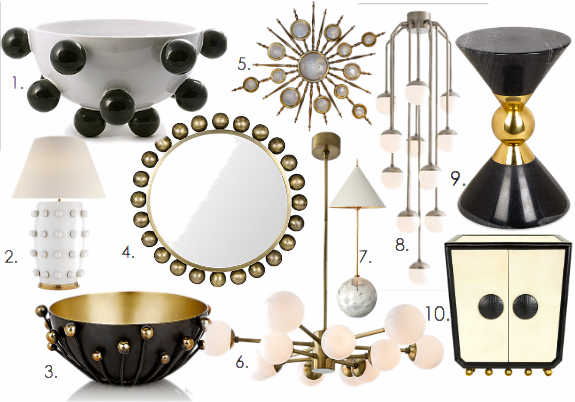 1.//2.//3.//4.//5.//6.//7.//8.//9.//10.
I'm also crazy about the Carrington chandelier. It has the same feel as the (smaller) fixture I used in Twin A's new bedroom. Psst!  I'll be revealing his new room design very soon over on the smartstuff Social Station blog. Oh, and the vintage Phyllis Morris sunburst mirror?  No. Words.    
Of course, we can't forget about fashion! The sunglasses are my current faves; I've been rocking them since last year when I visited San Francisco with Zephyr and accidentally left my old shades at home. Saks Fifth Avenue to the rescue! What. A. Shame. I'm also sporting those Bauble Bar earrings every chance I get. It's all about knowing where to splurge and where to save, right?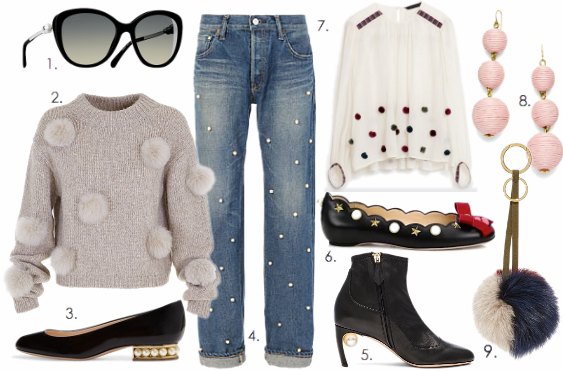 1.//2.//3.//4.//5.//6.//7.//8.//9.
As adorable as the pearl-embellished jeans are, I'm not convinced they are practical enough for my life. The flats on the other hand?! Now that's a different story. Oh, and the Tibi sweater totally reminds me of the très chic French woman I sat next to in March at Hôtel Costes.
Will anything here end up on your shopping list? Because that's the way the ball bounces!