Are you ready for more photos of the Foxcroft living room featured in this month's Charlotte Urban Home?  As you may have read in the article, the homeowners are a young and very busy professional couple with an adorable five year-old son and a very energetic black Lab!  I am not sure if it is more work to have twins or a Lab puppy.  But I digress.  This room needed to be stylish enough for entertaining their friends but comfortable and functional for their active life.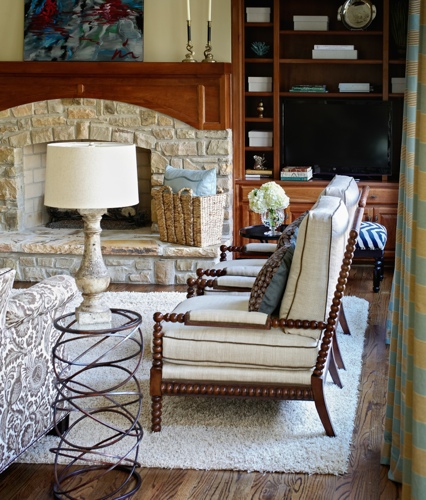 The starting point for the room was the gorgeous Hickory Chair sofa … purchased as-is by the wife.  What a stroke of luck to find a beautiful upholstered piece that was already perfect for the space!  In my experience, this really only happens when you are designing from scratch.
I've already told you how the existing trim color dictated the color of the kitchen cabinets — and because the house has an open floor plan, the walls in the living room — so that was another element already in place.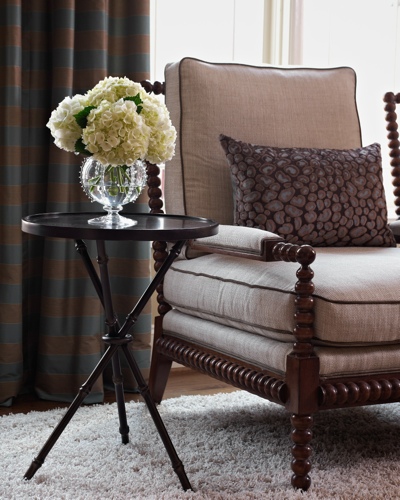 I love, love, love the gorgeous striped fabric that we selected for the window treatments.  Because windows span that entire wall, the window treatments were bound to be a focal point … and the horizontal stripes really delivered!   The husband had been concerned that the window treatments would block the light coming into the room, but the wife and I only slightly twisted his arm.  Once they were installed, he said, "I hate it when (my wife) is right!"  Of course, he meant that in the nicest possible way.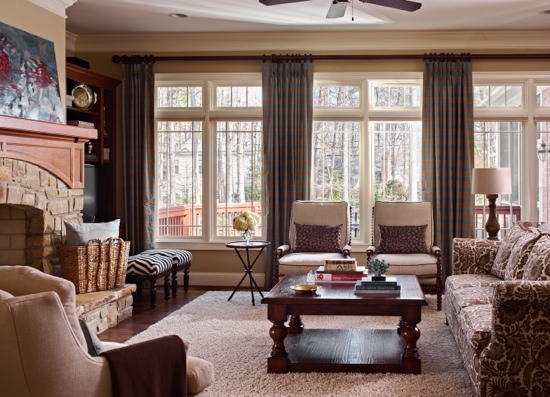 Leopard pillows — you know I love my animal prints — and a bold abstract art piece add the final punch of fun and color.  Now the living room is a classic, sophisticated space that truly suits this classic, sophisticated family!
Wondering what the room looked like before?  In this photo, the homeowners had just moved in … hence the absence of anything in the bookshelves.  Don't you love my super fancy black circles covering the faces of the unsuspecting visitors? I seriously need some photo editing help.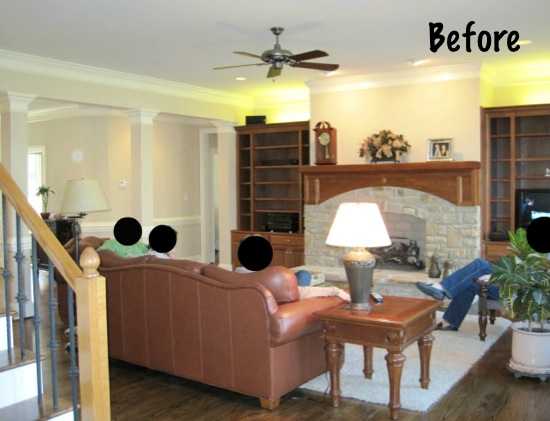 Did you catch that this space was featured on the North Carolina Design Online blog?  Thank you to Liz for that lovely article … and pop over there to read a bit more about my design philosophy!
What room in your home needs an "after" photo?
Photos by Dustin Peck Photography.  And a huge thank you to Sarah at Matters of Style, who helped me style this space (and the kitchen) for photography.  It is so helpful to have an extra set of hands … and another discerning eye!