I have been overwhelmed by the response to this kitchen renovation!  It has been pinned and repinned on Pinterest numerous times, and  I continue to get questions about sources.  So without further adieu — and with gratitude to the gracious homeowners who agreed to share their beautiful home — let's get to the details!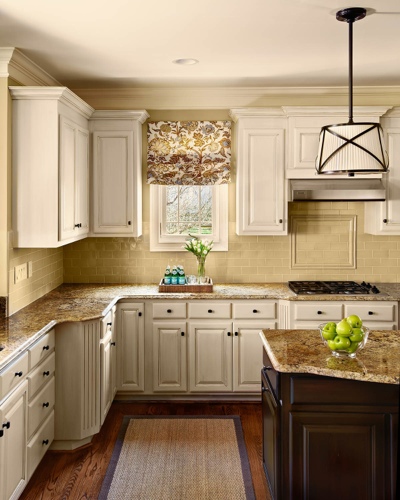 The wall color is Sherwin-Williams Whole Wheat (SW 6121).  The cabinets were painted and glazed by an extremely talented local artisan using his proprietary materials, so I'm afraid I cannot give you an exact color match.  The finished color for the perimeter cabinets is close to Sherwin-Williams Antique White (SW 6119).  Please know, though, that the color that works in this kitchen won't necessarily be the same color that works in your kitchen … so test, test, and test again!

The roman shades were fabricated by my custom workroom … after a long wait for the back-ordered Barclay Butera for Kravet fabric.  The homeowner was patient, because she agreed that it was perfect in the space and with the fabrics we had selected for the adjoining living room that was featured in Charlotte Urban Home.  I always encourage my clients to wait — within reason — for the "right" fabric or furniture piece … because the wait is just a fraction of the time that they will likely live with the selection!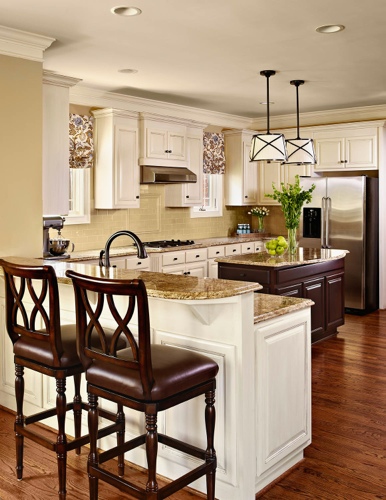 The bar stools are — wait for it — from Ballard Designs.  [Aside: Don't you love it when you find affordable pieces mixed in with higher-end sources?  Just today, I enjoyed seeing a jute rug from Pottery Barn and antlers from Ballard Designs in Reese Witherspoon's Ojai ranch featured in September's Elle Decor.]  Great style and a reasonable price made this purchase a no-brainer!  The leather upholstery is chic and durable for quick meals at the counter … especially perfect for the active young boy who lives here with his busy parents.   I shared my advice for using bar stools with twins here.  
The Grosvenor Pendants were designed by Sandy Chapman and are available through Circa Lighting.  The granite countertops — here, Juperana Persia — and subway tile were sourced from Harkey Tile and Stone, and they carry a number of similar options.  Again, the right choice for you is the one that works with your kitchen … not necessarily the one used here!
Do you hope to renovate your kitchen, or do you love it the way it is?