I couldn't be more excited that the "Simply Chic" sale — otherwise known as … my Joss & Main Curator's Collection — kicks off tomorrow!  I had so much fun putting together pieces that fit my clean, classic aesthetic.   What do you think of this rendering?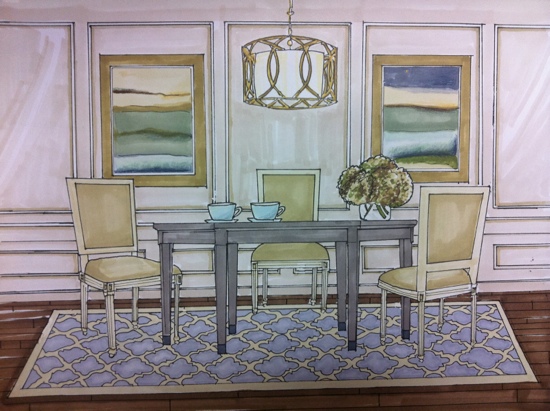 It's a conceptual sketch of a dining room put together entirely from my Curator's Collection.    I'd add some taffeta drapes to any windows and call it a (gorgeous) day!   After the sale launches, I'll update this post with links to each of the products that I used in the room …. basically everything but the tea cups.  Click here to join Joss & Main if you haven't already!
Worried that a dining room is too "precious" to actually use when you have young twins?   The statement chandelier and abstract art pieces are child-friendly ways to add sophistication to the space.  I mean, the chandelier is out of reach, so no worries there!  The rug is reasonably priced (and can be fiber-sealed), so you wouldn't need to be overly concerned about stains or spills.  Add a linen Chair Apron to the seats … and you are good to go.  With dining rooms that truly function, there's no need to add a "kids' table" in the back.  Let everyone sit together, especially on special occasions like holidays!   I still do not suggest giving the babies cranberry sauce as finger food …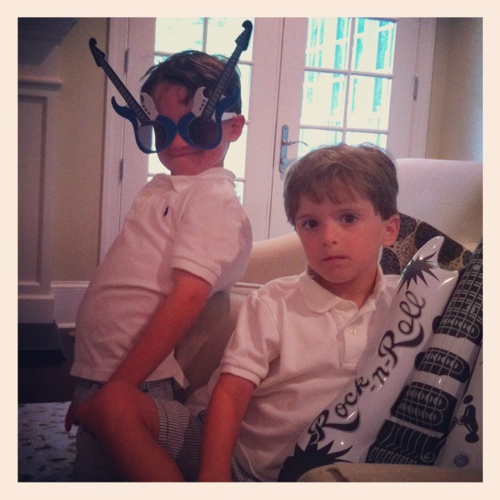 How was your weekend?  My days are getting busier and busier as "Life in the Fast Lane," 2012 NOMOTC Convention, draws near.  I can't wait to welcome hundreds of twin and triplet moms to Charlotte!  In the meantime … here's a peek at my "rock stars."   I think you can guess which twin is rocking out to the Fresh Beat Band.  It's a shame that the polo shirts and seersucker really kill the edge.  
Photos by moi.  Although if you come to the concert with us in September, you'll get a live and in person version courtesy of my twinks!  
* update *
You can find the pieces used in the rendering at these links — dining table (hexagonal shape, not round), rug, chandelier, hydrangeas, chairs, art, and art.  Please note that this is a conceptual drawing not to scale.