Can someone please explain how (a) it has been the longest winter ever, yet (b) I barely blinked and it's already mid-March?!  What (b) means in my world, of course, is that High Point Market is just around the corner!  And I couldn't be more excited … especially because — after attending ITMA Showtime, the largest decorative fabric show in the United States — I already know what fabulous things are in store.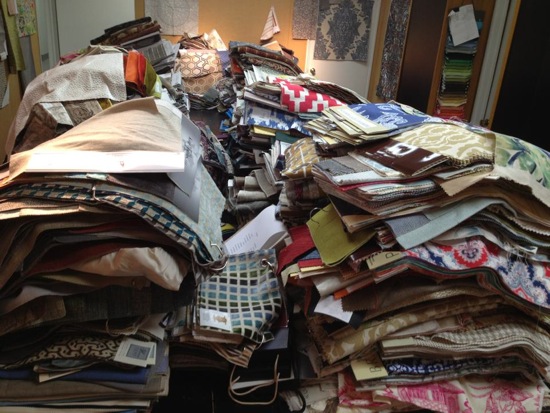 These stacks and stacks of fabrics?  Oh, just the samples that Jennifer McConnell, Pearson Furniture's incredibly talented Vice President of Design, collected during her treks around Showtime.  From these stacks, Jennifer — and her counterparts at numerous other furniture companies — will cull their favorites to create color stories, decide which fabrics to introduce into their collections, and create the gorgeous showrooms that draw us in before we even open the door.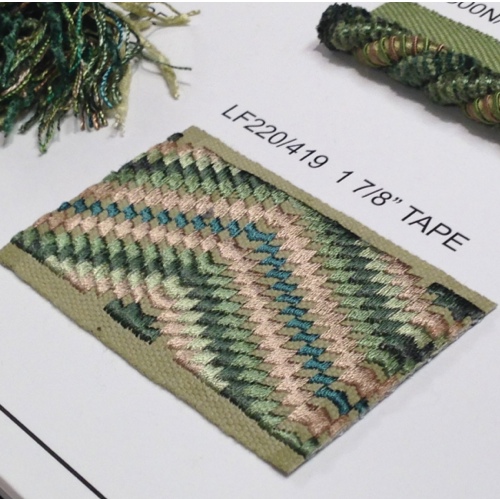 Of course, I have my own favorites … and here's what I'm hoping (read: expecting) to see in April.  Trim is in, and nobody does it better than Classical Elements and their very own Trim Queen.  I'm captivated by the range of color in this decorative tape, which — just for example — would take a pillow from simple to spectacular.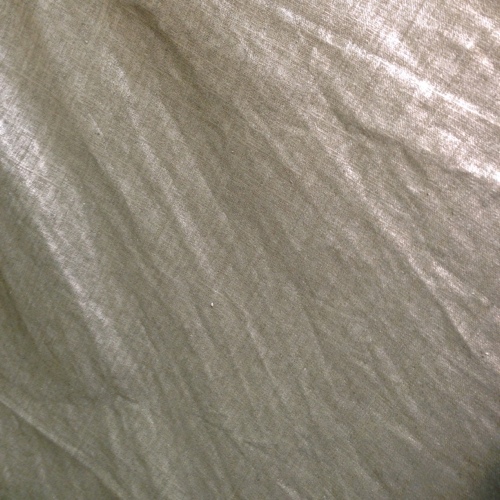 Did someone say shimmer?  I hope so, because I love shimmer!  Robert Allen never disappoints, and I am crazy for their Alchemy linen.  Alchemy isn't a new introduction, but I think we're going to start seeing more of it.  Linen + shimmer = happy Traci.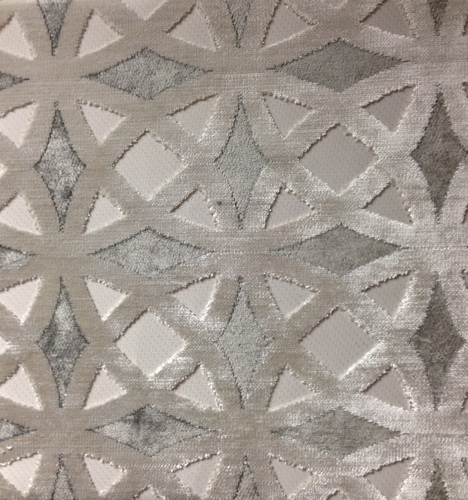 Mmmmmm …. velvet.  With shimmer.  I mean, how could that not be good?!  Please tell me someone put this De Leo Textiles fabric in their line because I need it in my life.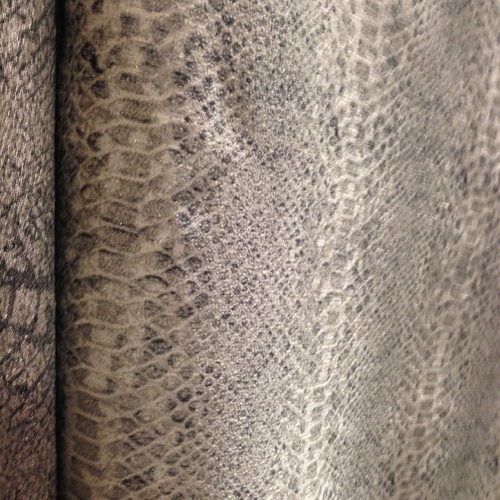 Animal prints are truly a classic and the one print that I never tire of using.  I'm seeing a snakeskin revival, and this … wait for it … shimmery version from Home Accent Fabrics by Ronnie Gold is gorgeous.   Ronnie's fabrics were all over October's market, and mark my words, this hot little number is showing up somewhere.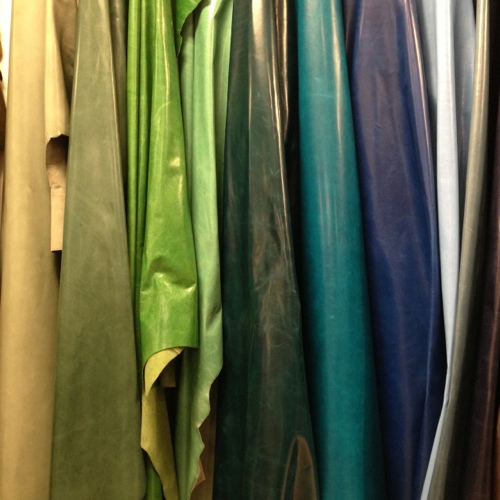 Please don't think it's all about neutrals, though!  I was beyond captivated by the unbelievable array of rich, saturated leathers at Moore & Giles, and you'll love the colorful new prints from fabric powerhouses like Duralee.  The new Tilton Fenwick collection?  Unbelievable.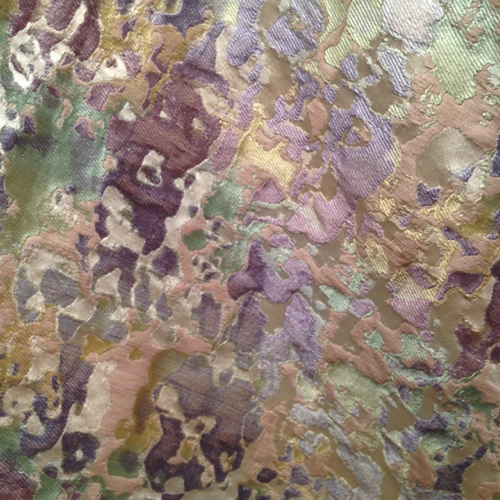 Looking for something on the lighter side?  Maybe this American Silk Mills watercolor is more like it!   I. Was. Dying.  I believe Celerie Kemble used it on her Henredon upholstery last market, but this fabric is still looking for a home.  I hope, hope, hope another manufacturer or distributor has picked it up!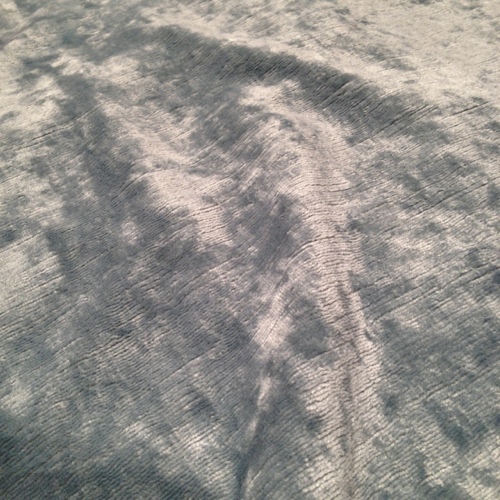 I adore soft, luxurious silk fabrics — velvets, jacquards, you name it.  Would you have guessed we have that kind of production right here in the United States?  American Silk Mills produces its yarns and weaves its fabrics in Pennsylvania.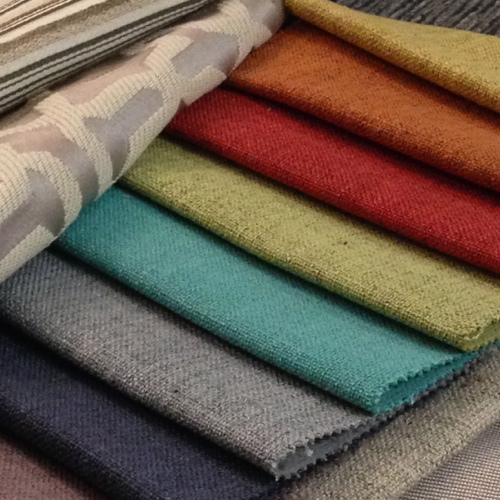 And let's not forget those workhorse fabrics that I swear by.  Crypton Fabrics are The Name of The Game in my world.  Fabrics that look great and stand up to the wear and tear of modern family life?  I'll take two (yards).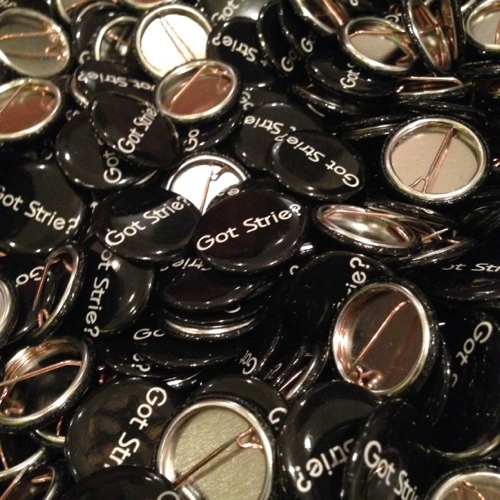 Got strié?  You can guess what Valdese Weavers felt strongly about!  So there you have it — my predictions for April's High Point Furniture Market.  My fingers are crossed!
Do you have a favorite?
Top photo courtesy of Jennifer McConnell.  All other photos by moi.  A huge thank you to Catherine Morsell and all of the wonderful folks at ITMA Showtime for being such incredible hosts!