A designer's visit to New York wouldn't be complete without a trip to 200 Lex — otherwise known as the New York Design Center.  It was such a treat to spend hours browsing showrooms that we aren't fortunate enough to have in Charlotte!
Palecek is known for its natural, handcrafted furniture and accessories made with renewable resources such as rattan, seagrass and fast-growing hardwoods.  "Eco-chic" before the word was coined, Palecek proves you can have sophisticated design and be earth-friendly.  I think their products are a wonderful way to "bring the outside in" to city-goers who don't get quite enough green space.  The wood of this coffee table was gorgeous … and reminded me of the beautiful trees that actually are in New York City.  Hello, Central Park!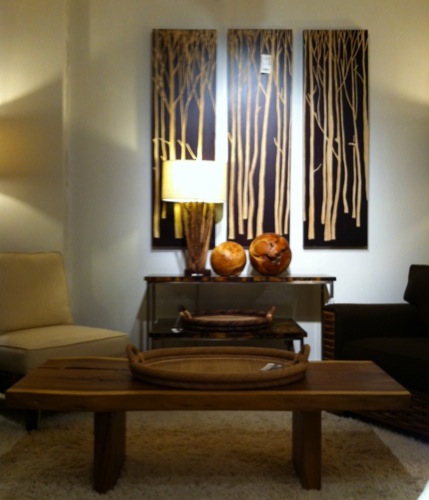 Atelier was home to some beautiful contemporary Italian pieces, including a fantastic dining table with leaves that swiveled out from under the table to create additional seating area.  It was one of the most brilliant space-saving ideas I've ever seen … and darn that I didn't get a photo.  And who needs a bridge when you've got a suspension lamp that just might extend all the way to super-stylish Brooklyn!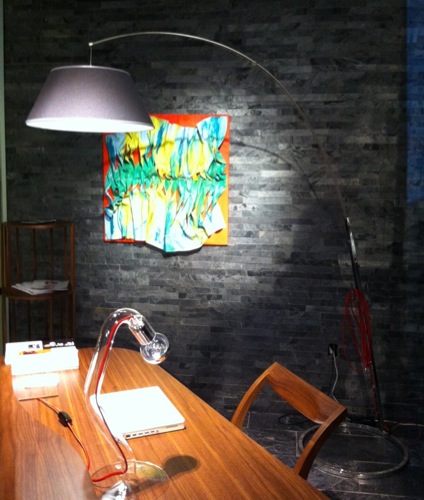 Of course, you know that Global Views is one of my High Point favorites … but I really enjoyed their new color scheme and patterns inspired by the peacock.  Isn't that pillow fun?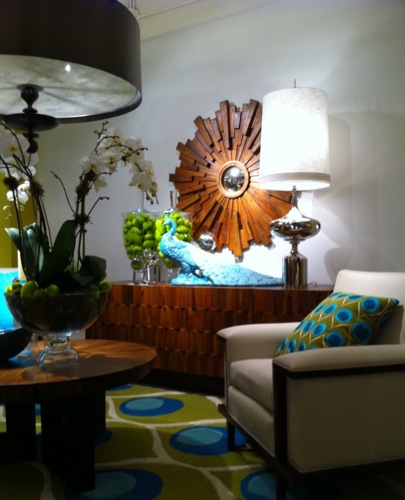 I'm crazy for Mottega, a line of custom lamps that have the most extraordinary colors to choose from.  If I had to choose one color, I cannot decide whether I would pick pink – which benefits Susan G. Komen for the Cure – for my guest room or red for my twin boys' bedroom.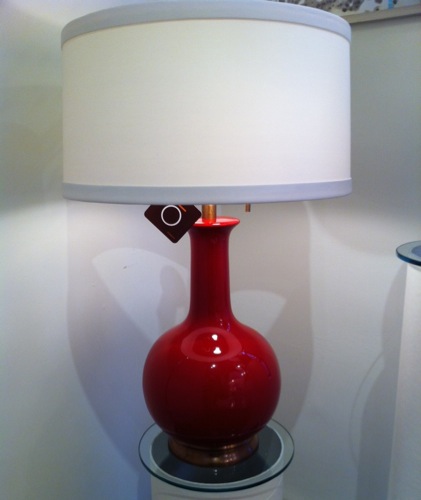 Eeny meeny miny moe, catch the tiger by the toe!  Okay, okay, I'd pick pink — in remembrance of my friends who battled this terrible disease before age thirty (!!) … including one who is now an angel.  I am so thankful for every little bit that goes to find a cure.  Mottega lamps are found in the Arteriors showroom.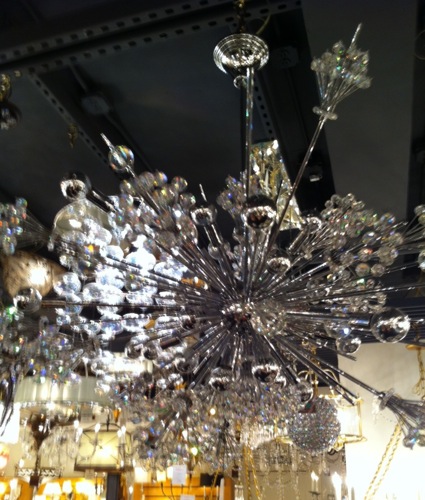 The lights in Times Square have nothing on this spectacular light fixture, found at Metropolitan Lighting Fixture Co.  It's sort of like Sputnik, but I love it!  My favorite fixture at Metropolitan Lighting, however, was this deco beauty – which looked like it could have been in the lobby when the NYDC first opened in 1926.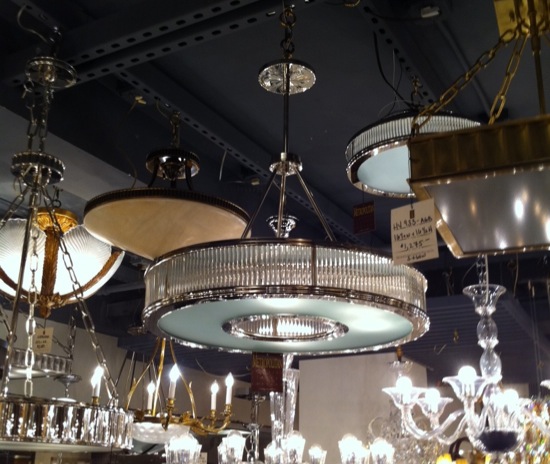 I had to stop by Century Furniture, a perennial favorite.  The gorgeous diamond detail in this mirrored coffee table reminded me of the top of the legendary Chrysler Building.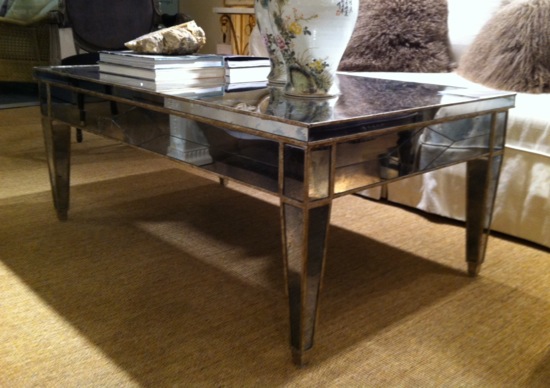 I'm crazy for anything blue, so naturally I fell hard for the cobalt shade of All Mine, a viscose/cotton blend that is part of Kravet's new Modern Colors collection.  Isn't it so deliciously luxe?  It reminds me of Tobi Fairley's House Beautiful cover.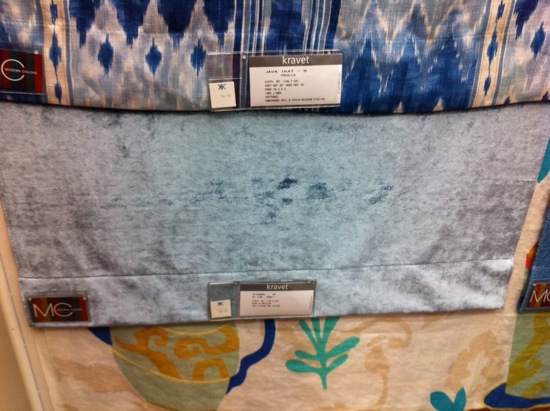 If you are in New York and in need of a designer, the NYDC Access to Design office has portfolios of a pre-selected group of designers — at least one of whom is sure to be a match for whatever size, style and budget you are working with.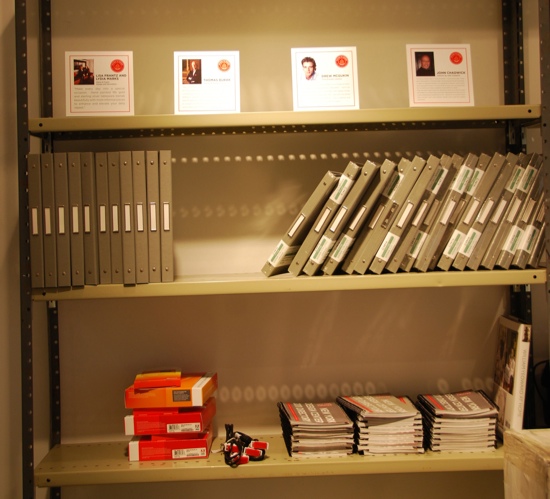 My time at the NYDC – and at Blogfest – ended with a bang, as everyone celebrated "Sweet Endings" in the 1st Dibs space.  It was amazing to see so many gorgeous vintage pieces in person … especially when you usually admire them only over the Internet.  I wish I had room in my suitcase for these stunning chests!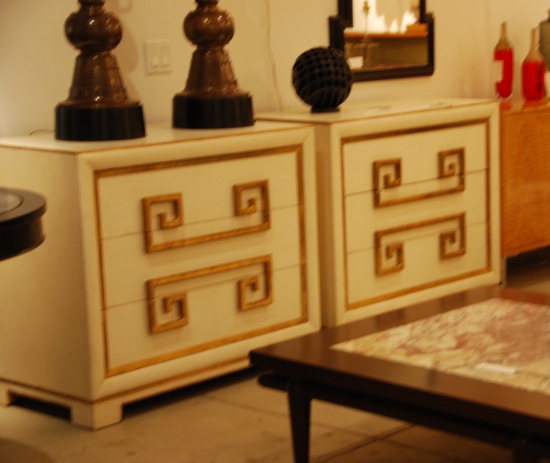 Of course, no Blogfest event would be complete without a red carpet moment … and here I got to meet Thom Filicia, the evening's special guest, and pose in front of the Blogfest backdrop.   (Unfortunately, I didn't see US Weekly there to take our photo.  Oh well.)  I've been a Thom fan since Queer Eye … and I am thrilled to report that he is going to be back on TV soon!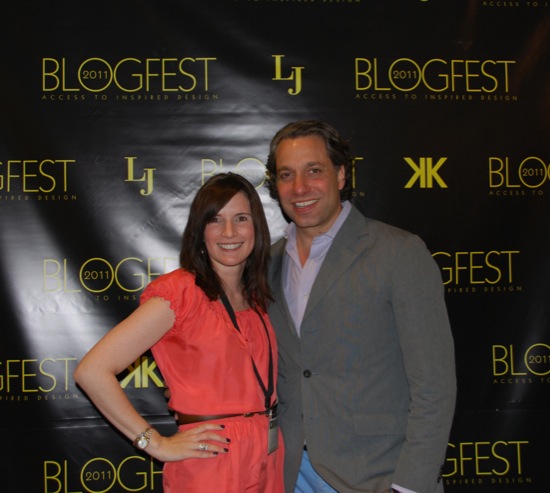 Before I end, however, I should share a glimpse of the evening's candy buffet … because — like my experience at Blogfest — the candy was colorful, inviting, and all-around fantastic!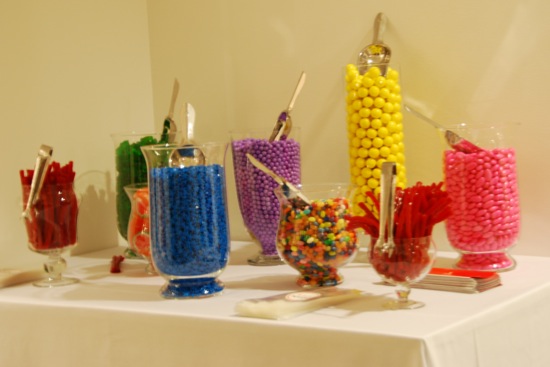 Which showroom would you be sure to visit?
Thanks to the New York Design Center for a most enjoyable day … and a fun scavenger hunt to help us get acquainted!