Last week was a whirlwind of activity, thanks to Blogfest 2011 – a whirlwind tour of the New York City design scene sponsored by Kravet, Lee Jofa and Brunschwig & Fils.    I'll share more about it next week, but – until then – I've got a few photo highlights to whet your appetite!
Peonies graced the tables at Monday's kickoff luncheon, held on the 44th floor of the incredible Hearst Tower.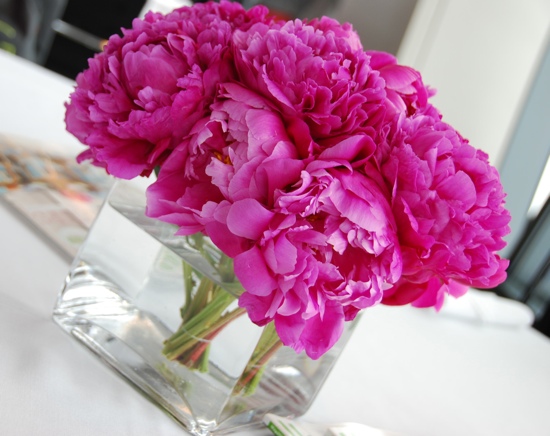 Seattle's Best Coffee martinis were part of the celebration at the Elle Decor Modern Life Concept House, which opened a day early just for us.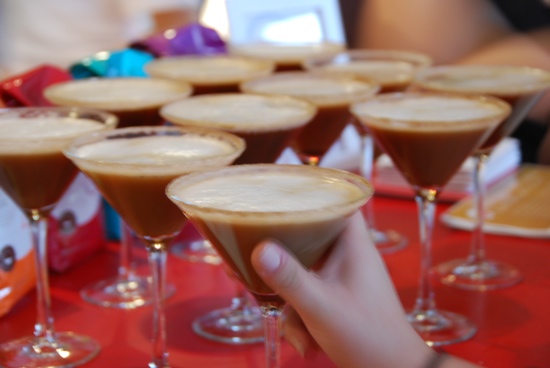 Swag bags – filled with just about every kind of treat imaginable, edible and otherwise – greeted us at almost every stop.  I came home with the latest issue of every shelter magazine (before they hit my mailbox!), House Beautiful Blue: 350 Inspiring Ways to Decorate with Blue, a Lilly Pulitzer thermal tumbler (in celebration of the brand's new collaboration with Lee Jofa), Molton Brown toiletries (my favorite!!), a John Derian "Paris" paperweight, and Inspired Styles (a gorgeous coffee table book filled with the work of fifteen designers who all design for Kravet and Lee Jofa).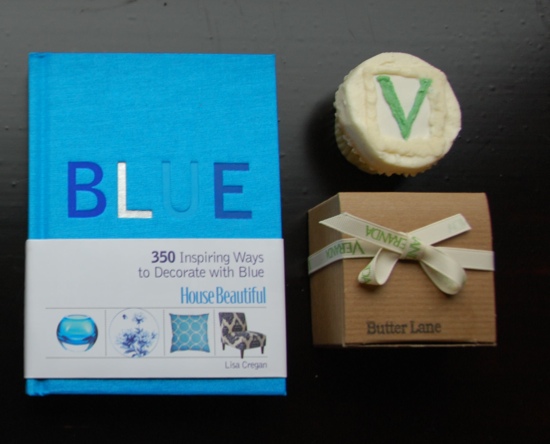 Through it all, I had a great time with this gorgeous girl.  Stacy Naquin is a designer out of Louisiana and a new blogger, so if you haven't visited her blog, be sure to pop over there and show her some love!  Oh, and Stacy's also the reason these photos look so good … meaning she took them.  (I was the NYC guide, and she was the photographer.  It's all about playing to your strengths, people!)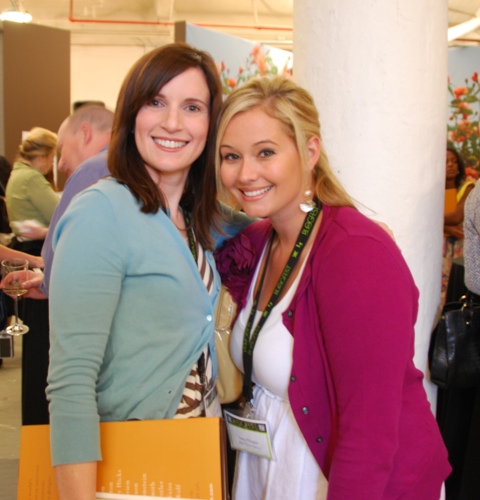 Can't you already tell that Blogfest was incredible?  Now I just need to figure out how to sum it all up … hopefully without repeating the same thing that every other blogger in attendance is saying.
Until then, let me end by saying merci beaucoup to the team at Kravet who put Blogfest 2011 together!   Cary Kravet, Scott Kravet, Ellen Kravet, Beth Greene, Jennifer Powell, Ann Feldstein, and everyone else who I am neglecting to mention (I feel like I'm accepting an Oscar without a pre-written speech) – you are amazing.  The amount of work that it must have taken to put this event together is staggering … but the rapport and camaraderie among the Kravet team is even more remarkable.  To hear Barbara Barry talk about her affection for Mr. and Mrs. Kravet was simply extraordinary – and we witnessed that throughout the organization.  What a rarity in corporate life today … and a testament to the kind of company that Kravet is.
I'm already looking forward to Blogfest 2012!  Will you be coming?