Y'all. I have struck design gold. Gold, I tell you. Until now, I never would have believed there was such thing as a stylish, beautiful and elegant billiards table. You know, as in playing pool. At a pool table. An activity usually conducted (albeit not by me) in an awesome dive bar. For the record, I blame my complete inability to shoot pool on my left-handedness. As my husband says, it's my lie and I'll tell it as big as I want.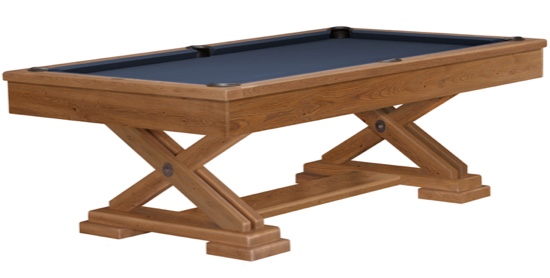 But now? Check out the Brixton Pool Table by Brunswick Billiards! Clean lines, transitional styling, hammered metal details and an antiqued finish? Heaven in a pool table. And lucky us, Everything Billiards — it's a super-quick drive from Charlotte up to their Concord showroom* — is an exclusive dealer for both Brunswick Billiards and Olhausen Billiards, the very best names in the business. I may have been drooling when Megan, the top-notch sales associate in the Concord showroom, showed me the variety of styles and options offered by Brunswick and Olhausen. You know designers — we like options!! Choose your style, customize your felt, select a finish and you'll have a personalized pool table to call your very own … and it looks fantastic. Like I said, heaven in a pool table.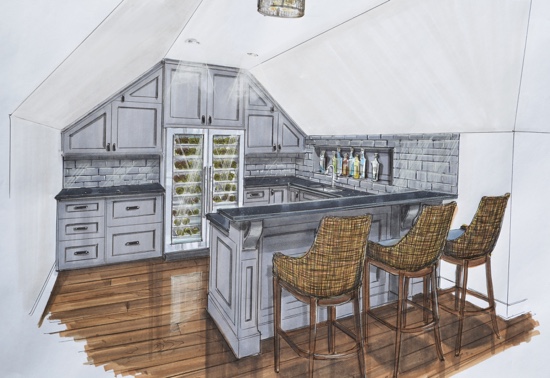 I've had several "man cave" projects lately (seriously, can't we come up with a better name than "man cave?!?!"), which has been loads of fun. Here's a sneak peek of one in the works now! Everything Billiards is a family-owned and operated company, something I truly value, and they pride themselves on operating with commitment and integrity. Isn't that refreshing in today's day and age? I am beyond thrilled to have Everything Billiards as a resource … and even more thrilled that I no longer have to groan at the idea of a pool table.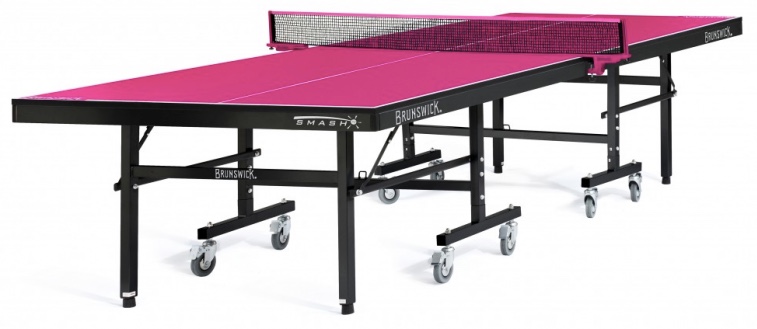 Plus, Everything Billiards also carries top-notch grills, games like shuffleboard, table tennis and air hockey, and hot tubs … so it's a "man cave" one-stop-shop. My twin boys would be super-psyched about table tennis at our house — unless I brought home a hot pink one. Hey, but I like it!! And why do boys get to have all the fun?! I'll take a spa at my house, too, thank you very much!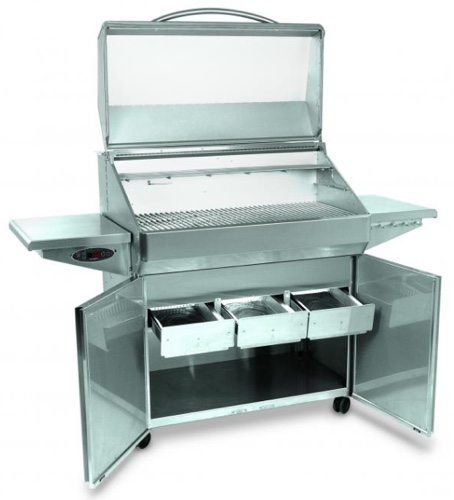 On the subject of grills, if you want to step up from the Big Green Egg (no offense, Eggheads; Everything Billiards sells those, too), I understand Memphis Wood-Fired Pellet Grills really are all that and a bag of chips. I'm not sure if I should keep my husband away from the Memphis Grills … or let him fall in love so I, too, can enjoy the benefits.
Ready for more good news? The Brixton pool table will be the star of the billiards room in my HomeArama 2015 house! Insert happy sigh here. I can't wait for you to see this handsome thing in person. The felt color is a gorgeous slate (albeit called "powder blue"), and the finish is Beachwood … and I am delighted. Yippee!!!
* Don't fret, central Carolinians; Everything Billiards has a Greensboro showroom to serve you, too.
Product images via their respective manufacturers. Rendering for Traci Zeller Designs by Joan of Art.