Even the ophthalmologist has started accusing me of seeing double!  I wish I were joking.  Perhaps it's an "occupational hazard" associated with being a mom of multiples.  You call it "double trouble," I call it efficient.  This double-dipping discussion, however, has nothing to do with twin boys … or dunking your half-eaten french fry back into the shared ketchup.  Coincidentally, an activity also commonly associated with twin boys.   
Instead, I'm talking about the digital editions of our favorite magazines!  There's something about a paper magazine that will never be replaced.  I love the feel of the paper, the thrill of spotting a new issue on the newsstands, and the anticipation of sinking into the sofa as I read.  My heart just doesn't do the same pitter-patter over my iPad.  But I also love the convenience of having my magazines digitally.  I'm no longer lugging the 10+ pounds of magazines on a cross-country flight, ripping out pages or deciding whether to save or recycle.  I also like knowing that digital is more resource-efficient both for the publishers and for the environment.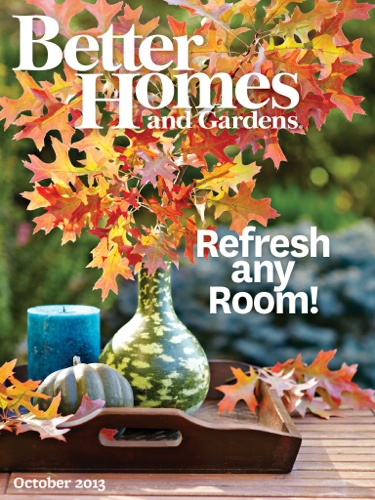 The real tipping point, however?  Many digital editions — and especially those of incredible magazines like Better Homes & Gardens — contain lots of bonus content.  Ummmm, hello, heaven?  Surely I'm not the only one left wanting more and more after I finish an especially good issue.  Now you can have it!!  Without the page limit constraints that print magazines face, digital magazines can just plain include more stuff.
And that, my friends, is why I am a proud double-dipper.  Yes, I subscribe to both the print and digital editions of my very favorite magazines.  Because I still long for the paper … but I want the convenience and the content of the digital.  Let's call it "the best of both worlds," shall we?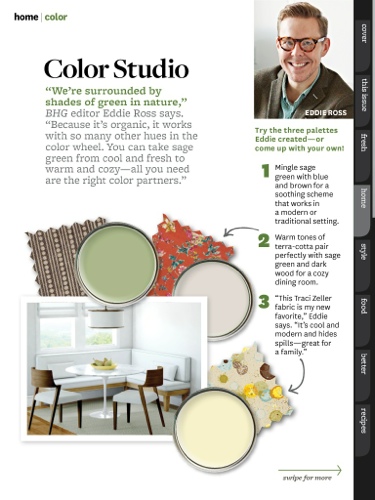 I am especially delighted to have Traci Zeller Textiles featured in the October 2013 digital edition of Better Homes & Gardens … where the incomparable Eddie Ross calls my Bubbly fabric in the Retro colorway his "new favorite."  Then he adds that Bubbly is "cool and modern" and "great for a family" … which happens to be three things I dearly love wrapped up into one sentence.  Yes, you can pick me up off the floor now — because that's about where I landed.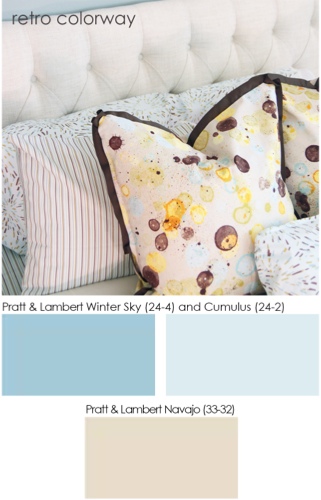 One of the most fun things about my Bubbly fabric is the variety of colors … which means lots of flexibility in decorating.  In October's Color Studio column, Eddie created three fabulous palettes around green.  If you aren't "feeling" the green, move on to something else!  I particularly like these three Pratt & Lambert shades with the Retro colorway.
Do you "double dip" … either with magazines or ketchup?
A huge thank you to Eddie Ross and Better Homes and Gardens!  I subscribe digitally through Zinio; find BHG here. If you subscribe through their Z-Pass program, you can get three magazines for $5/month.  Less than a latte.  Cha-ching!  Pratt and Lambert is available in Charlotte, North Carolina through my very favorite paint retailer, Eastway Paint.