Remember I told you that I was taking an impromptu trip to visit Lauren?  After my house was burglarized earlier this year, I've gotten an eensy bit more cautious about spilling my exact plans … but the purpose behind the trip was two-fold.  First, I learned that Eddie and Jaithan were going to be the featured guests during Capital Design Days at the Washington Design Center.  Ummmm … the opportunity to learn about styling interiors for photography from the best of the best?  Yes, please!  Second, the D.C. Design House was open, which meant I could see Lauren's room (and Lauren) in person.  A quick check with my husband and my babysitter … and my frequent flyer miles account … and I turned into the "on a moment's notice" jetsetter that I am so not (unfortunately).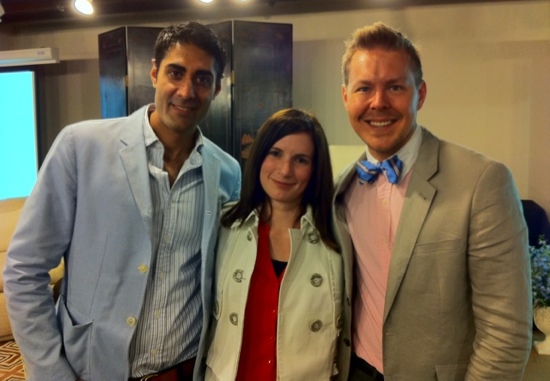 A few days later, I took an early morning flight to D.C., grabbed a cab to the Washington Design Center, walked to a nearby McDonald's for a large Coke (it was pouring rain but a girl needs her caffeine), and managed to be the first person sitting in the audience.  You so know that I chose the front row center seat – iPad in my lap – ready to soak up every word.  Of course, Eddie and Jaithan were as kind, funny and charming as always.  It is such a delight every time I see them!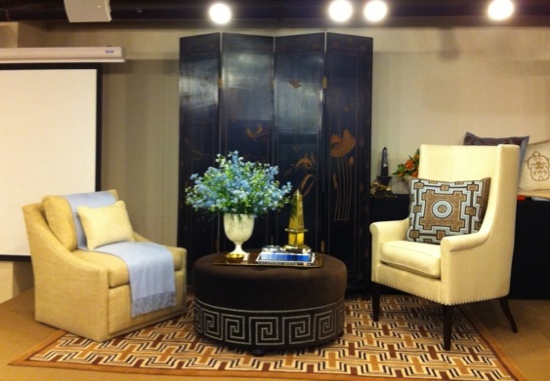 When I arrived (early), Eddie was putting the finishing touches on two scenes that he had propped.  First was this lovely seating area.  During the presentation, he showed the audience how to change a room entirely – and make its look more specific for different seasons – with a few simple swaps.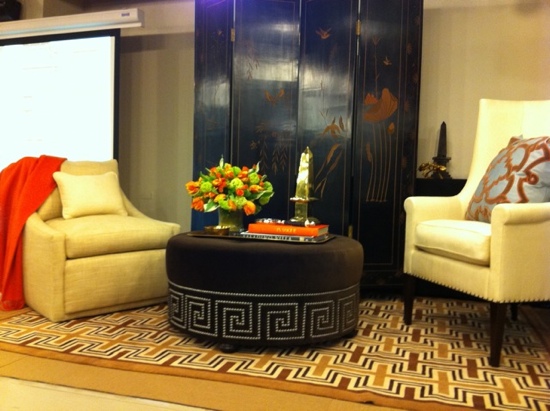 Different flowers, books, throw blanket and pillow … and voilà!  The room now reads orange – which would be lovely in a fall magazine spread.  Oh, and even Eddie admits the perfectly tossed throw is not easy!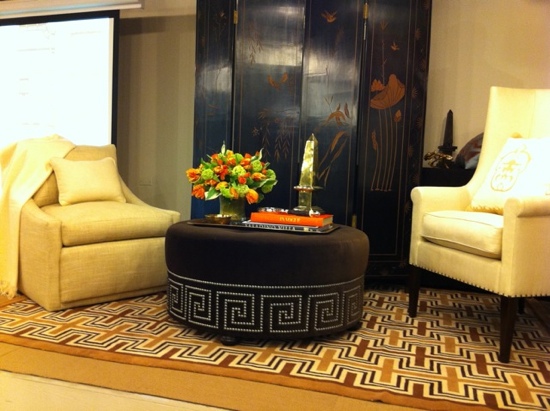 Leave the flowers and the books, but swap the throw and the pillow … and now the room is neutral.  Aren't all three versions gorgeous, just different?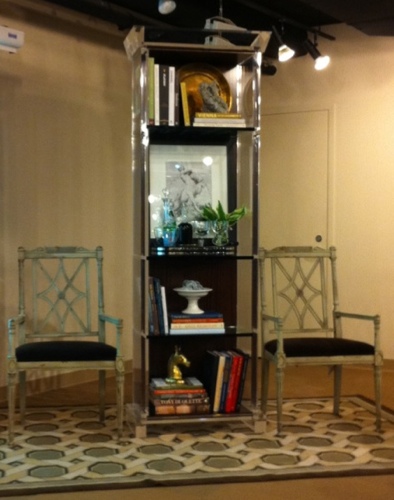 The second scene revolved around this beautiful bookcase.  Styling shelves can be challenging, but Eddie's shelves look effortless … and manage to be both stylish and functional.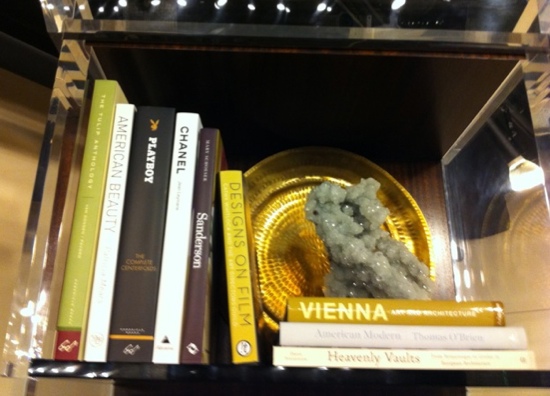 Six hundred dollars worth of books …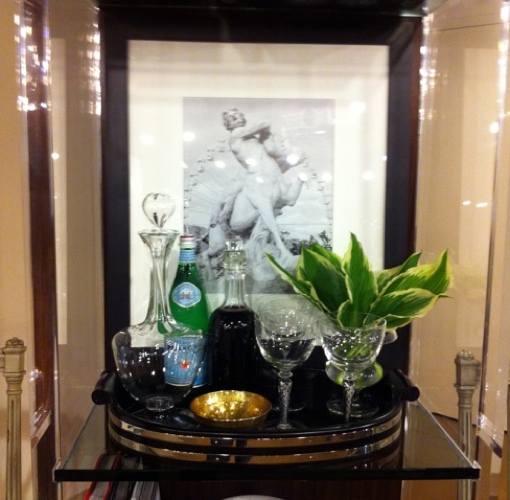 a bar tray ready for guests to drop in …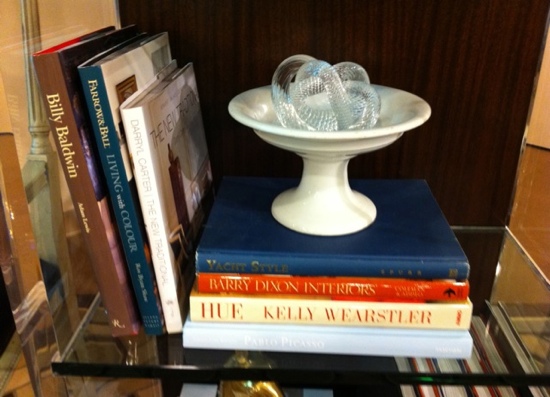 and some fantastic objects (pity that the $14,000 Tony Duquette frog from Baker, Knapp and Tubbs didn't make the cut) …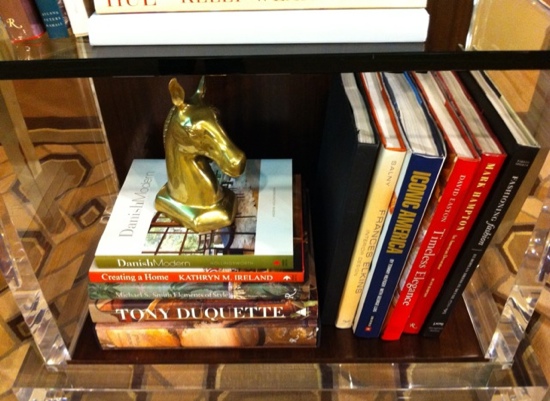 … and the result is stunning.  I made a mental note about how the lucite sides kept the shelves "airy," but still allowed Eddie to lean books.  That is definitely a benefit compared to open shelving!
So what was the #1 tip that Eddie shared about styling interiors for photography?  Really, there was so much good information that it is hard to pick just one tip.  What really struck me, however, was Eddie's advice to consider "the story."  What story are you trying to tell in the photo?  If you answer that question, you will know exactly what styling props to include … and which ones to leave out.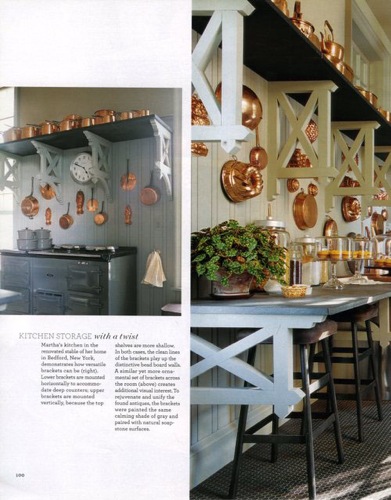 Maybe you are styling a kitchen and you decide to tell a "casual brunch" story.  So include croissants, orange juice, colorful flowers and a stack of plates … and don't include anything that you wouldn't serve or have on the counters during brunch!  Martini glasses – probably not.  Candlesticks with lit candles – do you really light candles during the day?  Doubtful.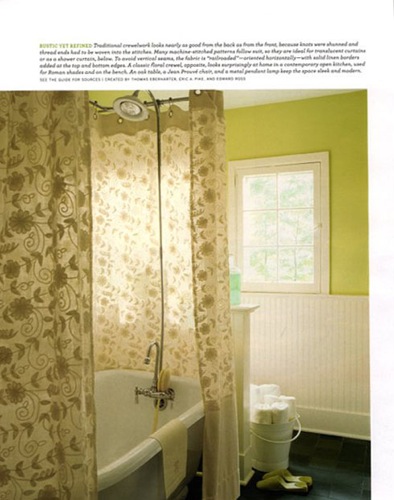 Maybe you are styling a bathroom and you decide to tell a "just about to get into the bath" story.  Simple props like towels or bath salts make sense.  Perfume bottles – probably not.  After all, do you apply perfume when you are in the tub?
Isn't Eddie's advice just spot on?  Now you hardly even need to think about what props to bring for a photo shoot.  Instead, just think about the story you want to tell – and you know what you need.
Eddie, thank you so much for that great advice.  I hope to see you and Jaithan again soon … at Charlotte's Metrolina Expo perhaps?  My fingers are crossed!!
Terrible iPhone photos by moi.  Bottom two photos from Eddie's website.