Red Hot and Blue?  Yes, please … and I don't mean barbecue.  (For the record, I prefer Eastern North Carolina style.)  Instead, the red and blue color combination was all over High Point Market … and I loved it!  In fairness, that has been my personal favorite color combination for several years now.  I adore all shades of blue – aqua, bird's egg, pale, cobalt – and nothing complements blue quite like red.  In recent years, however, red took the back seat … as everyone was obsessed with blue and brown.  Of course, red was never "out" – how could it be? – but I was pleasantly surprised by the dynamite new introductions shown in red … which beautifully complemented all of the blue (which Camila showed so well in her post).  Take a peek …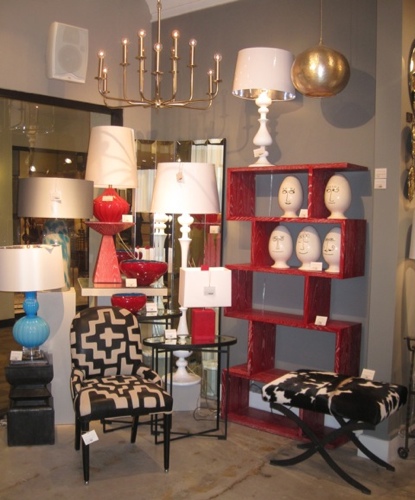 Paired with black and white fabrics and sculpture, Arteriors used red lamps and a red bookcase to create a dynamic vignette … but see how the blue lamp in the corner that makes the entire thing pop?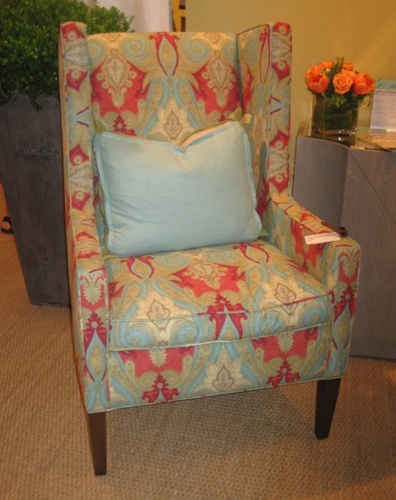 I'm calling this fabric – seen here on a Best Slipcover Company chair – an updated paisley … but you could just call it popular!  It made several appearances in showrooms around market, and I see why.  The pale blue paired with the muted red is so attractive, but the other colors used in the pattern also make the fabric extremely versatile.  I don't know the name of the fabric, but I'm also guessing it is available at a good price point.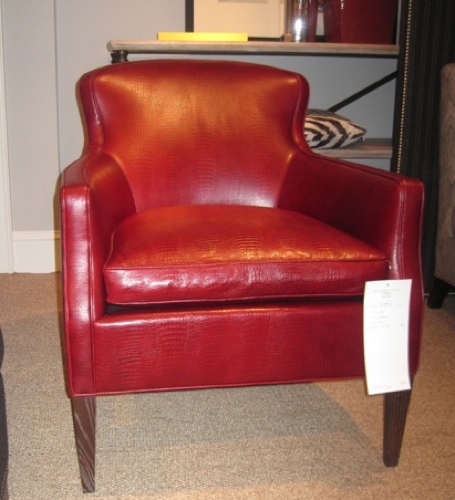 The Elkin Chair, an updated bergère from Hickory Chair, had me at hello red moc croc.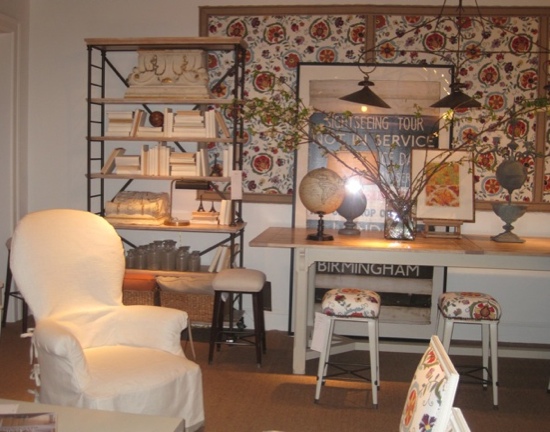 But my heart was stolen by the Suzanne Kasler for Lee Jofa fabric shown on the "bulletin board," counter stools and petite chairs at Hickory Chair.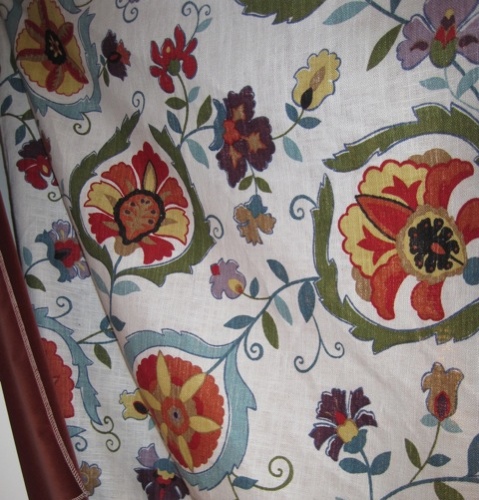 Isn't the updated suzani just beyond?  In. Love.  This is going to sound so very "un-me" (or at least, "un-my house"), but I've been fantasizing about using this fabric for drapery panels in my breakfast room.  That might even be more delicious than Ben & Jerry's Late Night Snack (and that, my friends, is serious business in my book).  Oh, and Hickory Chair scored an exclusive on the fabric … so it's not even available through Lee Jofa yet  … although it will be at some point.  Yep.  I'm dying (in a good way).
How do you feel about the red and blue combination?