It's time to highlight another amazing company that made Lisa's and my Traditional Home showhouse room such a success.  What element of our room "stole the spotlight," according to Traditional Home?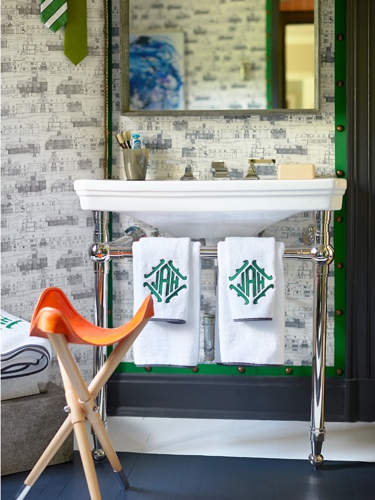 That would be our  "architectural toile" custom wallpaper, designed by Sarah & Ruby Design Studio!   A custom screen, upholstered with matching fabric, allowed us to disguise a dated shower and give the room a "seamless" feel.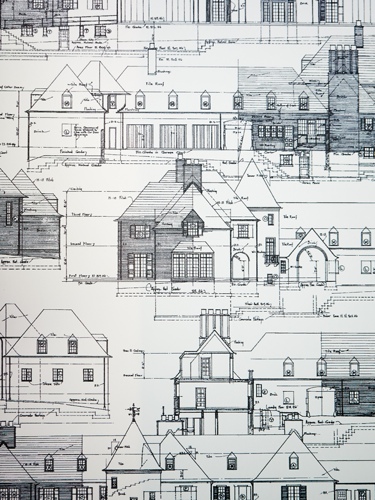 Isn't the architectural toile incredible?  Lisa and I were practically beside ourselves.  The toile is based on the original elevations for Adamsleigh, which are archived at N.C. State University.  What a stroke of luck!  Sarah & Ruby helped us work through several concepts before we settled on this one … which quickly stole our hearts.  The relatively small scale of the pattern kept the walls interesting without overwhelming the tiny — and I mean, tiny — space.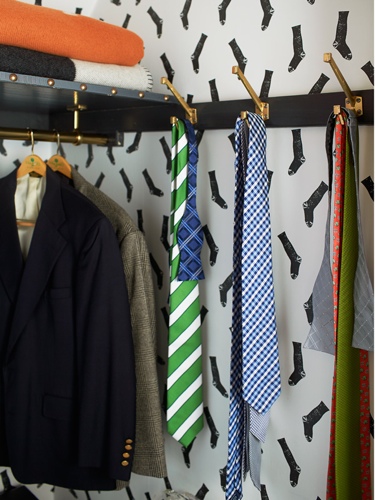 But here's another Sarah & Ruby creation that you didn't see in the magazine — the whimsical wallcovering ever-so-humorously christened "the dancing socks."  Isn't it fun?  Hamp Adams, the original owner of the home, made his fortune in the textile industry … and it all started by producing two hundred pairs of black socks per day.  I'd say that's plenty of reason to be grateful for black socks, wouldn't you?  I feel confident that this tribute would have drawn a smile from Hamp.
Long story short, Lisa and I are beyond grateful to Sarah and Ruby for their talent, patience, and generosity.  They were truly "dream partners."  I cannot wait to see what comes next for this designing duo, because I am confident we will be hearing a lot more from them!
Interior design by Lisa Mende and Traci Zeller.  Photography by Stacey Van Berkel.   To see more of Sarah & Ruby's innovative creations, check out their latest collections and custom designs.