Today, I am thrilled, thrilled, thrilled to turn the spotlight on Thibaut!  Established in 1886 — seriously, how incredible is that — Thibaut (pronounced TEE-bo) is the nation's oldest continuously operating wallpaper firm.  Lucky for us designers, Thibaut also makes gorgeous fabrics and recently launched a stellar fine furniture line.
When Lisa Mende and I were designing our room, we had two very tricky spaces to deal with.  Ummmm, who am I kidding?  The entire room was awkward.  But bear with me here.  Our oddly-shaped ceiling would be the center of much attention, thanks to an unbelievable light fixture.  Plus, our gentleman's closet was actually a short hallway with a more traditional closet on one side and a shelving unit on the other.  We desperately — remember the tight time frame! — needed a wallpaper that could hold its own next to other extraordinary elements, including the architectural toile, yet not overwhelm the teeny room.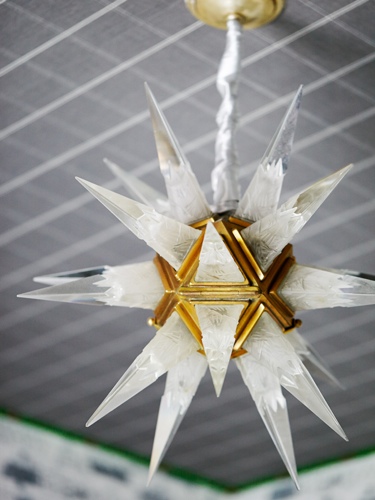 Enter Thibaut's Henley Plaid in Charcoal.  When I opened up their Menswear Resource collection, it was almost as if the heavens parted and the angels started singing.  No, I am not exaggerating.  Please reference earlier conversation re. tight time frame.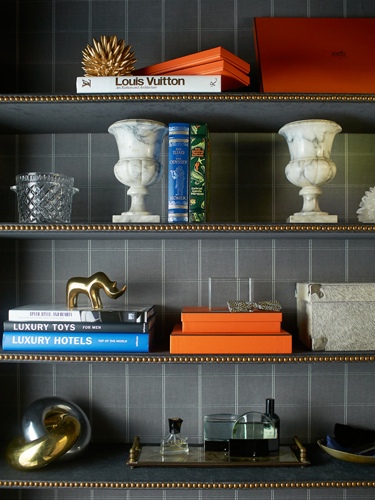 Because Thibaut continually reviews its stock levels to check for unusual inventory demands, the close-knit family-oriented company is able to ship most orders The. Same. Day.  I told you the angels were singing.  Can I tell you how refreshing that is … especially when you are designing a showhouse room??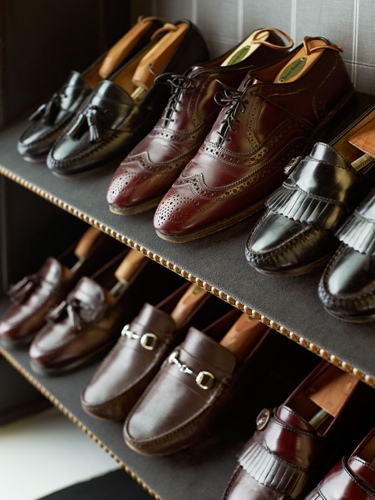 When Lisa and I were one roll short — thanks to a last-minute switcheroo on our part — Thibaut had another roll in our hands the next day.  I could have kissed them.  Actually, given the chance, I still might.  If I see them running away during High Point Market, I'll know they read my blog.  Ha!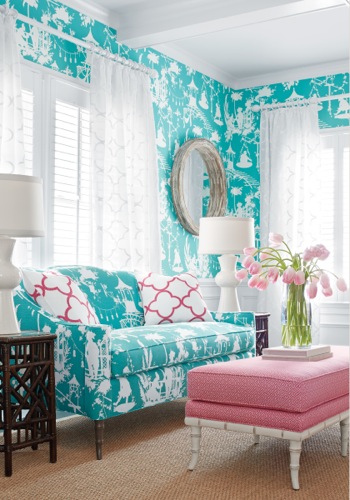 I cannot wait to see their newest introductions — the Resort Collection — in person.  Aren't the patterns fresh and vibrant?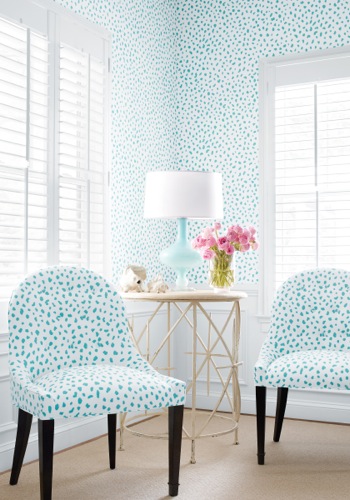 As a teensy teaser, Lisa and I just may have a little something else up our sleeves … and perhaps that will bring some colorful Tanzania into our lives!  I looooooove the new colorways of this classic pattern.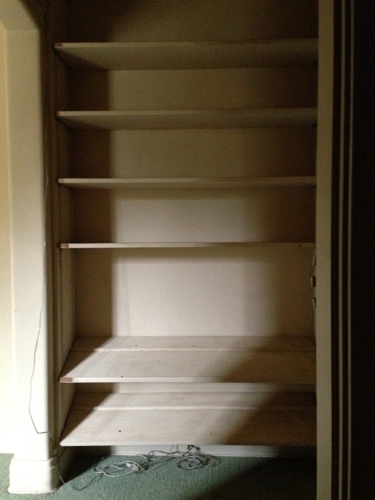 Oh, and would you like to see where Lisa and I started with the shelving unit?  "Funky" may just be the only way to describe it.  And then the shelves turned out so chic that I can hardly stand it.  I'll save the "I don't care what the @$!&** shelving unit looks like" story for the next time I see you in person.
Thank you, Thibaut, for being such a fabulous resource!  Be sure to check out October's Traditional Home for more of Thibaut's beautiful products featured at Adamsleigh … including a beyond-charming room filled with Thibaut by the dashing Madcap Cottage boys.
Adamsleigh interior design by Lisa Mende Design and Traci Zeller Designs; photography by Stacey Van Berkel.  Product photography courtesy of Thibaut.