I'm back from my trip to Vancouver … and it was amazing!  Most importantly, Maria Killam from Colour Me Happy is as delightful in person as she is on her blog.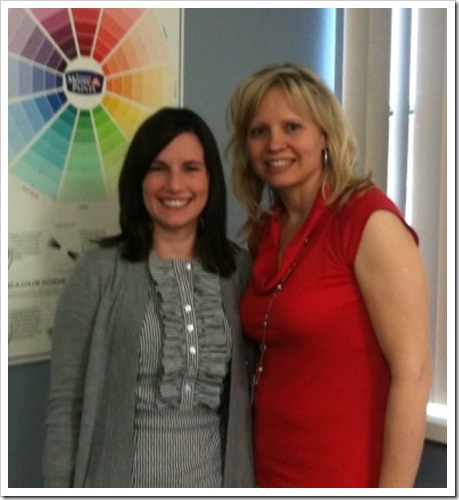 Maria is incredibly knowledgeable, practical, warm, engaging and funny.  To have the opportunity to learn from her is one that I would recommend to anyone, whether you are a professional designer or just someone who loves color and wants to become more proficient using color in her own home.  I now have a deeper understanding of color … and better, more practical terminology for explaining what I am seeing. Maria has some incredible opportunities on the horizon, and she deserves every one of them.  I can't wait to see what she does next!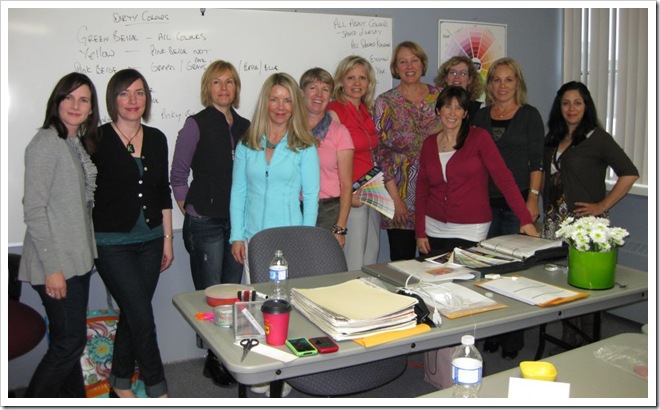 Here's our hard-working class.  Do we look tired?  By the end of the day on Saturday, we were!
By the way, I wasn't the only Zeller.  Here's a close-up of me and Sheila Zeller.  She owns Open Connections, a redesign and home staging firm.  We're not related, but don't we look like we could be sisters?   It's kind of uncanny!  Except, of course, her hair is behaving much better than mine.  Sheila, xoxo to you!  I wish we would have had more time to chat.  Next time!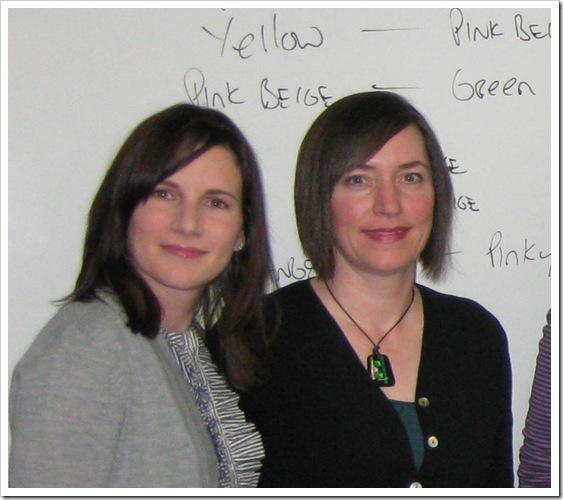 Unfortunately, I didn't have much time to explore Vancouver – after all, I came to listen and learn … and Maria assigns homework! – but I adored what I saw.
I love how environmentally friendly Canada is.  They are sooooo far ahead of the United States.  I've been complaining for years about the fact that there are no recycle bins in hotels … which means you end up throwing away all of those newspapers and magazines.  I've even been known to tote them home because I can't stand the thought of them ending up in a landfill.  Of course, what's the first thing I notice when I walk in my hotel room?  A recycle bin!  I was ecstatic.  (It's the little things, people.)  There are also recycling centers on practically every block, so it's super convenient to dispose of your used newspapers, cans and bottles.
Vancouver is also so very cosmopolitan.  Of course, I love New York City so it's not surprise that I would be taken with the number of languages that you hear spoken on every street corner.  But Vancouver is also remarkably clean and very friendly.  In fairness, Vancouver has just come off of the Winter Olympics, so I'm sure they upgraded their airport and all sorts of other facilities in anticipation.  Nonetheless, I had the most pleasant trip … and even found going through security to be about 1000 times more pleasant than it is in Charlotte.
Believe me, I'm not trying to complain.  I love Charlotte, and I love being an American.  But there are always plenty of things we can learn from our neighbors, and I took more than a few lessons away from Canada.
With any luck, I'll get to visit again.  I'll be sure to hit a few of my favorite spots …
Tim Horton's for old-fashioned sugar doughnuts
Cafe Crepe for the most delicious crepes of all kinds, although my crepe of choice was the dark chocolate
HomeSense (more on that tomorrow)
… but also make time for South Granville Street
…. and maybe even Whistler.
Do you have vacation plans this summer?  Meet me in Vancouver!
Top photo by moi (or, I should say, by a classmate using my iPhone).  Other photos from Sheila Zeller, Tim Horton's, HomeSense, Cafe Crepe, SkyscraperPage.com, South Granville Business Improvement, Flickr, and Whistler Luxury Condos.