Hilariously enough, I previously started a post on the use of denim in decor … and how much I didn't like it.  For whatever reason, though, I just couldn't wrap the post up and I abandoned it in my "Drafts."  Fast forward a few weeks to High Point Market … where I learned that denim is back.  Over the last month or so, I've been absorbing what this means – so follow along with me in my "discovery" of this "new" trend.
To start from the beginning …
I'll almost always tell you that I couldn't care less if something is "in" or "out."  What really matters is that you, the owner, love it … and if you love it, that's enough.  Of course, we all want our homes to be stylish … but what we really need – and what nourishes our souls – is a home in which we are happy and comfortable.
For me, when I see denim in decor, I think:  Are we back in 1996?  Yes, I totally did the Ralph Lauren blue denim comforter, and I loved it.  Who didn't?  But I'm soooooo over it now.  It's generally a bad sign when you can date your interiors as coming from any particular decade, and, to me, denim screams "I'm from the nineties."  In other words, denim is not nourishing my soul.
But maybe this is just a personal bias?  I'm not completely anti-denim.  I'm all about a great pair of jeans – and I've been living in my Joe's Jeans and old school Calvins.
I've been working with my client, the OC Mom, on her master bedroom … which is looking fantastic, by the way.  We had a difficult time finding ready-made pillows for the chairs in her sitting area, so we picked up a bunch of things that we thought might work and took them back to her house to play with the styling.  I was really liking these washed linen pillows, with a very cute pleated flange, until they were mistaken for … denim!!  Egads!!!!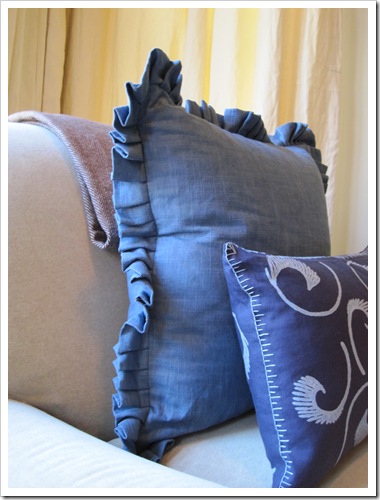 The OC Mom wasn't crazy about them, either, so we ended up not using them – despite their perfect color and bargain price.
The pièce de résistance came, of course, at High Point Market, when I was touring – of all places – the Hickory Chair showroom.  Do you see what I see?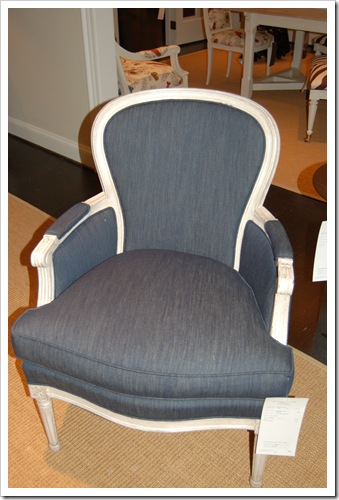 It's a gorgeous Louis XV bergere from Mark Hampton's collection … totally upholstered in denim.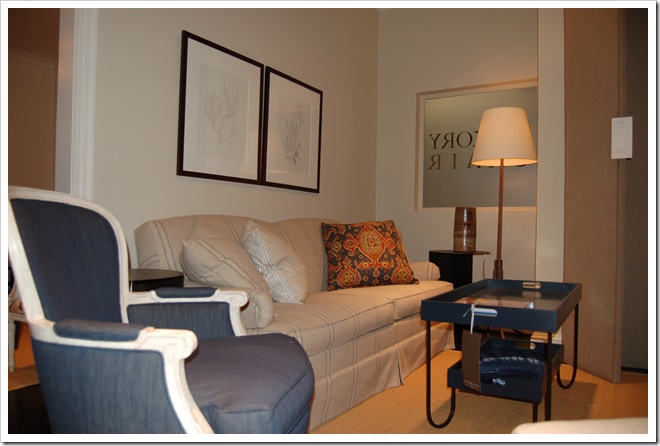 To be fair, this is the most elegant interpretation of denim that I have ever seen.  The fabric feels incredible.  It's somehow crisp and soft at the same time and it would never be mistaken for something used to make (what my grandmother referred to as) dungarees.  By the way, that cool coffee table was custom-painted in a Benjamin Moore color.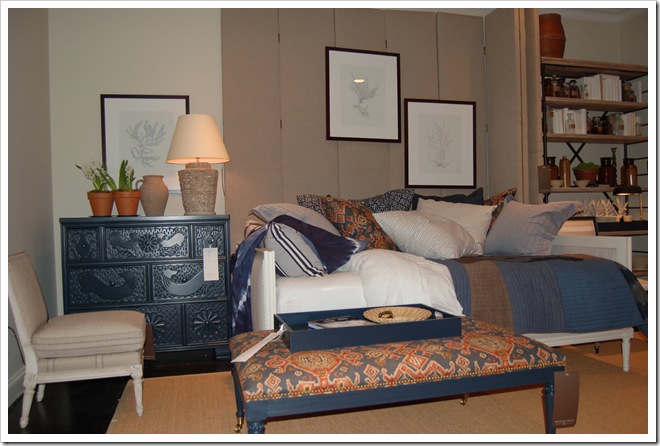 And doesn't the denim look amazing in this setting?  I've told you before that Ron Fiore, Hickory Chair's creative director, is a styling genius … and this "coastal chic" look that he put together is incredible.  Oh, the oversized daybed shown above was fashioned using two Candler footboards together.  Clever!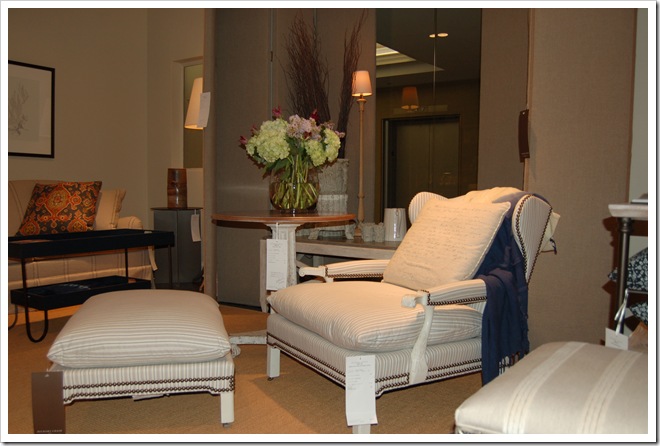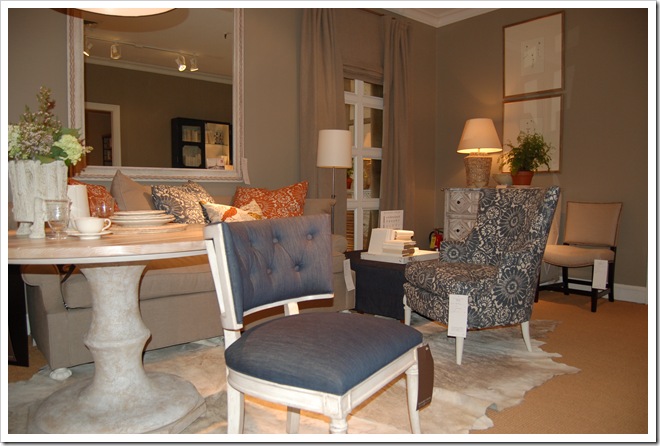 Here's denim in another incarnation, here the dining chair.  Again, it's fabulous.  Seriously, who wouldn't want to live in this space?  We are totally back to nurturing this girl's soul … and I'm dreaming of a house that looks just like this, preferably in Newport Beach.
So what's the moral of this story?  I'll concede that denim is back – under certain conditions.  The darker, the better (at least that's my opinion so far) … and the denim should be used in the right setting and in an elegant way. Now we're back to mixing it up – taking a casual fabric and using it in an unexpected, interesting way – and you know I love mixing it up!
Of course, this story is also another reminder that I should "never say never."