Yep, we are waaaaayyyyyy overdue for another installment of MOM Spotting.  In case you've forgotten, once a month trimester, I will interview a totally fabulous MOM (short for "mothers of multiples).  I may just pretend that I meant to do that, because … get it … once a trimester?!?  Anyhoo, we all know that the best advice is always from someone who has "been there, done that."  If you missed the interview with Kate Hable … go back and read it, girlfriend!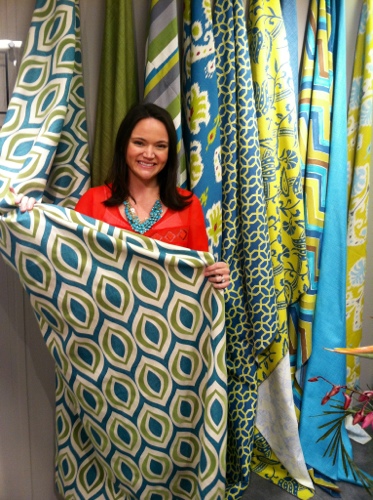 Now let's learn a few stylish secrets from a twin mom who just so happens to behind a major creative renaissance at her family's furniture company.

Meredith Younger Spell is an incredibly talented mom of toddler twin boys — ummm, I've been there, done that! — and the President of Younger Furniture, the company founded more than twenty years ago by her father Mike Younger.   No need to ask; yes, she is busy!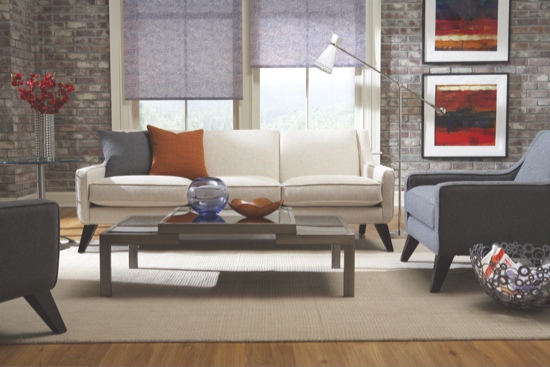 Meredith has reinvigorated Younger Furniture with mid-century modern inspiration and vibrant textiles, and everyone has noticed.  Take High Point Market, for example.  Younger's showroom? Jam-packed.  Meredith?  Recognized as a tastemaker.  Their products?  Style-spotted repeatedly … and re-pinned over and over.  The best news for families who are buying double (or triple) the diapers?  Younger Furniture's reasonable pricing and quality construction make them a popular choice among value-conscious customers!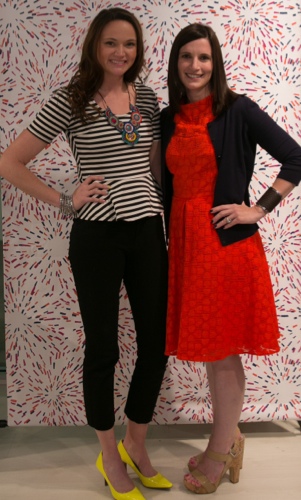 I am lucky to call Meredith a friend and am so grateful for her support as I launch Traci Zeller Textiles.  It's a darn good thing I had on "tall shoes" or I would have looked like an Oompa Loompa next to her.  Welcome, Meredith!
What do you enjoy most about having twins?
That's easy!  Watching them together is my favorite thing in the world.   My greatest moments every day are when they are playing together and I can peek at them without them knowing.  I love how they are constantly watching each other and learning from each other.  I love it when one of them spontaneously makes the other laugh.  When one of them gets up and runs in another room, the other one always gets up and follows.  It's like they are always collaborating on an adventure, and it's the cutest and sweetest thing.  I feel that they have a bond and a friendship that the rest of us who don't have a twin will never understand.  It makes me feel special just to get to be a part of it.
How have your twins inspired you in your creativity?
I can't explain why, but I feel so much more creative now that I am a mom.  I feel like I have tapped into my natural creativity and determination more now than ever before.  I don't know if having children made me feel more like an "adult" or more confident or more comfortable in my own skin or what happened, but when I went back to work when they were 4 months old …  I felt more driven, more creative and more excited about the future of Younger Furniture than ever before.  I had so many ideas I wanted to try to make things better, more interesting and more fun.  I have more ideas than time to facilitate them all!  It's almost like I can enjoy my work so much more now because having these sweet boys has made me enjoy my life so much more.  They are my perfect little muses.
What one piece of advice or encouragement would you like to offer parents of twins?
Don't be so hard on yourself; you have twins!   My twins are young toddlers so I am fresh out of the baby phase … which was a challenge to say the least.  Now that they are growing and getting their little personalities and gaining some independence, I can't believe how much easier it has already gotten.  I have always had a tendency to compare myself and my twins to my friends and their little ones, but they all had singletons.  Especially during the baby phase, I would get so frustrated with myself and think I was doing something wrong when it seemed that the timeline I was on or the circumstances I was experiencing were not like everyone else.  But you have to remind yourself — you have TWO, not just one.  So if they don't sleep through the night when you had planned, or it's exhausting just to take them to Target to buy toilet paper, or you can't find the time to cook dinner every night (or ever), or breastfeeding is not working, or you can't even think about potty training, or you feel so much more stressed out than everyone else, it's ok.  You have twins!  Things aren't always going to go the way you planned, and that's ok too.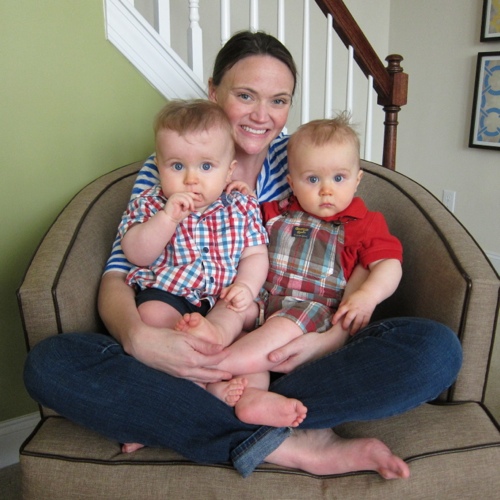 Learning to let go of expectations and enjoy was a big challenge for me because I tend to be a bit of a control freak.  It's especially hard when you have two screaming babies, but when they are not screaming and you have a moment to think, try to focus on all the positive things about having twins; take a deep breath, and don't be so hard on yourself.  You are an amazing mommy of twins!  Even though some days you can't imagine it, it does get easier!  It gets easier and SO MUCH more fun!  Also… taking a Saturday or Sunday to yourself to go shopping and have lunch doesn't hurt either!  Taking a day to yourself is an absolute necessity for a mom of twins at LEAST once a month.  You deserve it!
How did the interior design of your home/your personal style change once you had twins?
I really went through nesting when I was pregnant.  Really bad!  I had a very strong urge to make sure my house felt like a home and like my sanctuary.   I redesigned almost every room in my house with this goal in mind.  I wanted my house to feel "warm" and "open" at the same time while making sure the space was the most functional I could make it.  I have always been somewhat of a minimalist and I don't like a lot of "stuff."  I would much rather have a few key accessories that I love to make the space look more clean.  I think when you have too much going on in a space, it's distracting and you can't really enjoy your favorite things.  Of course since I am in the furniture business, I like to focus on pieces that will last a lifetime and stand the test of time and can evolve and grow with my family over the years.   I kept this in mind when designing my "sanctuary," and I absolutely love the space I created for my family.
In a word, how would you describe your interior design/personal style?
My husband makes fun of me for overusing this phrase, but "pop of color" really does describe my personal style.  I like classic, clean, modern and simple pieces, in clothing and home decor, accented with fun "pops of color."  For my personal style,  I buy key pieces like jeans, boots, flats, camis, cardigans, blazers and tees and then add the "pops of color" with fun blouses, scarves, and statement necklaces.  In my home, I start with quality key pieces that are clean and modern like sofas, chairs and case goods and then accentuate with fun pillows, art, and accessories.  This allows you to always keep your core pieces but easily change up the fun stuff to suit your mood and the trends you want to try!
What is the biggest mistake moms of twins tend to make in their own interior design or with their personal style?
Keep it simple, keep it functional, and don't beat yourself up!  If you focus on key pieces that you love and that serve a purpose, you will always have a great space effortlessly.  Choose fabrics that are cleanable and durable while at the same time looking great.  If you have little ones and need to think about "baby proofing," get a fabulous upholstered cocktail ottoman instead of a coffee table with sharp corners.  If you have a vase that you love and your little ones keep picking it up and playing with it, put it away until they are a little older.  You can still have a gorgeous space when your little ones are small; you just may have to change a few things to make it work for your new little family.  And when you realize you haven't broken out your good china in two years … it's OK!  There will be plenty of time for things like that later.  Just enjoy your little ones because the biggest lesson I've learned as a mom is that they grow up way too fast!
***
Isn't Meredith brilliant?   This is my favorite part:  "It's almost like I can enjoy my work so much more now because having these sweet boys has made me enjoy my life so much more."  Isn't it amazing what being a MOM does for us?   And seriously, do you just want to eat up those scrumptious boys??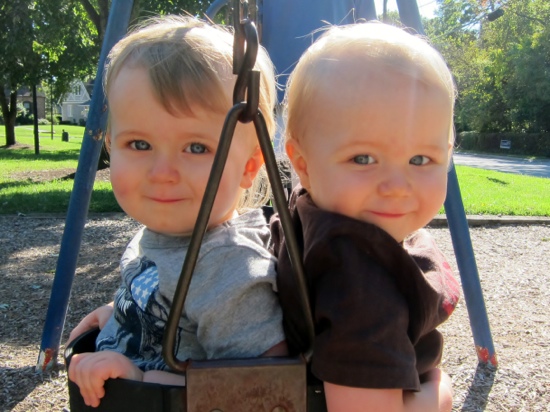 Meredith inadvertently spilled another twin MOM secret.   Can't push two babies on the playground at one time?  Those infant swings fit two!  Stick those babies back to back, and you are good to go.  Heck, they were snugged up a lot closer before they were born.  Thank you so much, Meredith!   You are truly an inspiration for all moms.
P.S.  Know a MOM that I should profile?  Please introduce me!  Have a burning question that I should have asked?  Please let me know!
Younger Furniture photo via their website.  Photo of Meredith and Traci by VanderVeen Photographers.  Remaining photos courtesy of Meredith Spell.