Shame on me!  It's been a month since MoS Charlotte and I hobnobbed with Miles and Oscar … and I haven't shared a thing.  I've been way too preoccupied with other things (you know — work, family, blah, blah, blah), but I promise I'll make it up to you.
As everyone in the room would attest, listening to Miles Redd speak about design was absolutely captivating!   He was charming, funny, debonair, and occasionally self-deprecating.  As Miles spoke about the inspiration behind his designs, I busily took notes (yes, I was always the teacher's pet) because so much of what Miles shared is applicable to all design — not just the particular room about which he spoke.  And other parts were just too funny not to share!  To wit …
I was glamour-starved.
Miles joked that his "glamour-starved" childhood in Georgia explains why he chose a (very glamorous) French salon as the inspiration for his own living room.  (Well, that's something he and I have in common … but ummmm, Miles, you grew up in Atlanta.  I grew up in "the pecan capital of the world."  Let's not talk about glamour-starved, shall we?)
I take something and I push it forward.
The ruffle trim on an Oscar de la Renta dress inspired the trim on the drapes in his sister's living room.  (Oh, to be Miles Redd's sister!!)  Miles also loves the "juxtaposition of textures" and "organic play of shapes."Miles often plays something that is curvy — here, the horns on the mantel — off something that is straight — like the lines of the books.  As I like to say, it's all in the mix … and Miles is a master of "the mix."
I don't believe in any sort of rules that are absolute.
The fearlessness with which Miles mixes colors and patterns is a perfect example of how breaking a "rule" can result in an amazing space.
If you get the floors and the walls right, you can add layers as you go.
Isn't that a brilliant way to think about starting a space … especially if you don't have the budget to do the whole room at one time?
I'm a big fan of decorating doors.
I always look for the doors in Miles' designs; it's such a signature of his work.  Don't you think doors deserve more attention than they get?  The doors in my house are painted black, and I love them.
It's so fun in decorating to collaborate with people with strong opinions, [especially] getting a result you wouldn't have gotten to on your own.
Miles mentioned that he loves chandeliers in the dining room and in entryways, but often finds that the proportions of a living room do not support a chandelier.  He added that he is "not big on sconces" … which, interestingly, I never have been either.  Sconces are the right choice for certain situations, however, and Miles obviously decided to use them here.
If you can give someone the completed picture, they always get it.  When they start to question it is when they get it piecemeal.
As a designer, I found this piece of advice to be especially insightful.  Often clients get nervous if pieces are delivered one at a time … because the design doesn't make sense until it is all together.  Can't you imagine the owners of this living room being a bit worried if the only thing they saw was a deep purple sofa?
After Miles finished speaking, we all made our way to a delightful luncheon … where MoS Charlotte and I were especially pleased to have Laura Casey as our tablemate.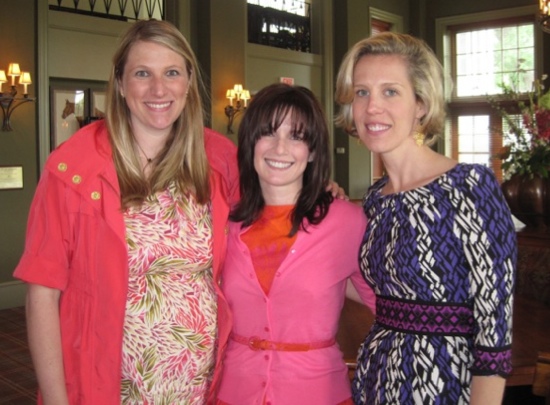 And now for how I'm going to make it up to you — I'm giving away the Oscar swag!  You could win Oscar's new fragrance, Esprit d'Oscar, and an Oscar de la Renta key chain.  Swanky, right?  If you'd like to win, just leave a comment on this post.  I'll draw a winner on Sunday evening.  Easy enough!
Do you have a favorite interior by Miles Redd?