It is such a treat to visit design centers when I travel.  Charlotte has some wonderful showrooms, but unfortunately, we don't have anything comparable to what's available in Washington, D.C., New York or Chicago.  Remember when I went to D.C. for the day?  I took a few minutes after Eddie's presentation, but before meeting Lauren, to power-walk a couple of stops at the Washington Design Center.  Number 1 on my list was Holland & Sherry, home to the finest cloths in the world … and where Eddie and Jaithan snagged the gorgeous pillows for their vignettes.
For those of you unfamiliar with Holland & Sherry, the company started over 170 years ago by supplying woolen and silk cloths to tailors.  (Quick random fact – my grandfather was a custom tailor, who was trained as an apprentice in Germany.  I credit his influence with my love of fabric and fine craftsmanship!)  In 2001, Holland & Sherry introduced an interiors collection, which quickly became a leading source of luxury fabric.  Today, Holland & Sherry fabrics are used to create extraordinary bedspreads, curtains, pillows and much more.  Think rugs, bags and even furniture!   The craftsmanship is absolutely impeccable.  But what stole my heart in D.C. were the stunning pillows – which are completely customizable in your choice of fabrics and thread colors.  Here are a few of my favorites.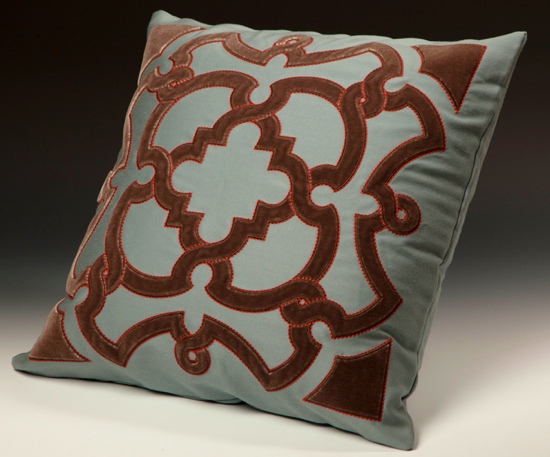 Rubens
Urfee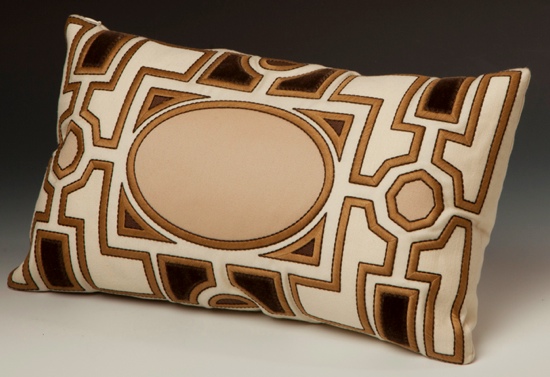 Aren't they unbelievable?  Check out this other version of the Leonardo as an example of the entirely different look you can get by using the same design but varying the fabrics and colors.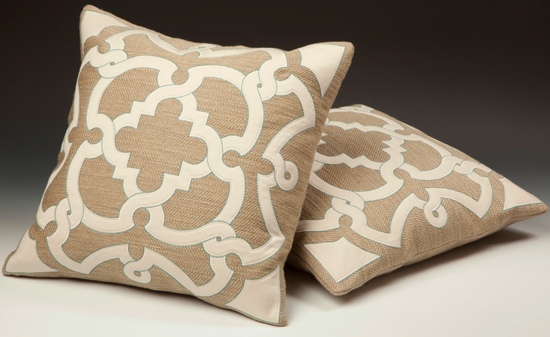 My birthday is coming up … and I know what I'll wish for when I blow out the candles on my cake!  Do you think my fairy godmother will bring me a Holland & Sherry pillow?
Which one is your favorite?
Photos from Holland & Sherry.