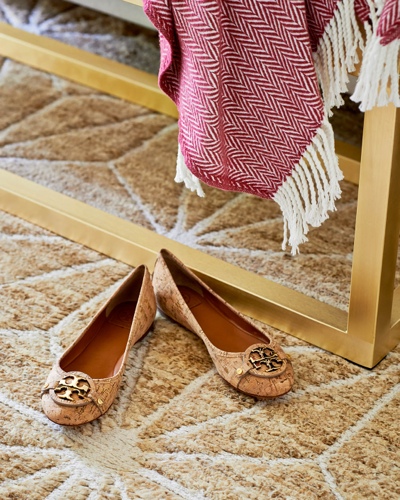 Labor Day may be just around the corner, but — believe it or not — if you want to revamp your home before the holiday rush, now is the time!  And that seems like a perfect opportunity to turn back to my "key elements for a great guest room" series … because we all know the holidays mean house guests.  I've already talked about comfortable seating and layered lighting — but let's get even more practical.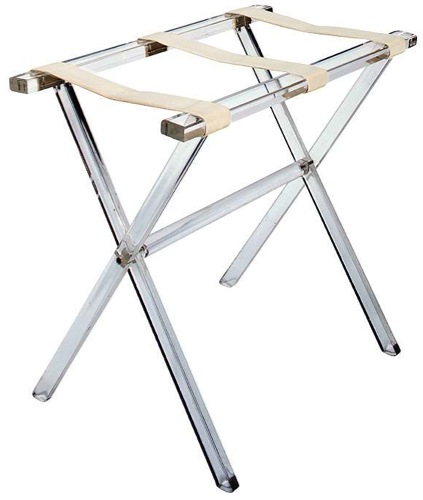 There's nothing worse than a guest room that is so jam-packed there's no place to put your stuff down!  Yes, guest room closets and dressers often end up storing out-of-season clothes, linens and decorations.  But your guests will be much more comfortable if there is a place to put their suitcase and hopefully room to unpack.

A luggage rack stashed in the closet is a great place to start — check eBay and Etsy for vintage lucite ones — but why stop there?  I used Taylor Burke Home's Kelly Brass Bench at the foot of my bed, which is perfect for luggage and extra seating.  Plus, it's so gorgeous that it can easily move to your living room!  The hair-on-hide upholstery is luxe and sturdy, which is "twice as nice."  Hahaha, I do love my twin puns.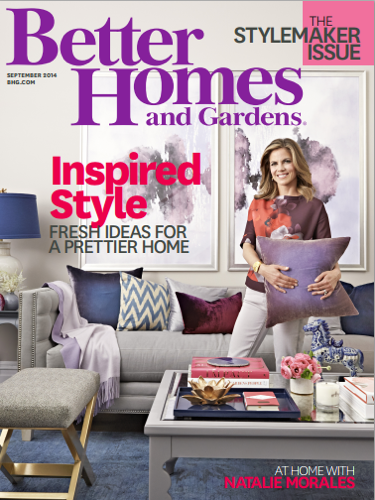 I'm a huge fan of Taylor Burke Home's beautiful furniture, which is proudly manufactured in North Carolina.  Did you see their bench on the cover of this month's Better Homes and Gardens?
Oh, and if you really need to clear out some space in that closet, the "as-seen-on-TV" Space Bags really do work.  My favorite use for Space Bags?  It's much easier to store extra down comforters when they are flat as a pancake!
What's your top storage secret?
Top photo by Dustin Peck Photography for Traci Zeller Designs.  Doesn't Loloi's "Sahara" rug complement the brass bench beautifully?  Vintage lucite luggage rack photo via One Kings Lane.  Kelly Brass Bench photo via Taylor Burke Home.  Better Homes and Gardens cover image by David A. Land.