It's time for Friday's five minute fix … and today, all you need to do is add a basket!
Baskets are one of my favorite tools for style and organization, because — let's face it — we all have things that pile up faster than you can say "pile up."  Whether we are talking about toys in the living room or bills to pay or statements to file,  I bet you have a stack of something sitting somewhere.  It's even worse when it's not a stack … but instead scattered everywhere!  But once you throw your kiddo's junk those treasures in a basket, well, everything just looks oh-so-much better!  Totes, caddies and bins serve the same purpose as baskets, but — because they often aren't as decorative — may be more appropriate for storage "behind closed doors."
Here are a few places that I've used baskets or totes in my own home —
Under the kitchen sink to store cleaning supplies
Under the bathroom sinks for toiletries
In the laundry room cabinets to store small, hard-to-stack items like batteries, sponges and dental floss.
In the garage to stash kids' shoes … much more likely to be crazy dirty (or filled with sand) than Mommy or Daddy's!
In my closet to stash flip-flops and tennis shoes
Near the back door to drop keys and gloves
In the pantry and upstairs closet for first-aid kits
By the fireplace to store firewood
In the living room to stash toys
In the playroom to sort toys
Near the front door for the dog leash
Baskets come in all shapes and sizes, from pretty to plain — and I think I use all of them.  Here are a few of my favorites.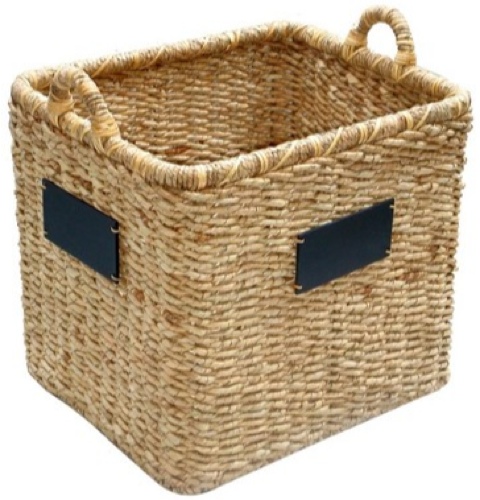 Smith & Hawken Woven Basket with Chalkboard
The built-in chalkboard makes this easy to label!  Unless your basket or bin is open or see-through, I always recommend labeling it.  After all, the basket doesn't do you any good if you don't know what is supposed to be in there.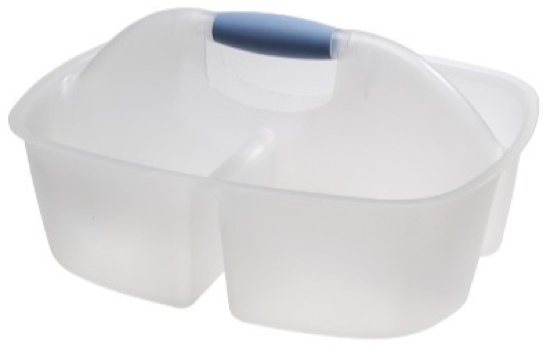 Michael Graves for Target Caddy.
This easy-clean caddy makes a great catchall inside cabinets and closets.  I have rows of the smaller size in my laundry room and several of the larger size in my pantry.   The smaller sizes mainly hold small toiletries and batteries, and the larger sizes store cleaning products.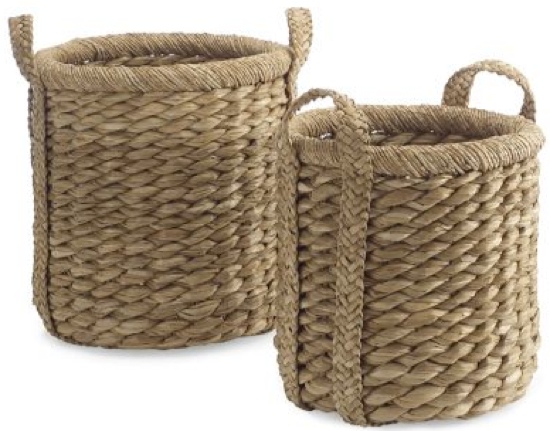 Williams-Sonoma's Higbee Round Baskets
These baskets are beautiful in person.  I saw some at Home Goods the other day that looked very similar to this and cost a lot less.
I use this wastebasket as a toy sorter … and it comes in great colors as well.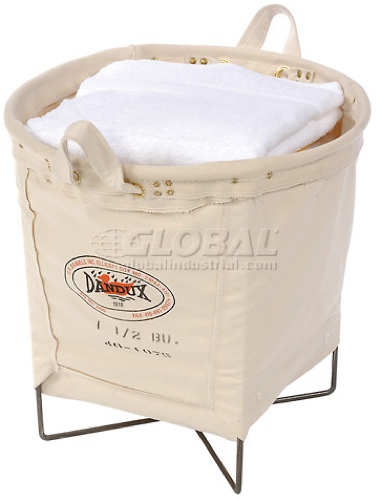 Dandux All-Purpose Canvas Basket
Meant for laundry, this canvas basket can hold just about anything from stuffed animals to extra throw blankets.
Do you have a favorite basket or tote?