I'm back from Blogfest 2012 in NYC, which was — once again — graciously hosted by Kravet.  The amount of work that it must take to organize an event of this magnitude has to be astounding, and the Kravet team and family make it seem effortless.  To Beth, Ann, Jennifer and the entire Kravet family — thank you!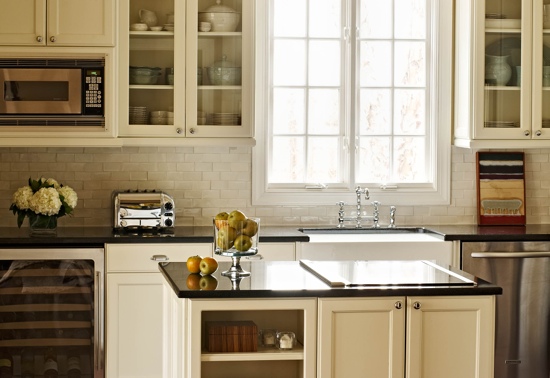 Day 2 of Blogfest 2012 brought an incredible treat — a panel discussion with Newell Turner (of course, you know he is the editor-in-chief of House Beautiful) and three of House Beautiful's Next Wave Designers, Jon Call, Jill Goldberg, and Michael Herold.  Newell explained that — when he reviews submissions for the magazine — he always looks for the "aha moment."  In his words, the "aha moment" is something in the photo that embodies a great design idea or shows a beautiful way to "live life."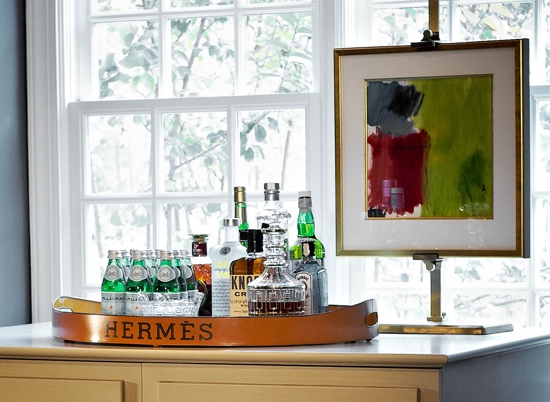 The "aha moment" in my design work is often a somewhat unconventional placement of art.  I believe art belongs everywhere!  That's why today's five minute fix is to look for a place in your house where you never imagined art … and just try putting a piece there.  See what you think.  The worst that can happen is that you take it down!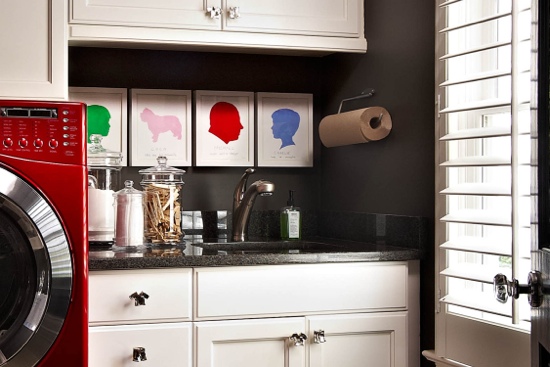 Art doesn't have to be expensive or particularly precious … but simply must be something that speaks to you.  Of course, it is wonderful to splurge on original pieces — and I find they can be a special souvenir of a memorable time or place in your life — but art comes in many forms and with many different price tags.   The abstract in the kitchen?  That was an eBay purchase … and it stays in the kitchen all the time.  The silhouettes in my laundry room are by Carter Kustera, and somehow it seems appropriate to have "my four mess makers" overlooking the sink.  The Jane Booth piece, framed and displayed on an easel, was an incredibly reasonable way to acquire an original.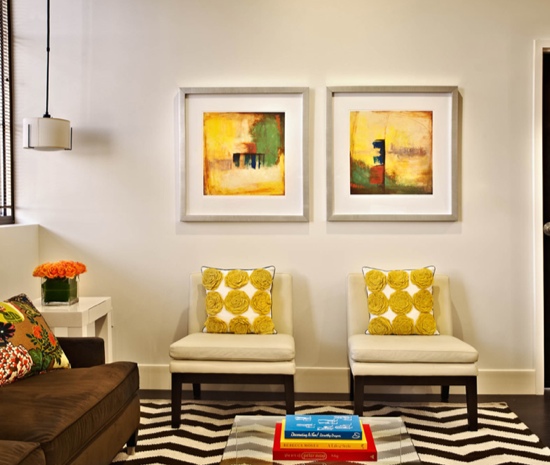 Or what about the waiting room in this optometry office?  The Jennifer Goldberger prints from Art.com set the tone for the space — and make the waiting room feel more like a home.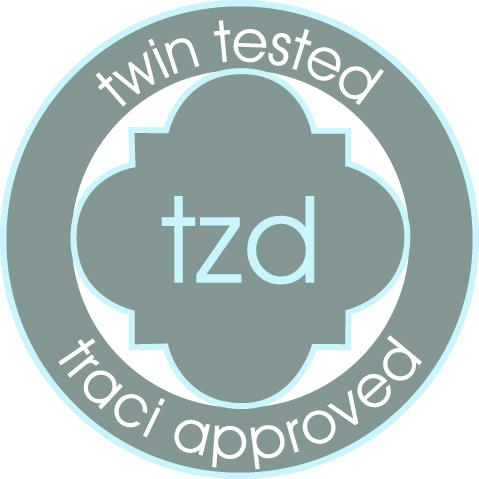 Best of all?  Art is a wonderful way to bring sophistication into a home with twins, triplets or other small children.  Often, it is hung out of reach so you don't need to worry about child-proofing or stains!   A super chic client — mom to adorable triplet boys plus one precious girl — has commissioned Jennifer Levine, an incredibly talented local artist, to create two pieces for her powder room … which is also the main downstairs bathroom for her busy family.  I can't wait to share that space with you!
Where can you add art to your home?
All photos by Dustin Peck Photography for traci zeller designs.