Do you dress to impress?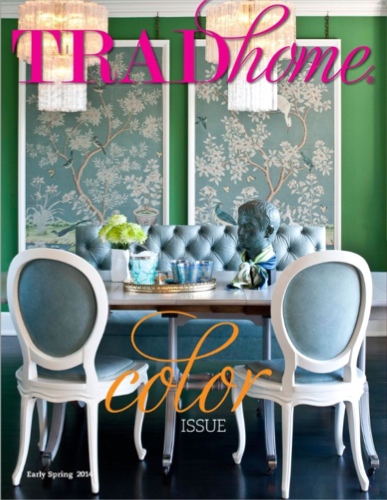 High Point Furniture Market is as close as I get to Fashion Week*, so I've been busily sprucing up my wardrobe.  There may be a couple of Addison Weeks pieces winging their way to me!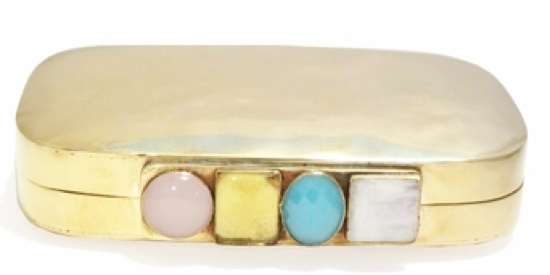 I love a well-organized and well-edited closet, and I use an oversized mirror to make sure I'm pulled together before I leave the house.  Unless you catch me at the grocery store around 11 pm … in which case all bets are off.      
But what I've never had is a dressing table … which might be why I had such a good time picking out my favorites for the latest issue of TRADhome Magazine!  But first things first — remember Kara Cox's bedroom in the Traditional Home showhouse at Adamsleigh?  To. Die. For.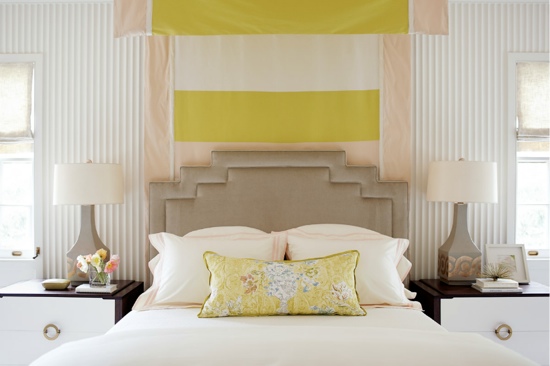 The bedroom was so beautiful and feminine without being overdone.  No wonder TRADhome picked Kara's vanity vignette as the leading example!  Oh, and talk about dressed to impress.  Kara is just the cutest.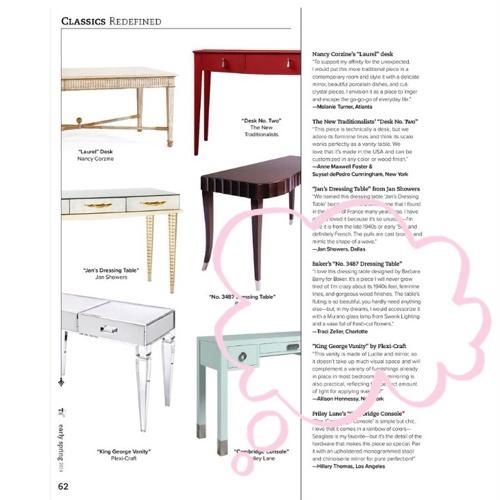 It was such a tough decision, but I chose the Barbara Barry classic from Baker Furniture.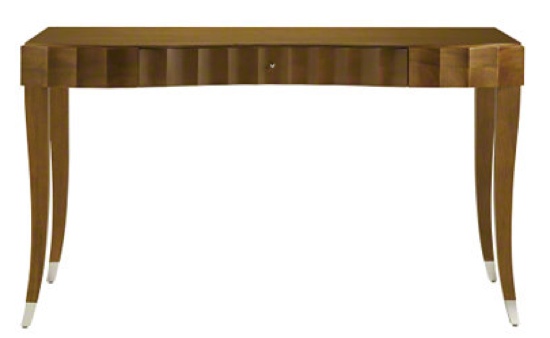 The shape is so graceful and beautiful, and — with the variety of available finishes — the vanity can take on just about any personality.  I'm particularly fond of the lacquer finishes, although this fruitwood is yummy.   But you'll have to read TRADhome Magazine to find out how I'd style it!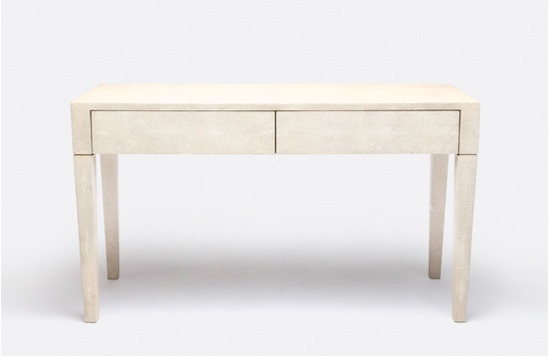 My other two choices were the Cambridge Console by Priley Lane — which Hillary Thomas also chose, so yippee to that! — and the Sorin Desk by Made Goods.  I'm using the Sorin Desk in a still-hush-hush-but-I-can't-wait-to-share project that will go live in June.  Think fresh, fabulous and floral!
Do you use a dressing table?  Or would you?
* The one exception?  My fabulous trip with Brizo to the Jason Wu fashion show!
TRADhome Magazine's Early Spring 2014 issue is available here.  Adamsleigh showhouse bedroom by Kara Cox Interiors; photo by Stacey Van Berkel.  Product photos via Addison Weeks, Baker Furniture and Made Goods.