Whew!  Is it just me or is life moving in fast-forward these days?  I can't believe it's almost Thanksgiving … and the holiday season is in full swing.  I'm as busy as ever, trying to get everyone's homes polished and pretty before their company comes to town.
One of my wonderful clients is working to update her dining room for the holidays.  We aren't purchasing new furniture – she already has gorgeous furniture and art – but we will reupholster the chairs, paint the walls, add custom window treatments and change the chandelier.  Here are two of the chandelier options that we've been considering.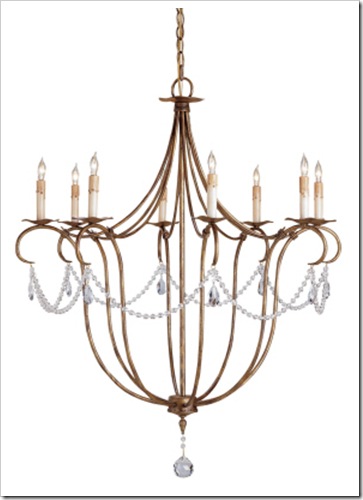 Currey & Company's Large Crystal Lights Chandelier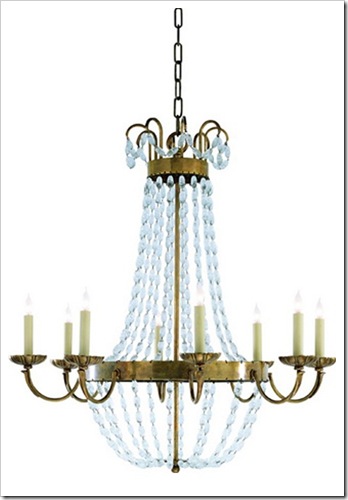 Visual Comfort's Paris Flea Market Chandelier
Aren't they gorgeous?  We are leaning towards the Paris Flea Market Chandelier, but the gilded iron finish is not available until January.  It's also difficult because none of our local Visual Comfort dealers have that fixture in stock, so my client isn't able to see it in person.  But don't worry that this decision is holding us up … because the particular dye lot of the cream linen fabric we chose for the window treatments is also looking significantly more yellow than the sample swatch.  You know what they say about the best laid plans, right?!  So much for having her dining room ready for Thanksgiving!
As I've told this client, and as I tell all of my clients when we are faced with a delay – it is better to be patient and wait for what it is that you truly want.   If you settle for something just so you can have it now, you will regret it.  Plus, the amount of time that you wait is just a fraction of the time during which you will live with the chandelier/sofa/coffee table or whatever it is you are waiting on.  Patience is a virtue … and one which will reward you with a room you truly love!
Photos from Currey & Company and Circa Lighting.