Y'all, there is not much more I'm enjoying more than the blush trend. This pale pinky neutral is absolute perfection! I've been rocking it in my wardrobe for a while now, but I haven't had much opportunity to use it in my design work. Of course, I've played with pink often — but blush has a much different vibe. I'm calling it the "new neutral," because it plays beautifully with just about everything else.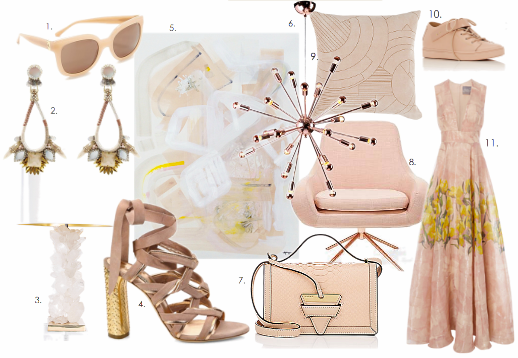 1 // 2 // 3 // 4 // 5 // 6 // 7 // 8 // 9 // 10 // 11
I love blush paired with linen because it stays soft — but, paired with navy or deep gray, it takes on an entirely different personality. Hello, striking and dramatic! Oh, and j'adore the yellow you see in both that to-die-for painting and the gorgeous dress. Heck, the only "problem" I see is that blush flatters everyone … and that means Brooke and I sometimes show up at the studio sporting very similar looks. Oops! #greatminds
What more can I say? Bring on the blush!