Enough of the teasing!  I've so enjoyed the various guesses about what I've been "hiding," and a couple of you were right on track.  A few others, well, I'll be adding those to the "dream list."  Yes, it's a showhouse … but not just any showhouse.  Lisa Mende and I have teamed up to design a room in the Traditional Home showhouse, opening in conjunction with High Point Market in April!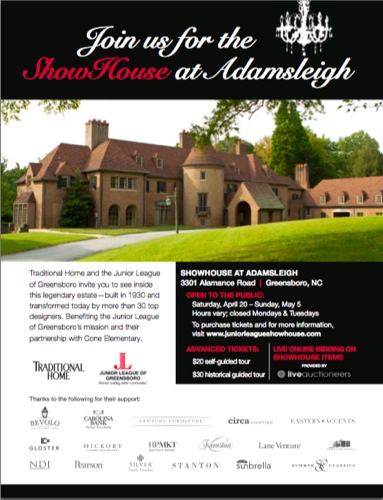 Traditional Home magazine and the Junior League of Greensboro are sponsoring an extraordinary design event, the proceeds of which will benefit the Junior League's mission and its partnership with Cone Elementary.  Adamsleigh — the house to be transformed — was built in 1930 for High Point textile magnate John Hampton ("Hamp") Adams, a native of Adamsville, South Carolina and co-founder of Adams-Millis Corporation, the first company in High Point to be listed on the New York Stock Exchange.  Adamsleigh is known as "Greensboro's Grandest House," but I much prefer the more casual moniker "the mansion that socks built."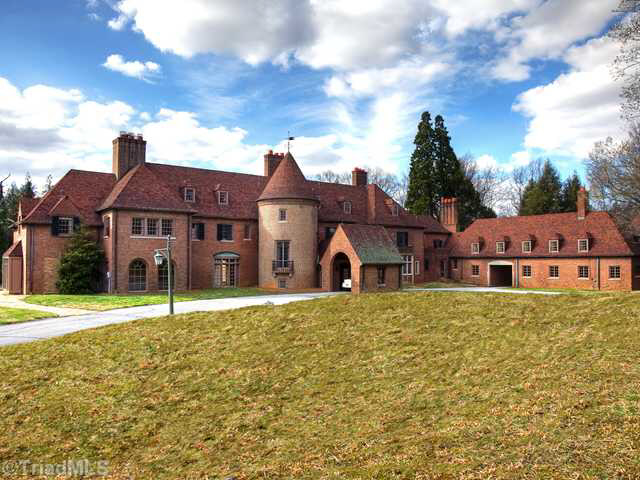 I cannot even imagine how extraordinary Adamsleigh was in its heyday.  You should click through and check out more photos from the real estate listing.  The kitchen has what I presume is an early precursor of the warming drawer.  Seriously!  There's a lot of work to be done to bring the home into the 21st century, but given the *all-star* line-up of designers, I'm betting on an incredible transformation.  Who's participating?  Oh, you know, Suzanne Kasler, Miles Redd and Eric Cohler.  Should I go on?  Jason Oliver Nixon and John Loecke, Cindy Smith, Lisa Kahn-Allen … you get the drift.  Gulp.
Set the bar high, baby!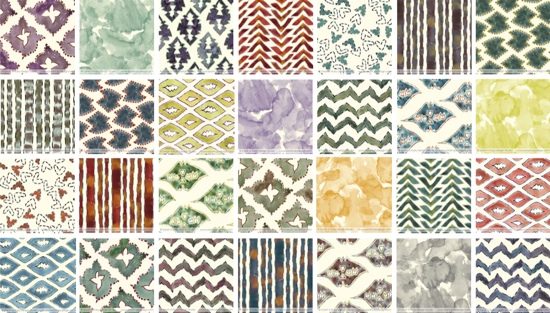 Of course, this huge undertaking couldn't happen without loads of sponsors!!!  Traditional Home and the Junior League have coordinated the participation of many, many partners — a number of whom you can see on the flyer — and Lisa and I are fortunate to be working with several others.  She and I will be sharing more about our partners — for whom we are very, very grateful — in coming days, but let me first introduce you to Sarah & Ruby Design Studio.  Sarah and Ruby are textile designers who specialize in bespoke textiles and wall coverings … and the cool patterns above are snippets of designs in their Chroma Collection.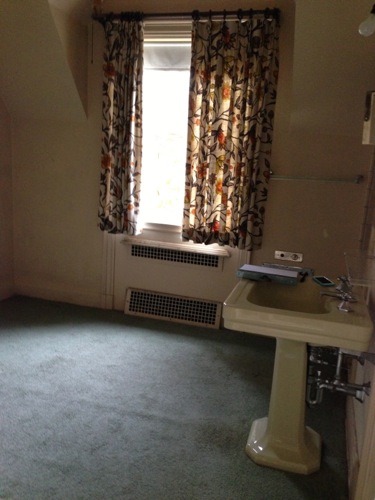 Oh, and do you want to see a "before" photo of our space?  Take a good look now … because the "gentleman's dressing area" is not going to look like that for long!   We are going to make Hamp proud.
If you are coming to market — or even if you aren't — you must make time for a visit to the showhouse.  Will I see you there?
Michelangelo graphic via passion4architecture's photobucket.  Sarah & Ruby's Chroma Collection via Sarah & Ruby Design Studio.