So what do you call the large upholstered furniture piece in your living room?  I say "sofa" … but does it really matter?   To me, it's almost "I say to-may-to, and you say to-mah-to."  But apparently it does matter to lots of people!  I learned at Hickory Chair University that, when consumers say couch, they are thinking of a piece that is more comfortable than they consider a sofa to be.
Isn't that so interesting!  Maybe it's because we often use the phrase "couch potato," but I've never heard anyone called a "sofa potato."  Well, let me tell you this – at Hickory Chair, your furniture will be comfortable whether you call it a couch or a sofa … and I'll show you why!
Come with me on my highlights tour of the upholstery workroom …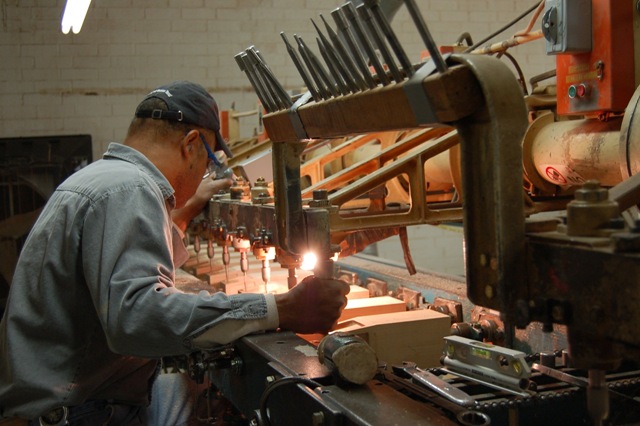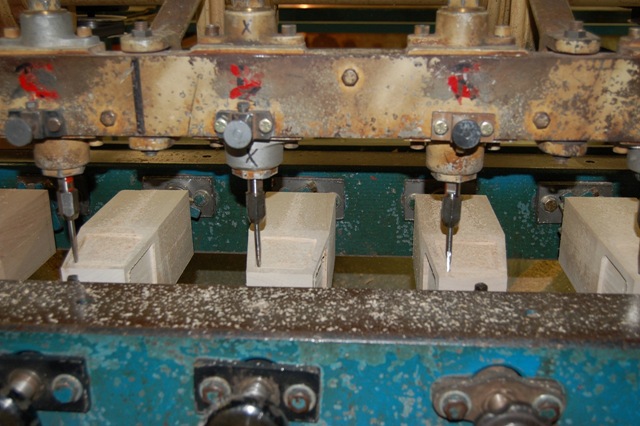 It's easy to forget that – because upholstered pieces often have exposed wood – the upholstery workroom must do many of the same things that the wood products workroom does.  Here you see an artisan carving sofa feet.  I think this machine is amazing, as it enables the artisan to carve multiple feet at the same time.  By directing one, he is able to direct them all.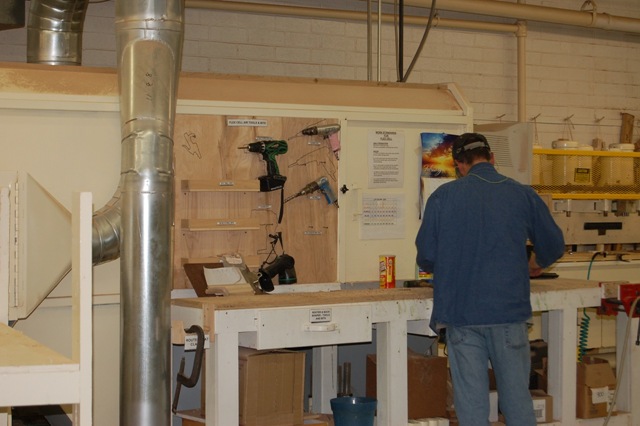 I love that this workbench looks like a personal work space you might find in someone's home.  It just goes to show the pride that the employees take in their surroundings – and the products they produce.
Again, Hickory Chair keeps a carefully managed inventory of parts so that they can fulfill customer orders in a timely fashion.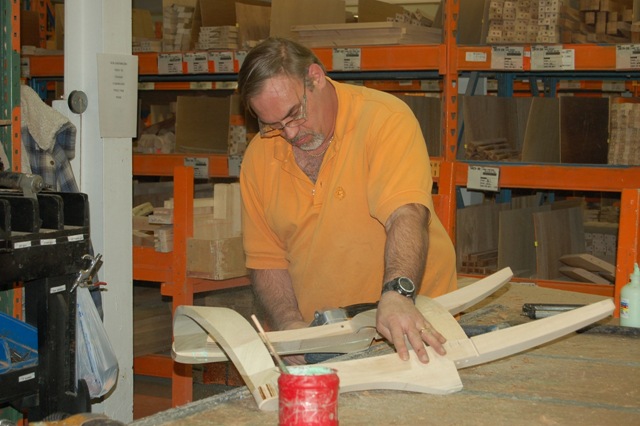 An artisan assembles a wood frame.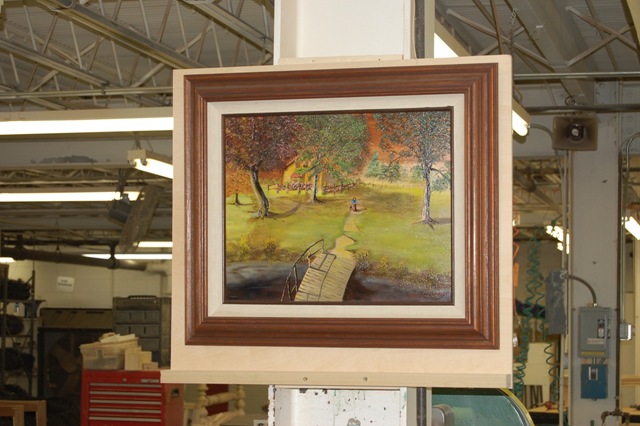 I am not exaggerating when I say that the Hickory Chair employees are true artisans.  Not only is their work at Hickory Chair artistic, but many of the employees use their artistic talents in other areas of their lives.  One artisan we met is also a concert pianist!   Here, you see a painting done by another artisan.  He started painting as a way to relieve stress, and look what he can do!   His fellow artisans came up with a way to display his latest works for everyone to enjoy.  Of course, he has now been commissioned to paint various attractions in the Hickory area, so I don't think this painting will remain in the Upholstery Workroom for very long!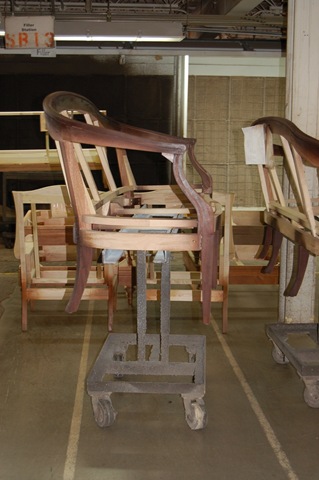 One of the brilliant ideas that the dedicated Hickory Chair employees came up with was to elevate the furniture so that employees could apply the stains more evenly, even to the bottom of the piece.  (Memo to self the next time I decide to get crafty and spray-paint!)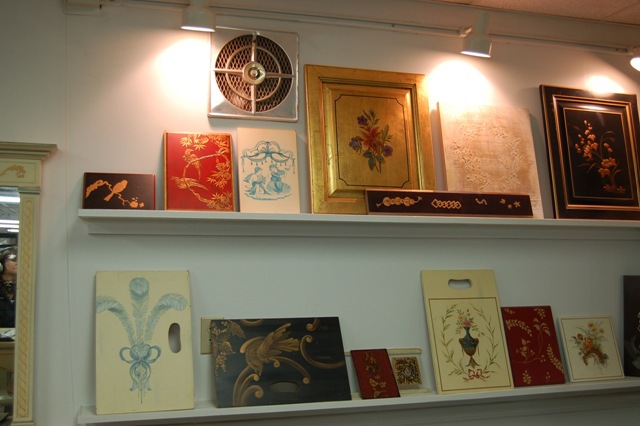 Did you know that you can have your furniture hand-painted?  Talk about talented artists!   Here's a sampling of what Hickory Chair has done …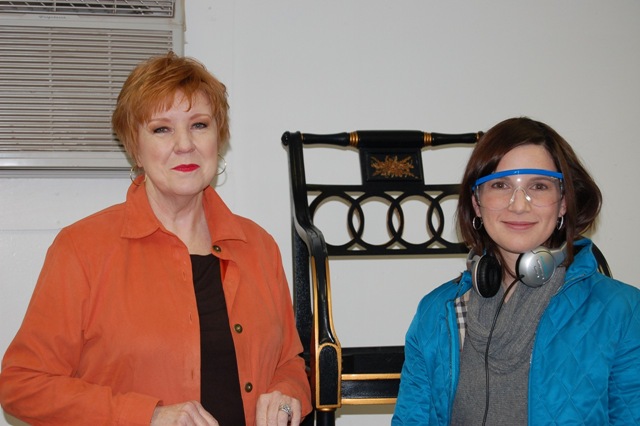 Meet Diane, who hand-painted the delicate floral motif on this chair.  If you can dream it, she will do it for you!  Just check out this crazy Empire Tall Chest she custom-painted for a client in Michigan.   On one hand, it hurts my feelings to see such wild paint on such a beautiful piece of furniture – but, on the other hand, I love that you can make the Hickory Chair pieces uniquely your own.  I'm also happy to know that the little girl – I'm just guessing here – who gets this piece will be able to pass it down to her own daughter … or refinish it to use in her grown-up bedroom!
No comments on my super stylish safety eyewear …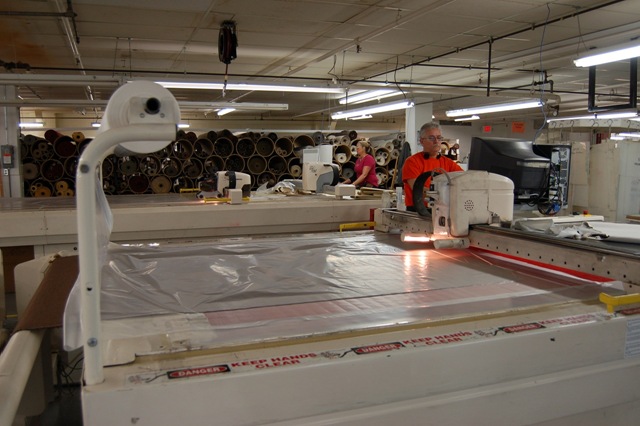 Most plain fabrics can be efficiently cut on a machine that uses AutoCAD patterns.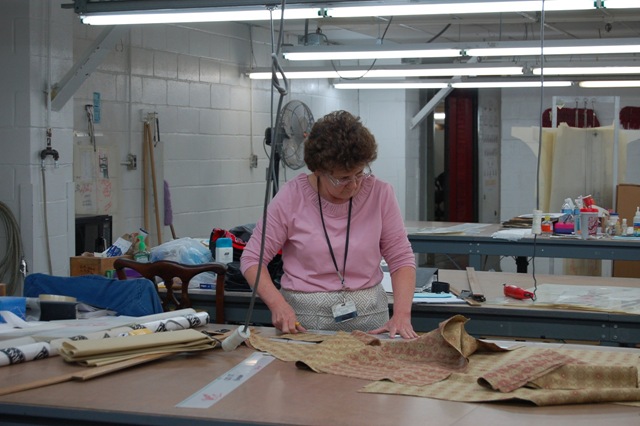 If the fabric has a pattern, however, talented seamstresses cut the fabric by hand.  This enables the seamstresses to spread out the fabric, look at the repeat, and figure out how to cut the fabric so that the pattern is four-way matched (that is, matched on all sides horizontally and vertically).  Four-way matched also means that the inside back and seat back are matched, as well as all cushion sides – which means it all still matches up when you reverse the cushions.  See what I mean about their attention to detail!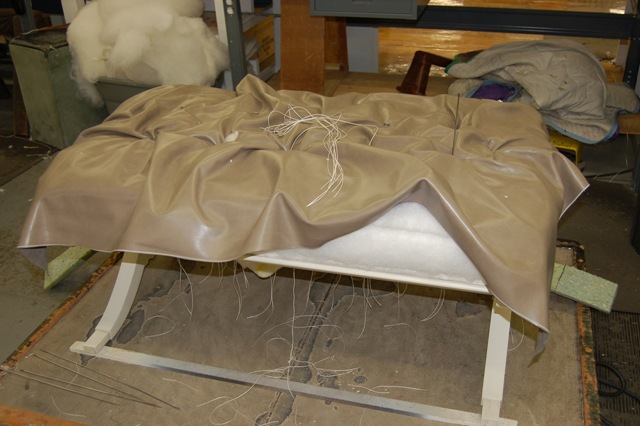 I am so impressed with the hand-tufting, which is done with polyester tying twine that will not break or fray.  After each button is knotted, the twine is attached to the frame so there's no way the knot can work its way loose … and no way the buttons will pop out.   Isn't this ottoman gorgeous?  I'm loving the yummy leather …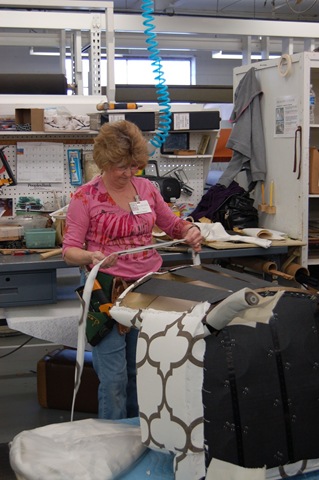 It's all coming together … and I love this fun fabric!
Again, aren't you impressed?  Stay tuned because next week, when I wrap it all up, I'll share some of the finished upholstery pieces … which are too beautiful for words!