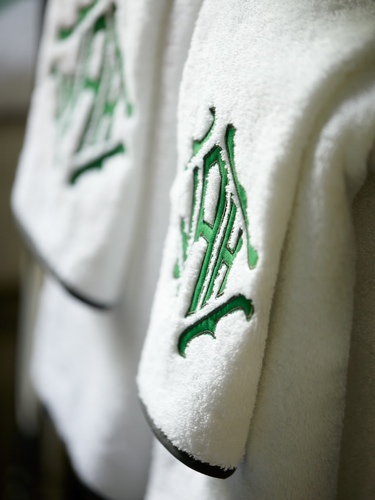 Yes, indeed, exquisitely detailed linens turn life into living.

— Jane Scott Hodges (author, Linens: For Every Room and Occasion)
Linens: For Every Room and Occasion, authored by Jane Scott Hodges of Leontine Linens and published by Rizzoli, is an absolutely gorgeous book.  For those of you in Charlotte, Jane Scott will be at Capitol (4010 Sharon Road) today for a book signing from 5 pm to 8 pm.  Of course, you'll want to touch and feel the beautiful linens at the trunk show, also at Capitol, today (Wednesday, May 13) and tomorrow (Thursday, May 14) from 10 am to 5 pm.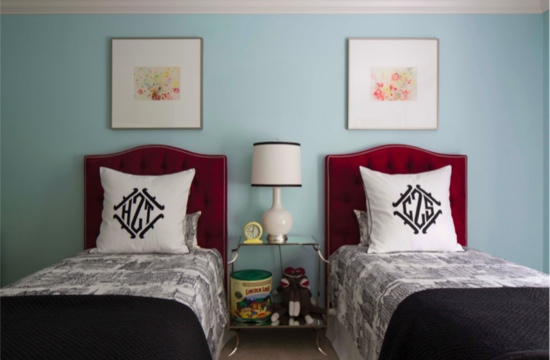 My lucky boys have Leontine in their bedroom … and those are my favorite shams in the house.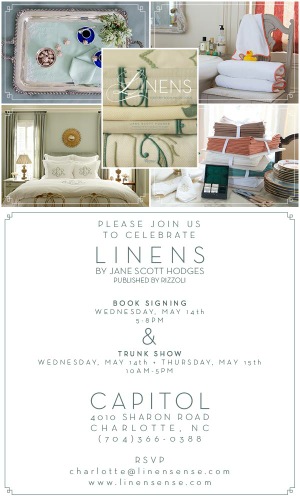 While you are drooling, click back to look at Jane's beautiful home, designed by my friend and fabulous designer Gwen Driscoll, in the November 2010 issue of Elle Decor here.
Will I see you at Capitol?
Top photo: Monogrammed towels by Leontine Linens; interior design by Lisa Mende and Traci Zeller for the 2013 Traditional Home showhouse at Adamsleigh.  Photography by Stacey Van Berkel.  Middle photo:  Interior design by Traci Zeller.  Photography by Logan Cyrus for Charlotte Home + Garden.