Whew!  Are the days racing by as quickly for you as they are for me?  It was a busy weekend in my house, but we did wrap up … hahahha – no pun intended … our Christmas decorating.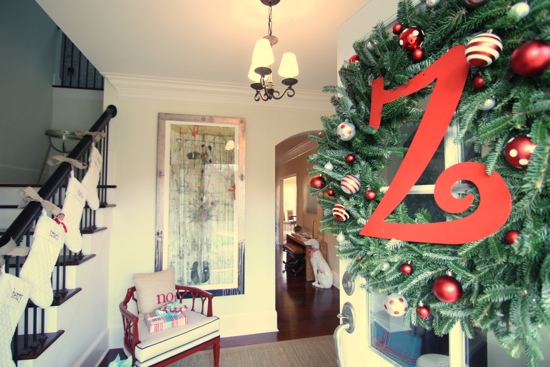 Come on in!  I hope you like what you see — and I'll be back tomorrow to share my quick and easy tips for twin-friendly Christmas decorating.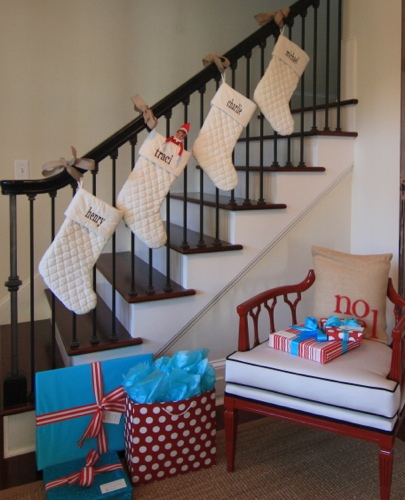 I spy one sneaky little elf!  Our elf — known as Bubbles — is generally well-behaved but occasionally he's a teensy bit mischievous.  Only in a good-natured way, of course!  Perhaps I'll share a funny photo or two later this month … but trust me, I have nothing — and I mean, nothing — on Lil Blue Boo.  If you need a few ideas or, say, some adult humor, you need to see what Buddy is up to over at Lil Blue Boo's house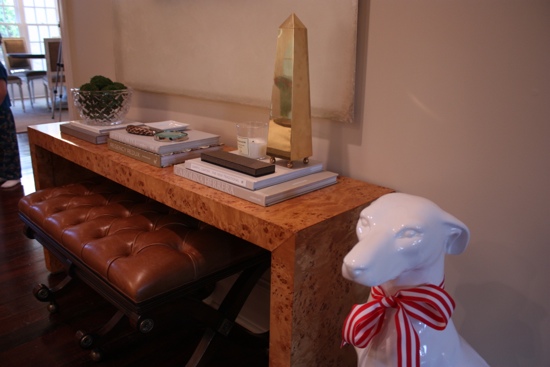 Even Sparky-the-faux-dog gets in on the Christmas act.  I've joked about decorating him for every major and not-so-major holiday — you know, July 4th, St. Patrick's Day, and so on — but so far I've resisted.  I'm holding on to every last little bit of "cool" I may have left … although you can see a twin in pajamas standing in the background.  It's a lost cause, I suppose.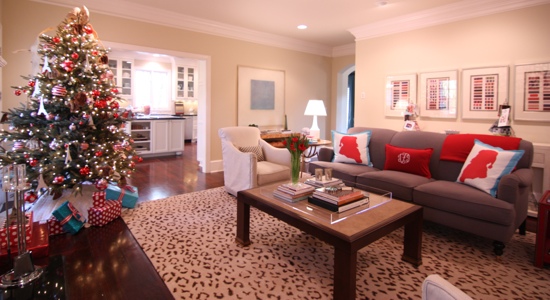 For easy and cohesive Christmas decorating, I recommend picking a two or three-color scheme and sticking to it.  Repetition is what makes the look!  I've used red and burlap as my primary colors in the past, but here you see that I switched it up by adding aqua.
I love a modern take on the traditional, and Tobi Fairley's Saint Nick pillows are just that.  I mean, it's not many folks that you'd know just from their shadow … but Santa's silhouette is unmistakable!  I need to special-order the Edinburgh exploded houndstooth in ruby so that I can add a layer of pillows behind these.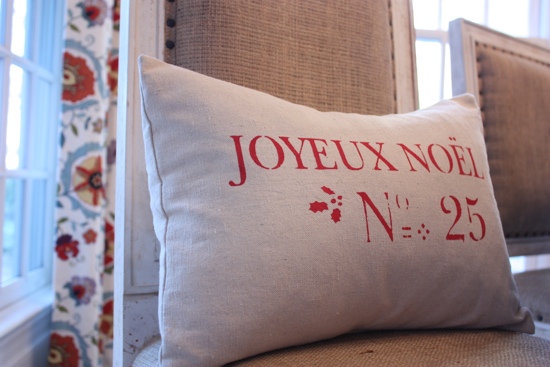 Holiday pillows add a little bit of festive to any empty chair, and I am crazy for the Joyeux Noël pillow that I purchased through Etsy.  Remember that my twinks are in a French immersion program.  I've got every excuse to add a bit of international flair!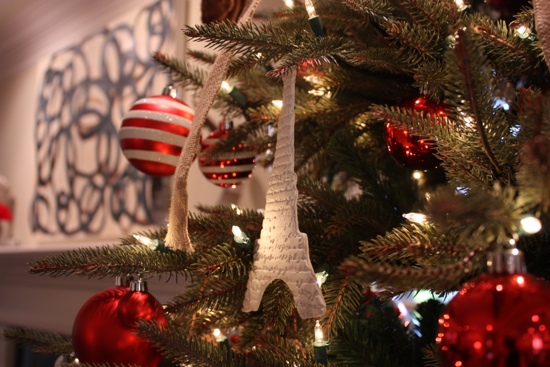 I studied French as well — and lived in La Rochelle for a summer — so my Eiffel Tower love isn't a new thing.  Not to mention my fondness for pain au chocolat.  But those don't make great Christmas decorations.  And I'd eat them.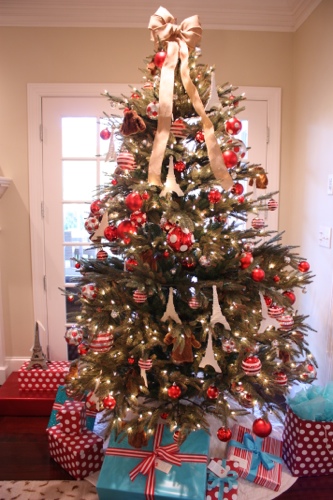 All I need now is Père Noël to visit.  Perhaps Bubbles the elf can arrange a letter delivery.
What colors do you use for Christmas decorating?
Photos by Katharine Fuchs for traci zeller designs.