Isn't it fun to see how excited our children get about holiday decorations?  That really is the most important reason I love to decorate for Christmas.  I want them to have sweet memories of a happy home during the holidays …. and hopefully they will share the same traditions with their children.  Of course, when babies are crawling and into absolutely everything, it's awfully tempting not to decorate — or at least to decorate sparsely.   Gracious, it's even challenging with older twins!  Having more things in unusual places seems to lend itself to clumsy mishaps … at least in the case of my Twin B.
Anyhoo, we all know that nothing is "100% "baby-proof" and there's no substitute for supervision — but there are three things that I have found absolutely invaluable to holiday decorating with young children.  Can you guess the first?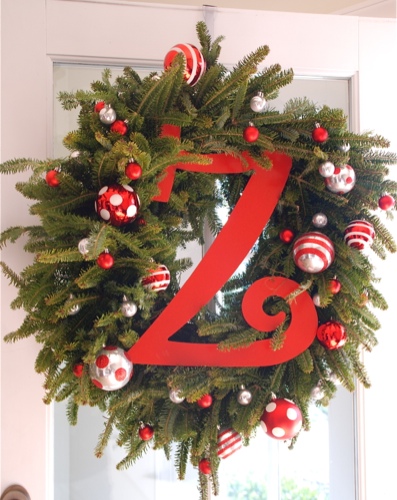 Shatterproof ornaments are every MOM's dream come true.  I love beautiful collector's ornaments — my favorite is a Michael Storrings design — but shatterproof is the only way to go with little ones underfoot.  I adore my red and white shatterproof ornament set — purchased several years ago at Costco — and, after dropping them multiple times on the stone-covered front porch as I arranged this wreath, I can assure you that they truly do not break.  Shatterproof ornaments are readily available at Home Depot, Target, Costco and other big-box stores, so it's easy to find a set that fits your color scheme.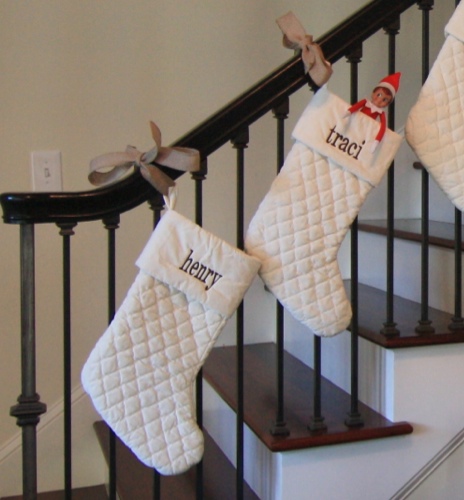 Ribbon — of all colors and sizes — is another essential for holiday decorating.  I love to use ribbon on packages, as a tree topper, and here to hang our stockings.  Are you wondering why I tied the stockings to our stair rail?  After all, we have a perfectly good fireplace mantel.  Well, in my house, loosely hanging stockings seem to be an invitation to pull.   The legal term would be attractive nuisance.  It's like having a swimming pool in the backyard and wondering why the neighbor kids come over.  Something about having the stockings tied to the stair rail makes them "less dangly" and therefore less inviting.
One other tip?   Decorative stocking holders are pretty … but they are also heavy … and would double as an excellent weapon in case of an unwelcome intruder.  Perhaps Santa should consider himself lucky that he hasn't gotten whacked as he comes down the chimney.  An unwitting toddler is strong enough to pull the stocking and its holder over — and you'll be visiting the ER for stitches if the holder lands on that sweet head.  Soft ribbon = no chance of stitches.   But if you aren't keen on using ribbon, 3M Command hooks would be another good option to hang your stockings.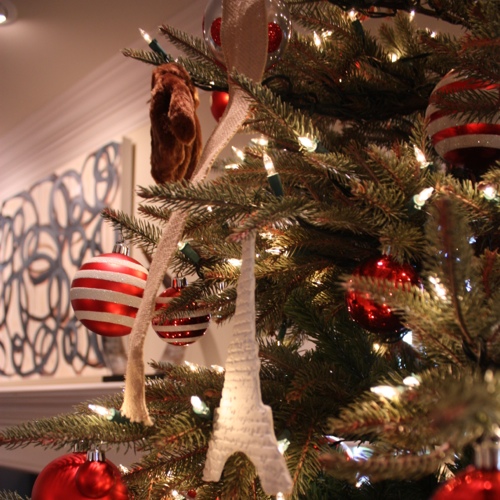 Last but not least, I swear by green floral wire.  Instead of using hooks — ouch! — or ribbon to hang ornaments, I wire each ornament to the tree branch using floral wire.  Floral wire allows me to place my ornaments more precisely, but — for these purposes — also makes it extremely difficult to knock the ornament off the tree or, say, have a child decide to "rearrange."  The Eiffel Tower ornament in this photo is made of clay and breaks easily, but I have hung it out of reach of little hands … and, with floral wire, the ornament isn't falling.
So there you have it.  Shatterproof ornaments, ribbon and floral wire — that's what powers the Christmas decorations in this "double trouble" house!   Remember, though, that even so-called "safer" options can still be hazardous.  For more information about holiday hazards, I recommend this excellent article from the American Academy of Pediatrics.
What are your must-haves for holiday decorating?
Photos by Katharine Fuchs for traci zeller designs.