Strut like a peacock … literally and figuratively!   Global Views kicked off the peacock trend in the spring, but — for the fall — the colors of the peacock are what resonated throughout High Point Market.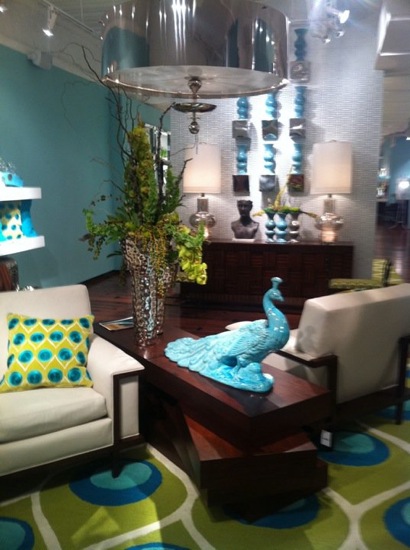 Why?  Let's be real — most people (myself included) love blue and green.  If  silver sage and baby blue paired with brown are soooooooo yesterday …. then manufacturers had better come up with other shades of blue and green to satisfy us!  And as Maria Killam reminds us, the current "it" neutral — gray — needs other colors to bring it to life … and, in today's world, preferably bright, clean ones.
Let's take a quick spin around, and I'll show you what I mean.   Hickory Chair showed a traditional chair in a bright ikat print next to a hand-painted chest.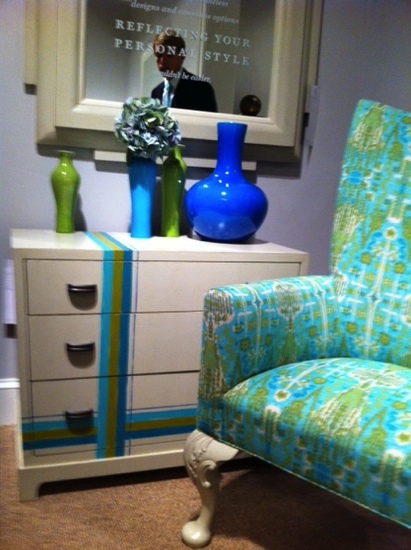 Of course, Hickory Chair's characteristic attention to detail is what wins my heart every time.  Notice that the stripes continue to the top of the drawer front … just in case it is left ajar.  Love that!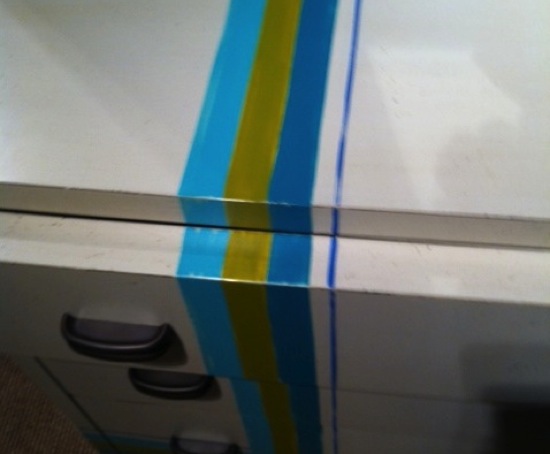 Julian Chichester is not afraid of color … and, as a result, their space is always one of the most striking at market.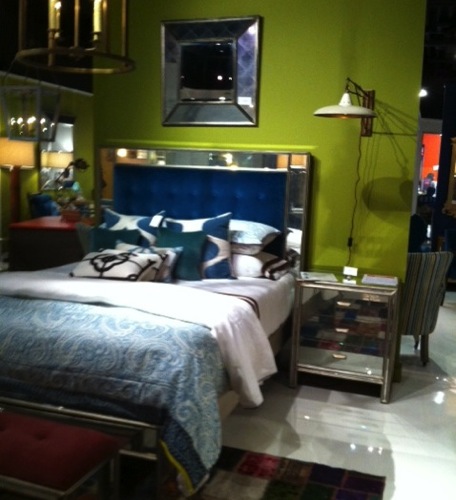 Here's a closer look at that chair peeking around the right side of the photo.  Isn't it fun how they used the peacock blue velvet on the front of the chair and the striped velvet on the rear?
If you have a pair of chairs that will often be viewed from the back, let's make sure they have a little something going on.  It's the same concept behind having something interesting on the back of a wedding dress.  If the whole church is going to be staring at the "rear view," there should be something beautiful to look at!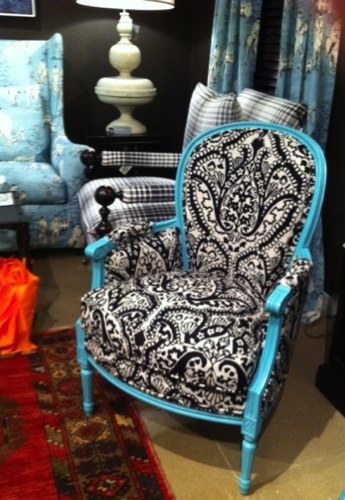 C.R. Laine painted the frame of the Calais chair to give it some extra pop …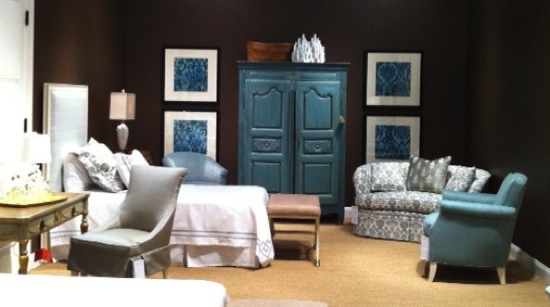 … while Pearson used a bright armoire and prints to repeat the blue of an upholstered chair.
Random digression — I have a theory that people are either blue or green people.  Although you can certainly enjoy both colors, there's almost always a strong preference towards one.  If you had to chose between the same product — say, china — in either blue or green, which would you choose?   What if it were a bicycle?  What if it were a sweater?  Did you pick the same color or did you change?  For me, it's blue every time.
I'm crazy for these peacock colors … although, as I just admitted, I always lean more towards the blue than the green.  My dining room window treatments are a more muted blue taffeta, and I'm jonesing to change them to a blue taffeta that is a little bit brighter.  Shhhhh.  Don't tell my husband!   That is just between us.  And I mean it.
Will you incorporate these colors into your home?
Top photo by Global Views of the Dallas showroom.  Remainder of photos by moi.