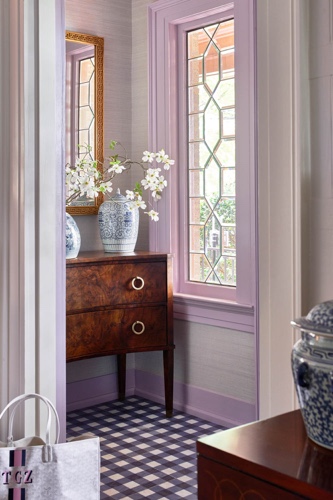 It never, ever gets old seeing one of our TZD projects in print — and especially when the magazine is as amazing as Traditional Home! I am beyond thrilled to have had the opportunity to design a foyer that (hopefully) set the tone for an absolutely incredible showhouse, held in April at the Terry Estate in High Point, North Carolina. I am so grateful to Ann Maine, the inspiring editor-in-chief of Traditional Home, and the dedicated Junior League of High Point volunteers, without whom the showhouse would not have taken place. Merci, Ann, Mary Powell and Elizabeth!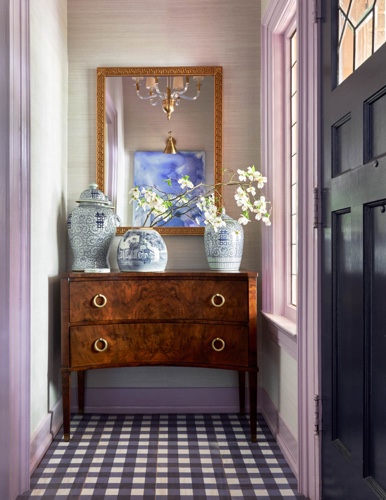 This teensy-tiny foyer — and by teensy-tiny, I mean less than 50 square feet — packed a punch, thanks to the dynamite navy gingham floor by Mirth Studio. Are you familiar with Mirth Studio? Their colorful wood floor tiles are spectacular! I used a temporary installation method in the showhouse, but I am dying to include their tiles in a permanent project. Mirth Studio is a finalist in the 2015 Martha Stewart American Made Awards, and I so believe they should win. Will you do me a favor and vote for Mirth? You can vote every day, up to six times! And isn't that Modern History commode gorgeous? The burlwood finish is soooooo pretty. How lucky am I that I was able to squeeze it into one end of the foyer with only a few inches to spare!!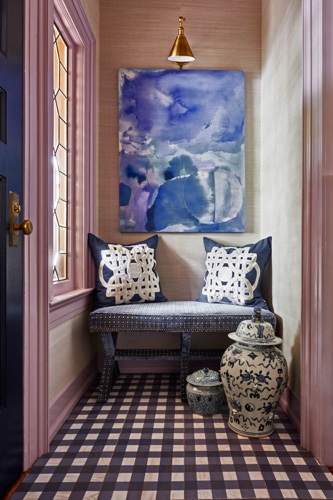 The other showstopper in our foyer was the divine Ballard Designs Double X-Bench, upholstered in Aerin Lauder for Lee Jofa's Shoridge in Lapis. The Ballard bench is one of my favorites, thanks both to its size and reasonable price point. Of course, the Lee Jofa cut velvet is super luxe! Do you spy my Traci Zeller for Design Accents linen with velvet appliqué pillows? I'm also a huge fan of Jane Booth's artwork, and this gorgeous piece pulled my color palette together.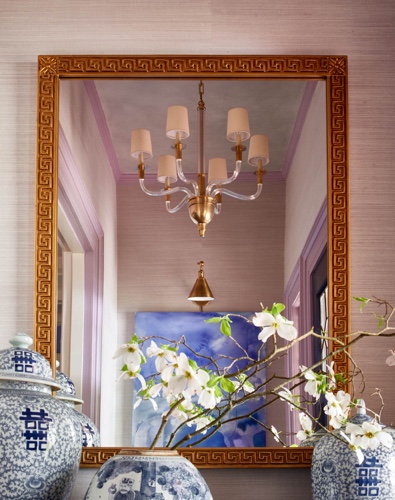 The Vivian Small Chandelier from Circa Lighting is breathtaking. I'm so glad the chandelier reflected so beautifully in the Greek key mirror by Mirror Image Home. That way, visitors were sure to spot both the chandelier and the soft silver metallic ceiling! The lavender grasscloth is from Phillip Jeffries' new Pastel Hemp collection, and the blue and white chinoiserie jars — mistaken by more than one person to be antiques — are from Wisteria.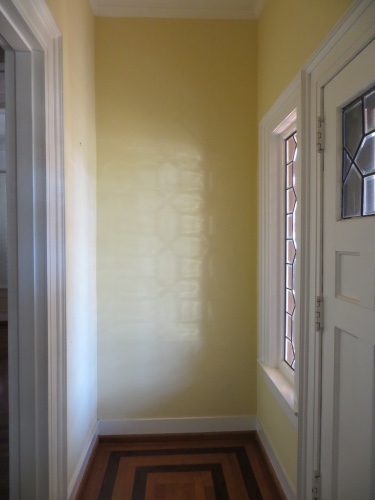 Oh, and do you remember how the foyer looked before we started? You can't tell from the photos that the walls had some type of texture from wallpaper that had been repeatedly painted over. Sigh. And people wonder why wallpaper had a bad name for so long?!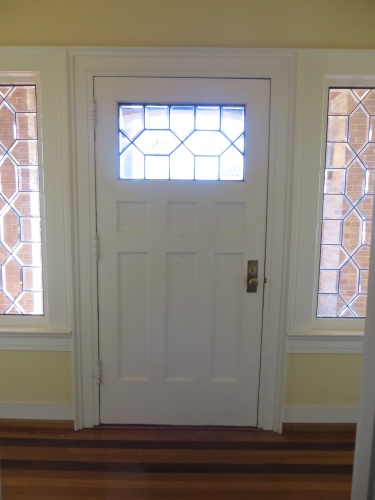 Of course, I did get lucky with these leaded glass windows!! If you haven't picked up the October issue of Traditional Home magazine, you absolutely should … because every single space in the Junior League of High Point / Traditional Home showhouse was fantastic. From top to bottom, not a single detail was overlooked. You'll especially want to drool over the kitchen and breakfast area designed by Lisa Mende, whom I'm lucky enough to call my studio partner!
All photos by Dustin Peck Photography for Traci Zeller Designs.