I often tell people that — while Charlotte, North Carolina may not be a top tourist destination (except for NASCAR fans) — it is a fabulous place to live.  Our proximity to both the mountains and the beach is a top selling point for those who love the outdoors!  The Charlotte area is also home to two stunning lakes, which are beautiful enough to make nearby families feel as though they are on a perpetual vacation.   Wouldn't you love to enjoy your morning coffee accompanied by this view?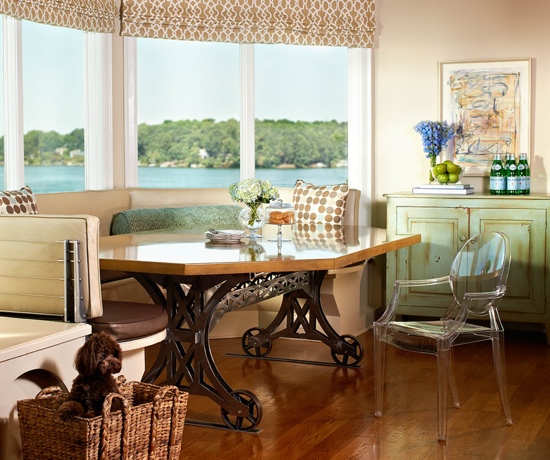 I designed this chic and functional breakfast room for a very active and outgoing family who does just that … and a whole lot more.  Of course, they love to spend time on the water, and they wanted a space that could withstand plenty of kids (and adults) in bathing suits coming in and out.  This is the party house!  Their eldest child at home is a popular varsity cheerleader.  Can you imagine how much fun she and her friends have here?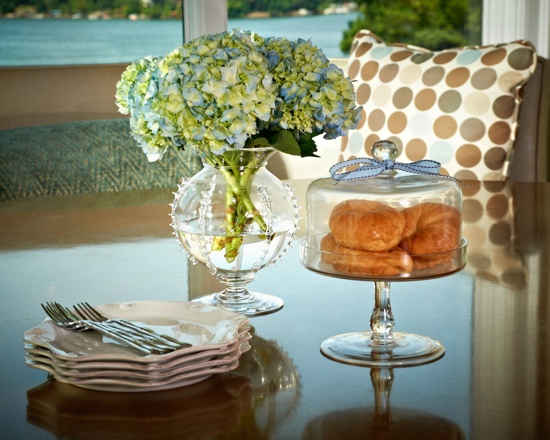 Faux shagreen bench cushions combined with pillows of incredible indoor-outdoor fabrics (chenille!!) make this room as sophisticated as it is durable.  Wondering why the octagon-shaped table has wheels?  Because it is concrete and heavy!   The wheels allow you to easily roll the custom table, so that no one has to do the shimmy behind it.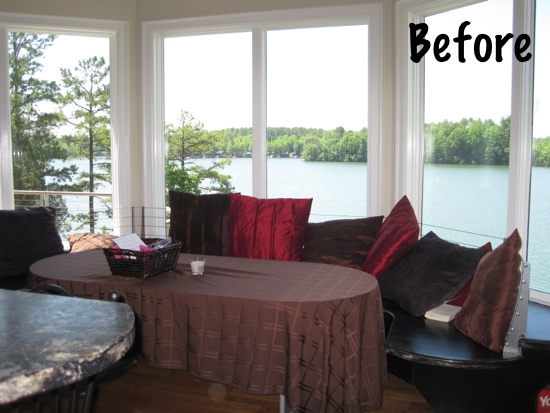 And here's where we started.  They were too busy enjoying their newly built home to pay much attention to the breakfast area, which meant we were starting from scratch.  Bye-bye, folding table borrowed from a conference room at the family business; hello, fabulous!  Lots of happy memories will made around this table.   Nothing makes me more fulfilled than creating warm, welcoming spaces where families can enjoy harmonious lives.
Where do you spend your summer?
Photos for Traci Zeller Designs by Dustin Peck Photography.