Oooooooohhhhhh, it's time for another Double Day Design "before" and "after." Seeing those transformations is one of the very best parts of my job. Plus, how adorable are these blond cuties as they realize their home is in the newspaper?! A huge thank you to The Charlotte Observer for featuring this gorgeous traditional Myers Park home in the Home | Design section!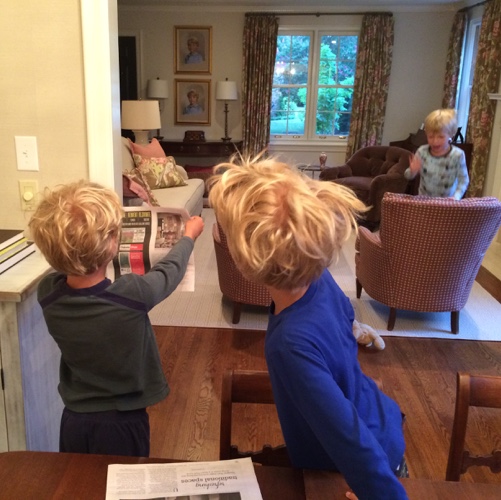 For those of you who aren't familiar with my Double Day Design service, it's the consultation-based service that I oh-so-cleverly named after my penchant for doing everything in pairs. Get it? I have twins?! Ba-Dum-Ching. Double Day Design is perfect for the client who is willing to do the legwork for her design project, but who wants my help with ideas and specific product selections.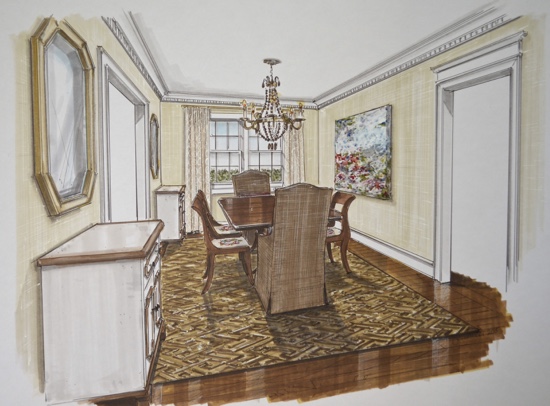 Over the course of two days, we tackle two rooms — and at the end of our time together, my client has everything she needs to achieve fully designed rooms that fit her lifestyle and budget. Fun, right?! Because my Double Day clients handle the product ordering — and often use our work together as a road map to implement over time — I don't always see the finished product. Occasionally, my team will create a rendering so that I have a way to memorialize that work. But when I get to see the rooms in person? It is even more delightful!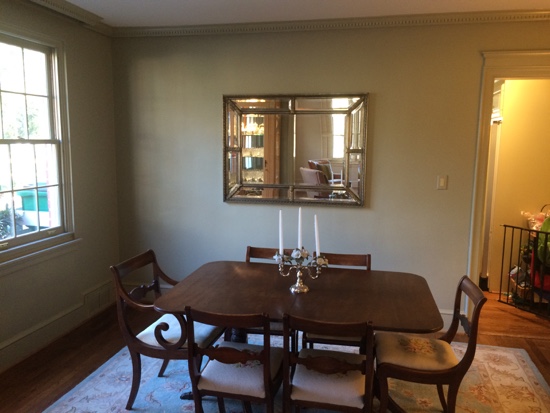 I've worked with this precious family before, and I was thrilled to have the opportunity to transform their living and dining rooms into beautiful rooms that work, whether it's a casual game with their adorable boys (twins + one) or an adults' party for the husband's colleagues. Above, there's a quick peek of their dining room "before" …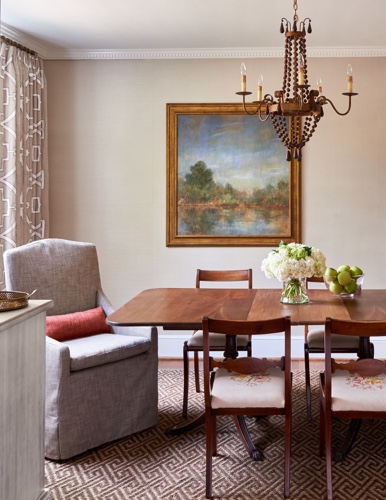 … and here's how it turned out after its Double Day makeover! I love this room — but what I love the most is that we created a fresh dining room for a young family and incorporated special family heirlooms. The needlepoint seats? My client's grandmother lovingly created those herself.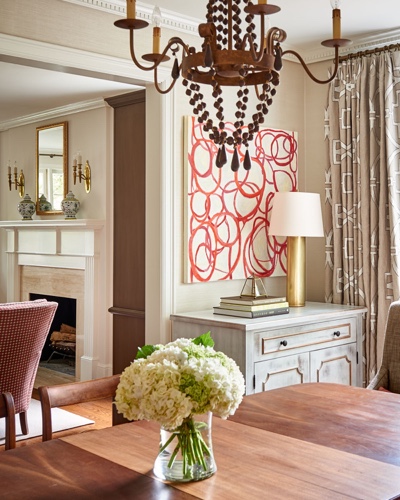 I have so much to share about ways in which you can work with family heirlooms — so that will be a topic for another day. The Home | Design article focused specifically on that subject, so that's also a fantastic resource. Do you have particular questions?  Let me know! The "after" of the living room in this home is equally as stunning, so I'm eager to share that, too.
Do two — or more — rooms in your home need my Double Day Design service? If you'd like to have those rooms finished before the holidays, now is the time to call!