It's time for another Traci Zeller Designs "before" and "after" … because isn't that the most fun part of interior design?  This homeowner used my Double Day Design service to work through many of her rooms, and it was such a joy to see this home evolve.
When it came time to tackle the dining room, I knew exactly what needed to happen: Double Duty Design!  For a family of six — parents to triplet boys and a precious little girl (remember her room?) — this house was not particularly spacious, and they needed to use every inch to the max.  For a dining room, that meant plenty of seating at the table … plus a way to use the room when the family is not entertaining.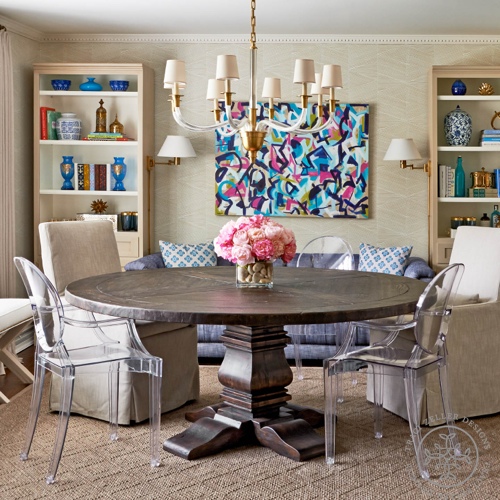 I couldn't be any more thrilled with the results!  A large pedestal table easily handles ten people, so everyone has a seat at the table (without an awkward leg in their way!).  The aged finish on the table will disguise plenty of little dings — making it a perfect spot for Mom to monitor homework.  Need to fit a few more?  No problem!  Lots of little bottoms fit on faux ostrich-upholstered benches, so it's a breeze to seat another family.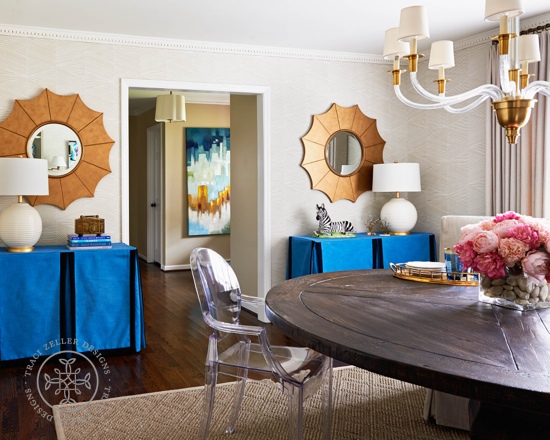 Or perhaps Mom would rather relax while Dad watches a show with the kiddos in another room.  A cozy sofa, nestled between two custom bookcases, provides a perfect spot for reading.  With storage galore, anything the family might need is right at hand.  Extra china, homework supplies, books and much more are easily hidden in the bookcases (with open and closed storage!) and underneath the skirted tables.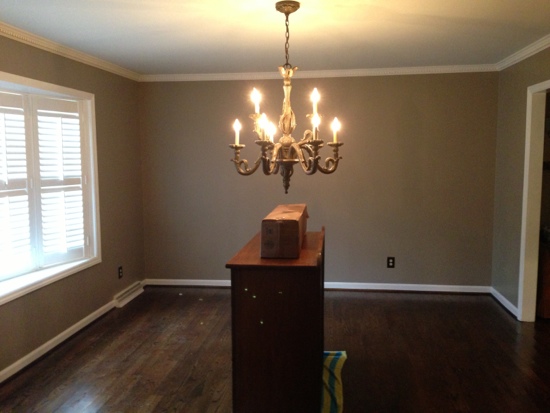 And here's where this room started.  Hand-me-down furniture had been a temporary solution, but — with the family eager for a fresh look — we started from scratch to create this double duty dining room.  No, that light fixture could not stay!
What do you think?  Does this Double Duty dining room live up to its billing?  Do you have a Double Duty room in your home?
Interior design by Traci Zeller.  Photography by Dustin Peck Photography.