I have had so much fun with my "Simply Chic" Joss & Main Curator's Collection.  Here's a concept board using my finds … that just may inspire a master or guest bedroom in your home!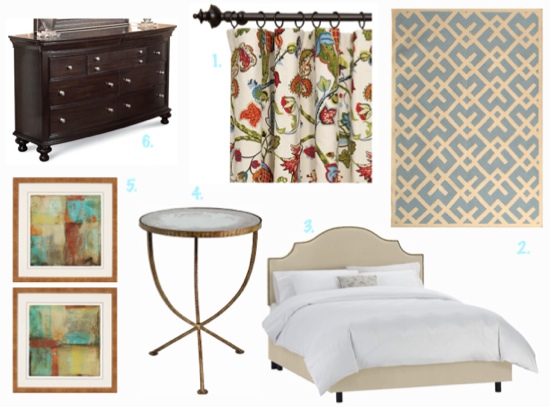 In my design work, I generally create a classic, neutral base and then layer color and pattern in a thoughtful, restrained way.  The large elements in this bedroom are timeless pieces, including the upholstered bed (3) and the side table (4) — which can go from living room to bedroom to office.  And talk about versatility?  I'd use this dresser (6) in a nursery and let it grow with your children, rather than invest in baby furniture that you'll be rid of in a few years.
Now's the "fun" part — color and pattern!   I love this quatrefoil rug, which is a great price for a 9×12.  Not a quatrefoil fan?  Substitute a geometric (2)!  Most rooms look incomplete without window treatments, and here, the drapes (1) bring all of our colors together.  In fact, they'd be a great jumping off point for any room and can go in a million different directions with all of the great colors.  Prefer green to blue?  Use this rug with the drapes and you have a whole new room.  Oh, and hang the drapes with the included drapery pins and use a return to the wall.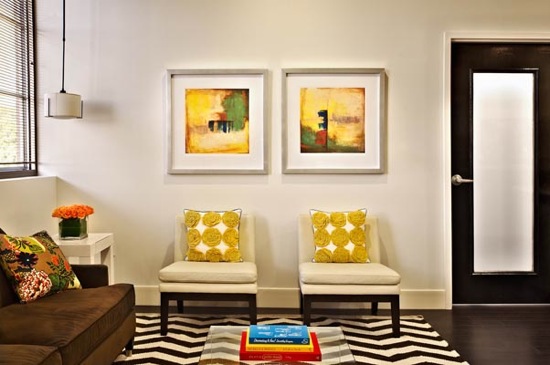 Art is a central element in much of my design work … and if you've been reading for long, you know I love abstracts.  I'm also a big fan of Jennifer Goldberger's prints.  They look sooo much more expensive than they are!   That's why I had to include Impromptu I and Impromptu II (5) in my collection.  Remember this optometry office I completed a while ago?  Yep, those are Jennifer Goldberger prints!
Wondering about two or three sets of sticky little hands?  Art is such a fantastic way to add sophistication to a space that children will use regularly.  Artwork is usually hung out of reach and possibly protected by glass — so you can invest without fear of destruction!  I also use 3M Command  Stabilizer Strips to anchor my pieces to the wall and keep them level.  
Do you love abstracts as much as I do?
Product photos via Joss & Main.  Click here to join.  Optometry office photo by Dustin Peck Photography.   I mean, with an office like that, don't you just know that Northpoint Eye has a killer selection of frames?