Do you love red, white and blue in interior design as much as I do?  Tobi Fairley has a fantastic lineup of guest bloggers for July — it's All-American month on her blog — and I was beyond thrilled that she asked me to chime in!  So please head over to Tobi's blog for a few of my favorite red, white and blue pieces.  Although I chose them in honor of Independence Day, I would welcome any of them into my home year-round!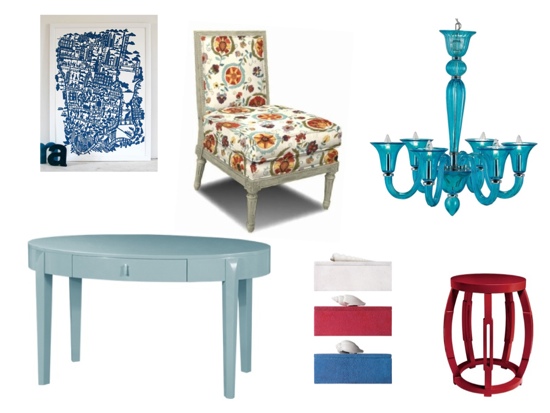 Of course, I had way too many favorites (it's an occupational hazard), so here are the outtakes.  The light blue Brigitte Desk and the red Taboret Stool/Side Table are both from Bungalow 5.  You probably recognize the red, white and blue (and green and yellow) fabric on the Hickory Chair Ansley Chair — it's the not-yet-available Suzanne Kasler for Lee Jofa Montmartre pattern that I am drooling over.  The faux shagreen boxes are from Made Goods, and the Giustina Chandelier is by Currey & Company.  Last but not least, the map print is based on a Famille Summerbelle hand paper cut of New York.  Isn't it fabulous?  These patriotic-colored products didn't quite fit in with my selections on Tobi's blog, but I still think they are gorgeous!
Do you like patriotic colors in your home?  I can't wait to hear what you think … and be sure to tell Tobi as well.  Happy Independence Day!